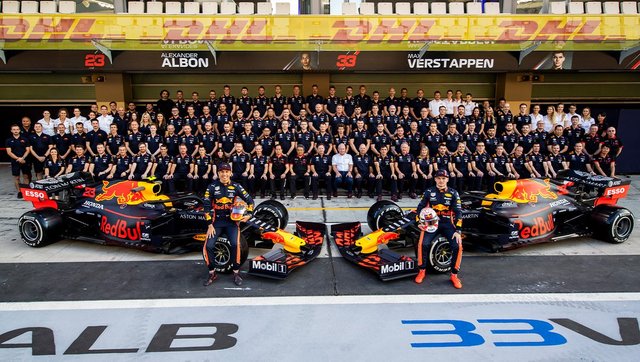 source
This is the Red Bull Team just at Abu Dhabbi and not everyone as some are still at the factory in Milton Keynes.
Formula One is big business and keeps many people employed as the above photograph shows just how many. Each person is a specialist in a certain field of their expertise and those salaries don't come cheap. Striving to be the best takes the best and pushes them even more to improve to try and achieve something only one team can every season and that is to win.
Red Bull I would say have become my favorite team along with Mercedes as it is the way they do things. They come across as a very methodical team who are always in control. That is probably so far from the truth on a race weekend, but that is what comes across to me.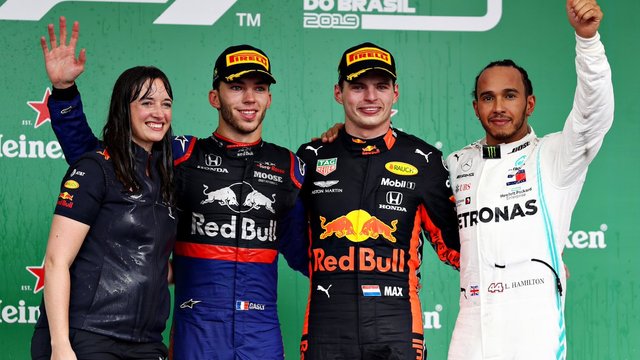 source
When Verstappen won in Brazil the person behind the tactics was not some mechanic ,but a women who is also a young mother. This tells me that this is a proper team as everyone is trusted and has some sort of input. She was the lady who went up on the podium to collect the constructors trophy. I think this is a great way to say thank you as I don't think the other teams would show that sort of appreciation. This shows true class in my opinion and no wonder the people love their jobs.
She may be a small cog in the entire team, but her tactics to call Verstappen in to change to a new set of tires proved to be the decisive moment of the entire race. Hamilton should have come in as well, but he didn't and he blew any chance he had right there and then. Christian Horner heaped praise on her afterwards and it was thoroughly deserved. This shows the caliber of staff they have as she has kids at home and yet she is touring the Grand Prix circuit as one of their tacticians.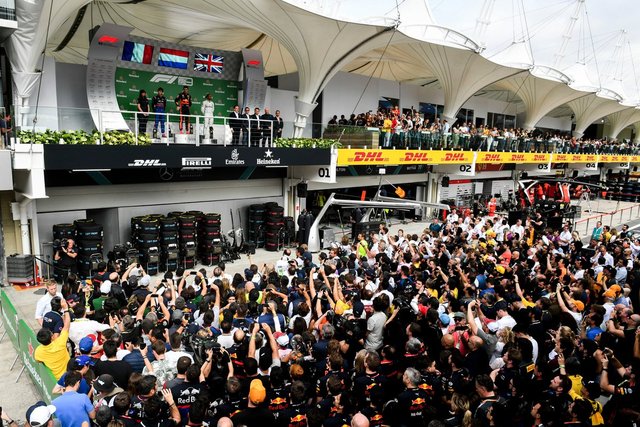 source
I know what sort of sacrifice that is as I turned down a PR role over 20 years ago with Williams. Having your weekends on a Tuesday and Wednesday and never being at home is more in line for a single person and not someone who has a young family. I kick myself sometimes thinking about what could have been, but then I wouldn't replace my kids either as I was there for them. That is one promise I would never break with my kids as my dad was not around much when I grew up and wished he had.
I just hope that after 2021 the teams are able to keep these staff members and find ways of beating the enforced budgets that will be imposed. There must be some grey areas and with Honda doing the engine development I am sure a deal will be struck to keep the price down so that these staff members can all remain.