source
A carefully written letter stopped Ferrari in it's tracks.
Formula One teams are fighting for as many points as they possibly can so getting one over their rivals is what matters most. This is a highly competitive sport with so much riding on it. Big names such as Ferrari and Mercedes along with Red Bull are constantly in the lime light.
In the past teams used to bicker and fight amongst each other calling out anything they saw that was wrong. This led to rocky relationships and inquiries that went on for months. Everyone was suspicious of what the other one was up to and I blame the FIA at the time for allowing it to happen. There is a big difference from innovating something new and benefiting than just blatant cheating.
This season we have seen the cheating side exposed as Ferrari have been caught out again. No one will call it as it is, but in the real world that is what they have been up to for the last 5 or 6 weeks. In the past the others would have accused Ferrari and then a case would have been made with months of investigation. Today thankfully that is not the case and things are resolved quickly and efficiently which keeps the peace amongst the teams.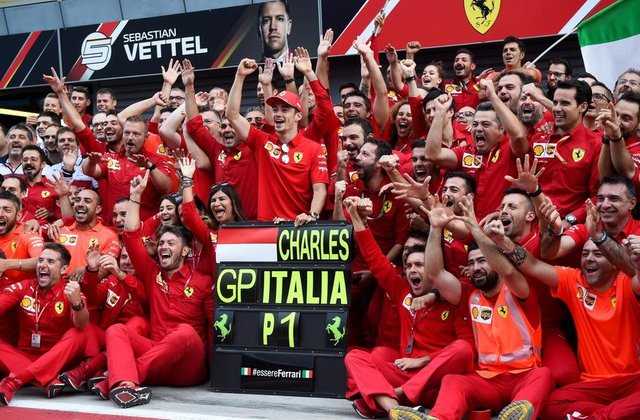 source
A race they wouldn't have won.
The teams went on their summer breaks around 3 months ago and when they all arrived back Ferrari had done some "upgrades" to it's engine. The pace and power of the car suddenly made it the car to beat and they dominated qualifying and most of the races for a good few weeks. No other car came close to the straight line speed the Ferrari was generating leaving other teams scrambling to how they were performing this.
Questions were raised but it was more about how they were harvesting the battery pack as that was the first thoughts of everyone with a technical brain. Once they realised that wasn't the case they then looked at what would benefit the power output and it had to be down to fuel burn rates. The more fuel that is burnt the faster the car would go but that would be illegal as there is a set rate for every car. Currently the FIA allows 100 kg of fuel per hour which is governed by fuel sensors.
The protocol now is to write a letter to the FIA asking for clarification on a grey area and then what they do is respond to every team letting them know the rulings. Red Bull wrote such a letter regarding fuel ratios and consumption only to be told that any by passing of the fuel regulators is illegal and if caught could face sanctions. This letter was not for Red Bull though as the intended team was Ferrari letting them know what they knew they were doing.
The teams arrived in the United States and everyones eyes were on the Ferrari's straight line speed and it was back to what it was before the summer break. They had removed whatever they had done and the cheating had stopped. When questioned Ferrari said they had increased the downforce on the car making it faster in the corners and slower on the straights. A plausible reason but now we know it wasn't the case as we are now 2 races on and the speed hasn't come back yet.
Ferrari were desperate to win their home race at Monza in Italy which they did and knowing the facts now know they wouldn't have won as Hamilton was all over Le Clerc but just couldn't get the straight line speed to pass him. Everyone was raving about Ferrari and that they were back ready to dominate but that doesn't seem true. The team that is on the move today is Red Bull with a Honda engine and now expect to see them dominate over the next two seasons or so. Ferrari look as though they are desperate as they aren't going to be in the fight and will expect to see them to drop down to third at least next season.