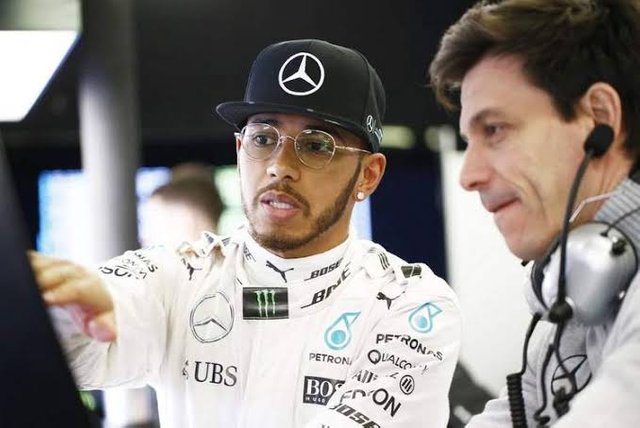 source
I think it is typical how the press try and make a story out of a non story issue. The news is today thar Ferrari are happy that Hamilton is a free driver after the 2020 season. That isn't true as all the drivers currently have contracts to the end of next season , but it doesn't mean they are not going to extend them.
When Hamilton was asked a question about his future his answer was more about what Toto Wolff was doing. Toto is the team principal of Mercedes and he joined at the same time as Hamilton. Toto is an ex racing car driver with heaps of experience and is key to Mercedes doing well. He knows the business inside and out and Hamilton knows that having him there makes a massive difference.

source
Hamilton and Toto have a special relationship that goes beyond business as their is a trust and a friendship element. If you scan the archives in you tube you will see clips of Hamilton and Wolff racing round some track somewhere. These two hang out together and it is not surprising for Hamilton to say nothing and hold back on his future. I think they both respect each other which makes the difference, Hamilton as their number one driver and Toto as the boss. Without one or the other their success isn't guaranteed.
Hamilton knows what Wolff is doing and he isn't going anywhere. They are close so they know what each other is doing as it would have been discussed. Ferrari don't know their plans and why they said they were happy for Hamilton to be available. The head of Ferrari doesn't have the relationship Wolff has with his number one driver and has no idea who will be driving with Ferrari in 2021.
Wolff loves his job and openly admitted it excites him and makes him tick. He has a winning streak of 6 constructors titles so why stop. Things will change in 2021 with the new rules and he will need Hamilton with all his experience around. The new rules will definitely add more spice and as a driver more challenges.
Two years ago there was talk of Hamilton retiring, but with the changes he is going to stay and see how it unfolds. He has become the face of Mercedes and honestly they can't let him go. He does so much promotional work in between the races and is often seen working along side the work force in the factories. He isn't obliged to but he also seems to enjoy this as he is the perfect fit. The passion that he displays still after winning 7 World Titles is still there and I don't think it would if Toto wasn't around. The friendship is what brings them smiling to work everyday and why they will still be there in 2021.