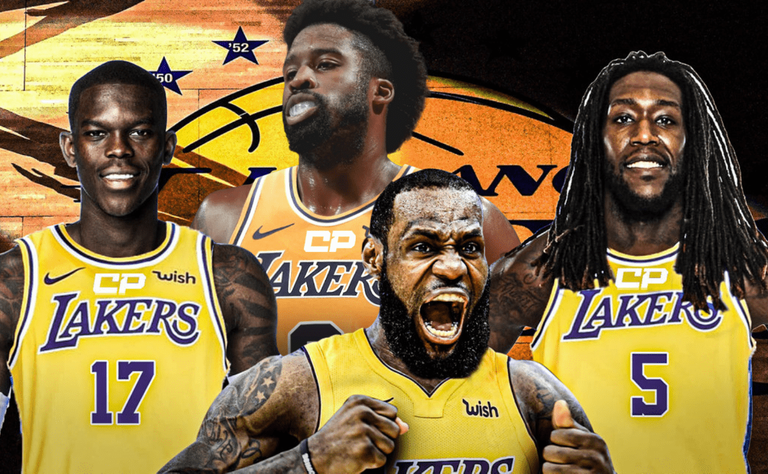 Saludos! El día de hoy quisiera hablar delos Lakers y como han formado su núcleo de campeonato alrededor de la rutilante estrella Lebron James. Hace solo un par de años el corazón de los LA Lakers estaba formado por noveles jugadores de gran potencial como Ball, Ingram, Kuzma, Hart y Randle; lo cual parecía un equipo destinado a la formación de estos valores más que un competidor actual. La llegada de Lebron sin embargo, oriento el rumbo del equipo hacia el *ganar ahora*, que se vió reforzado con el cambio (a costa de perder mucho de estos jóvenes valores) para traer una estrella con Anthony Davis. Una vez consolidado este dúo estelar, el equipo se llenó de complementos veteranos como Howard, Rondo, Green, Bradley, entre otros, quienes traían una orientación de corte defensivo con gran experiencia en postemporada (sobre todo Rondo y Green) para acompañar a los astros del equipo en la búsqueda de un título. La apuesta estaba servida. Ese equipo en el papel algo desgastado, cumplió con creces las expectativas de sus fanáticos titulándose como campeones de la NBA 2020, y cuando la pregunta era si apostaban por continuidad y agregaban a otro veterano, o a una tercera espada estelar para formar un big 3, resulta que han agregado piezas más jóvenes, entrando a su plenitud en términos de baloncesto orientadas al lado ofensivo, y con una gran calidad El cambio con OKC por Schröder les da un base dinámico con gran poder ofensivo y excelente manejo del balón, mientras que Harrel les proporciona un interior rápido con una gran definición cerca del aro y en los pick and roll, quedándose corto en comparación con su predecesor (Howard) en lo que respecta a la intimidación y bloqueos, por Green llega un reemplazo similar en Wesley Matthews, en resumen los Lakers apuestan por rejuvenecer la plantilla, manteniendo la calidad y rodeando a sus estrellas de jugadores con más capacidades ofensivas, su juventud garantiza una continuidad y transición a la era de Anthony Davis como líder indiscutible del equipo mientras el padre tiempo le toque las puertas a Lebron. Siempre habrá algunos veteranos que se unan a la búsqueda de un anillo para seguir aportando experiencia en los playoffs pero frescos de una victoria reciente, la experiencia en los playoffs está asegurada,
Hi everybody! Today I´m going to talk about the Lakers and how they formed their championship core around Lebron James. Just two years ago the nucleus of LA Lakers was constituted by young and promising players like Ball, Ingram, Kuzma, Hart, Randle among others, which made appeared that the main thing were to develop those players more than compete right away
Lebron´s arrival however, change that perspective into a win-now orientation reinforced with the Anthony Davis trade (where they lost most of those Young players).
Once consolidated the star duo, the team was full of veterans complements like Howard, Rondo, Green, Bradley among others with a defensive orientation and playoff experience (Rondo and Green above the others) to go into the quest to the title.
That old team on paper, fulfill the expectations of Lakers fans around the globe becoming the NBA´s 2020 Champions. And now when everybody were expecting them on keeping the team or getting a third star to get a big three, they acquired Young an dynamic players entering into their prime to complement the team more offensive oriented with great quality.
The Schröder´s trade brings a dynamic guard with offensive power and great handles While Harrel gives them a fast interior with great pick and roll definition, lacking o some of the defensive presence of Howard, getting the Green´s spot is a nice replacement in Wesley Matthews, with the same characteristics. The Lakers are betting on getting younger, maintaining the core es and surrounding it with more offense and dynamics, there always are veterans to add some playoff experience and the whole team had some of that last season.