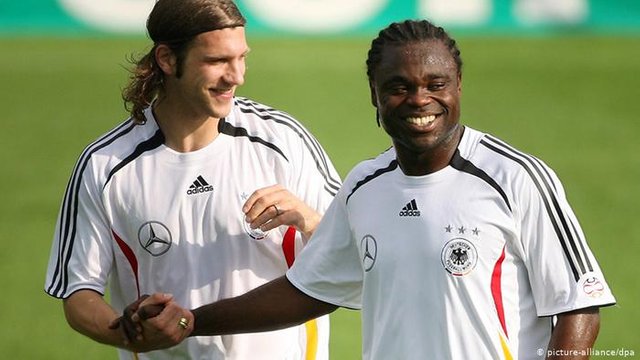 I scored myself a Gerald Asamoah 2005 FC Schalke 04 Adidas Jersey. One of the biggest clubs in Germany, Schalke were 2004-05 Bundesliga and DFB-Pokal runners up. This jersey represents more than just Schalke and Asamoah – it proves that perseverance can bring down racial barriers that exist in football.
Gerald Asamoah had continually turned down the chance to represent his ancestral homeland of Ghana and was determined to break the jinx of a white German dominated national team. He became the first black player to represent a unified Germany in 2001 against Slovakia.
He also scored a goal during his debut game after dribbling through the Slovak defence. A delighted German crowd gave Asamoah a standing ovation when he was subbed off close to the final whistle.
The dark side of Germany was brought to light however during a German Cup match in 2006 in which Schalke beat third division side Hansa Rostock 9-1. Disgruntled fans began racist monkey chants aimed at Asamoah, who criticised fans after the game for tarnishing Germany's image internationally.
At the time of his career the Bundesliga had relatively few black players and traditionally there was strong opposition to making Germany more ethnically diverse.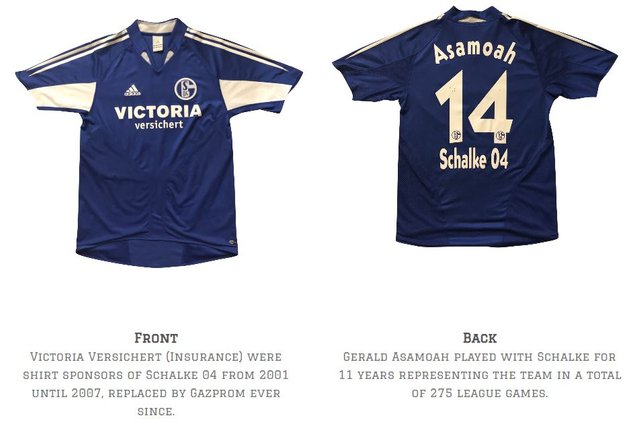 Asamoah is well known for breaking down those barriers that existed. Germany's 2014 World Cup squad had Tunisian, Ghanaian, Albanian, Turkish and Polish connections. This was built on top of Germany's 2010 World Cup squad which had almost 50% of their team having an immigrant connection.
Gerald Asamoah also suffers from hypertrophic non-obstructive cardiomyopathy, a heart condition which can cause an arrhythmic heartbeat.
He collapsed playing for Hannover 96 after a second division game in November 1998. He defied doctors orders who recommended he never play again. Doctors had emergency equipment on the sideline at every game in case from there on after.
Originally posted on my Wolf Gang Sports blog, I hustle jerseys and produce content about players and their journeys with a bit of smack talk along the way. Check out the full blog and I appreciate ya for any comments.