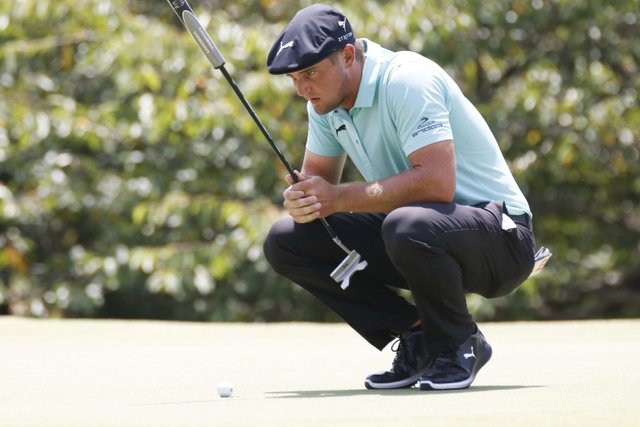 Img
It seems like everyone that is anyone in the world of golf is weighing in on the slow play debate in social media this week, the latest being Phil Mickleson on Twitter saying that green reading books speed up the game contrary to Luke Donald's claim that they slow the game down. So Phil just called Duvel idiotic. Love it.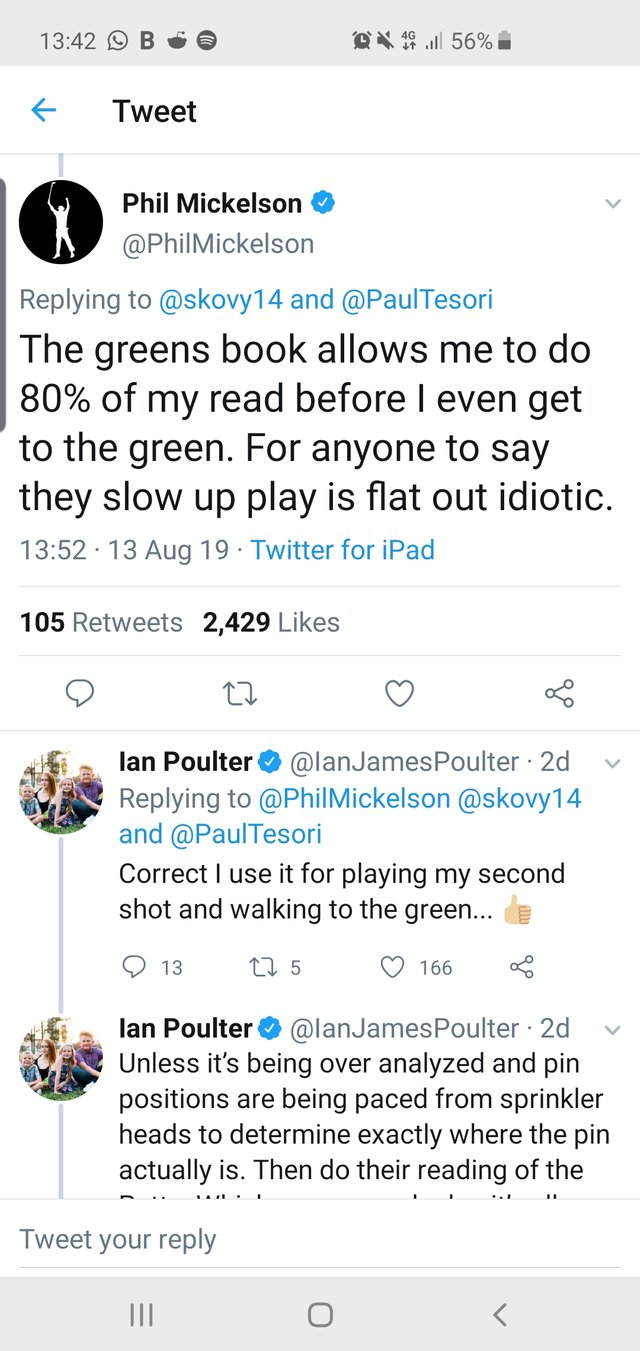 Img
This whole slow play debate started when a video surfaced online of Bryson De Chambeau taking 2 minutes 20 seconds to mull over a 6 foot putt. Not only did he take that amount of time but he actually missed the putt. Ha.
Now it turns out Bryson is not the only player to be pointed at for slow play. Kevin Na , JB Holmes and many others are slower than him. But Bryson is now considered the poster boy of slow play. He has been nicknamed the scientist by the golf fraternity because of his approach to golf. All his clubs are the same size. He uses only 3 Pro V 1s in a pack of 12 because the rest are defects according to him. He tests them all before he puts them in his bag. He also measures air density and uses quite alot of mathematics in his golf approach. Now this is not the first time a golfer has done this. Paraig Harrington has been know to get out measuring tapes and spirit levels on practice rounds. But Bryson seems to like the Scientist logo. Every chance the golf media get they mention all his quirks and mad ideas. But at the end of the day the more senior golfers have seen this all before. And there were quite a few waiting in the long grass for Bryson to get his come uppings. He may not be the most popular golfer on tour but all this slow play is really irking the other pro golfers .
After the video leaked, Bryson hit back with all guns blazing saying he was not as slow as some others and he was sick of golfers not saying it to his face. He even approached Brooks Koepka's caddy Steve Elliot and told him that if he sees his boss, tell him to say it to his face. Brooks arrived soon after and said it to his face and that was the end of that. Brooks has been critical of slow play before and he did mention De Chambeau once in his press conferences. But if there was anyone not to go for it is Brooks Koepka. The man is a tank. So who did Bryson have a go for after it. None other than Caddie Steve Williams. Again not the guy to mess with. Williams would eat him alive and probably will when he gets a new golfer after Jason Day and him parted ways.
The funny thing about all this is that the video surfaced from Justin Rose. Justin rarely has anything to say unless it is for promoting a watch or a bank so I was surprised to hear it came from his Twitter account. But it turns out Justin Rose the golfer is not the only Justin Rose with a little blue tick beside his name. A broadcaster by the name of Justin Rose has a blue tick also, looks nothing like our Justin and it was him that posted the controversial 2 minute 20 video and not the fellow pro golfer. You couldn't make it up.
So with golfer Justin Rose nothing to do with it the debate lives on with the slow play. In my opinion the pro golfers are alright because I just watch highlights on TV. I only see snippets of them taking shots. It is the amateurs trying to copy these guys that is the problem. Guys and girls lining up putts for ages and they don't even know how to hold the club properly.
I am glad the debate os happening though. The PGA should just start fining players or take shots off them . Then problem solved. In the rule book you have 40 seconds to take a shot. Now I am not saying 40 seconds is enough but even a minute would be alright. So I leave you with Brysons putt. What do you think? Be warned you will never get thos two minutes of your life back ever again.