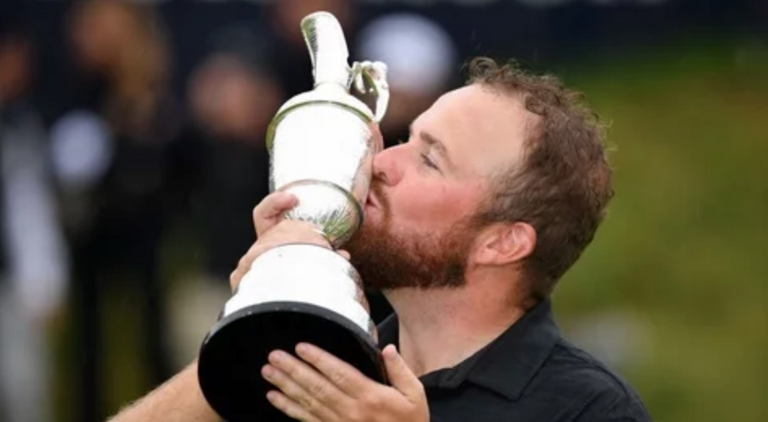 The last day of the Open in Portrush brought the extremely bad weather, quite often associated to links courses .Along came the 30mph wind and buckets of rain. But Shane Lowry grew up in it. He is a native Offaly man, his father won an All Ireland championship in GAA for Offaly so the Lowry name is famous for more than golfing reasons in Ireland. There is no such thing as bad weather, only the wrong clothes. Lowry proved that while walking around in a gilet and t-shirt today while it was bucketing down.
JB Holmes went around in 12 over today. Imagine if that happened Lowry. He was made of sterner stuff. He is used to this weather. Shane started out with a bogey. Not the best way to begin his pursuit of his first major. First hole nerves. He got 2 pars after this but it was the 4th and the 5th that got him back to winning ways. Another par and yet another birdie. He was still six shots clear. But then it started bucketing down.

The worst of the weather happened on the 9th and Lowry got a bogey but so did everyone else. The conditions were awful. Brooks Koepka, one of the worlds fastest players was playing with JB Holmes, one of the worlds annoyingly slow players. They clearly did not suit each others game and Brooks recorded 3 bogies in a row starting out.



I spent the afternoon shitting myself in case Lowry lost it. I stood to win 430 euro. Samsung S10 paid for.Nice. What a day this would be for two Irishmen. I always bet on Shane because he was going to win a major and I got him at 70/1 at 5 euro each way.
At one stage there was 4 shots in it and I really though Tommy Fleetwood would take him on. It was like a match play at one stage and Lowry knew that Tommy Fleetwood was the only guy that would be able to beat him
Wnen Fleetwood shot into a bunker, Lowry played safe. He got his par instead of going for birdie because he knew Fleetwood was in trouble. Very clever play. Shane just wanted the Claret jug. He wasn't going for any records. He did that the day before with his 63 at the course.
The holes started slipping away on Fleetwood and he dropped a couple of shots as his head started to drop. Lowry was getting the shots from the gallery. The atmosphere was one of the best I have ever witnessed at an open.



With his caddie Bo making sure he was relaxed laughing and joking on every hole, you could see that Shane Lowry was not going to falter. He was calm and composed. It was not until the second shot on 18 that I started to relax. He hit just to the right of the green. He was chipping in for birdie. It was too late for Fleetwood now 5 behind. He chiped to 1 yard and the Open Championship was his.
His wife and two year old daughter ran on to celebrate. His mother, father, agent and coach were all hugged. It was the best moment of Shane Lowrys career so far.
Shane won the Irish open as an amateur. He then turned pro and started to rise through the ranks coming second in a British Open. He won the WGC Bridgestone Invitational in Firestone in 2015 and at the start of this year he won the World Tour Championship in Dubai. He was playing well this year. I followed him around at the Irish Open this year and he was hitting well. You have to back the Irish lads in this as they all played Portrush quite a bit as amateurs as it is regarded one of the best golf courses in the world.
Shane is known to enjoy his wins with a few pints of Guinneas with his friends. I am sure the drink will be flowing and he will wake up tomorrow knowing that he has achieved what he has dreamt of for years. All those chipping contests with his good friend Padraig Harrington has finally paid off. And his mate and 20,000 supporters were there to congratulate him on the 18th. What a year this is for Irish golf and Samsung S10 sales.