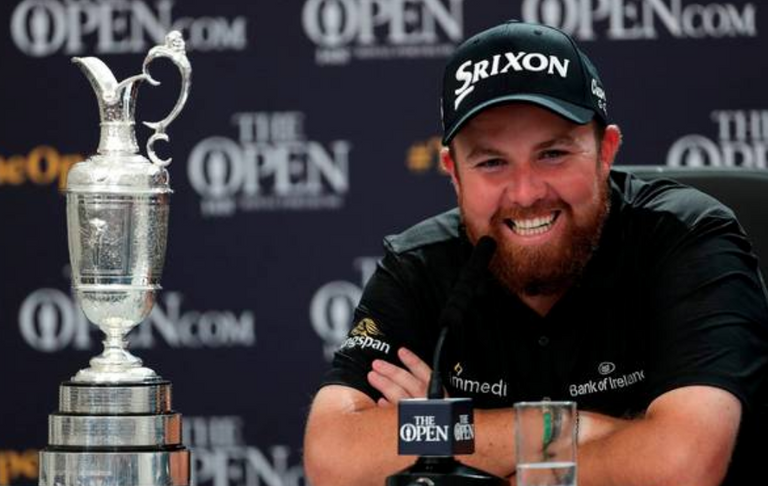 I do not normally post videos up but I have being writing about the Open Championship since last thursday and how better to end it than to look at some of the celebrations that went on in Dawson Street last night in Dublin. Shane and his family and friends celebrated into the night in a traditional Irish bar where he finally could relax and let his hair down. As usual Bo his caddy was by his side looking after him with a pint of the black stuff while the fields of Athenry is being played.

There was not a dry eye in the crowd yesterday when Shane won. Even Padriag Harrington and Graham McDonnell stayed on to celebrate with him. Harrington who has 2 claret jugs in his kitchen can now go to his friends house and see a jug also. Harrington and Lowry are very good friends and often the chipping challenge on the Tuesday in practice is more competitive than a tour event.
Shane had a bad year last year and lost his PGA Tour Card in the states. He came back to Dublin and since then he has won in Dubai and now he is a major champion. Being a major champion means alot more than the 1.7 million purse. Sponsorship will now start coming in for Shane. Big money. Especially for someone so popular. But the huge prize is he is now exempt for 5 years on the PGA US tour, 10 years on the European Tour and he can play the Open Championship for the next 30 years. That is the biggest prize by far. He can now play when he wants where he wants. Some weight off his shoulders. Some of the WGC events have no cut. Turn up and you get 50k in the pocket. Not bad. I know he is financially secure already but this will really add to the coffers. No wonder why he is celebrating.
Shane promised the owner of the Boars Head in Dublin that he would bring the jug back there and that's where it was today.


Another one of Shane's family members became famous today. His Granny. She had too brandies to calm her nerves and she told reporters found it hard to find the bed after them.

Meanwhile Toger Wood's is at home bringing in the turf!!