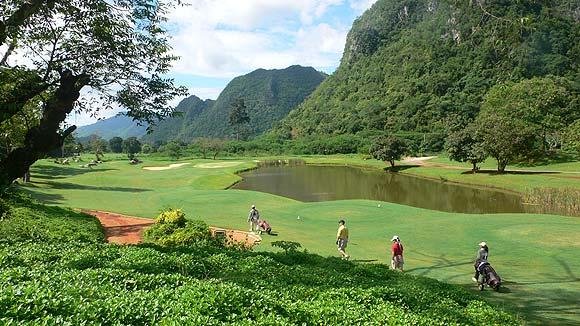 source
You can see why they wanted the site as it is sandwiched between the hill sides.
The last of my posts on Mission Hills as this Property Development Group has never played by the rules and has bent them whenever the opportunity rose. If you recall the first development in Shenzhen the group managed to swindle the land away from the villagers under the pretense of building fruit orchards. The second development had no studies done on it as the effect of flooding on the surrounding regions has been catastrophic.
The development in Thailand certainly raises more questions than answers as the Golf course was built in a conservation area. As the official from the government department said it was just a wedge of land that happened to be in the middle of the jungle that happened to be protected. Just a wedge becomes slightly larger over time and all of a sudden you are looking at two wedges as the official did say the plan was to have two course at this site eventually.
Hacking back and destroying what was meant to be protected for another development is not sacred and what about all the fertilizers and pesticides used to maintain the lush greens etc. This all ends back in the water table that feeds the other parts of the conservation area let alone the animals that are meant to roam freely and safely.
The official then went on to say that the land that was sold /leased will help fund other areas of conservation which I get. Surely some arrangement could have been made somewhere else by the Thai Government. We see corruption in every country around the world so this is not new, but just a way of life that most of us are unaware that it even exists or turn a blind eye.
Mission Hills will only expand even more now they have a foothold and the money to back themselves and they have already shown that they are 0/3 for their developments so far and can't see that changing they way they operate.