Other Articles in this series:
Golf '80 - A Sport for Conceited Middle Aged Executives – Part One
I haven't visited Towneley Golf club this century, but drove past and stopped to gain some more photography for this article.
I don't generally blog about Sport, not because I have no interest but due to the fact that I can no longer participate due to back issues.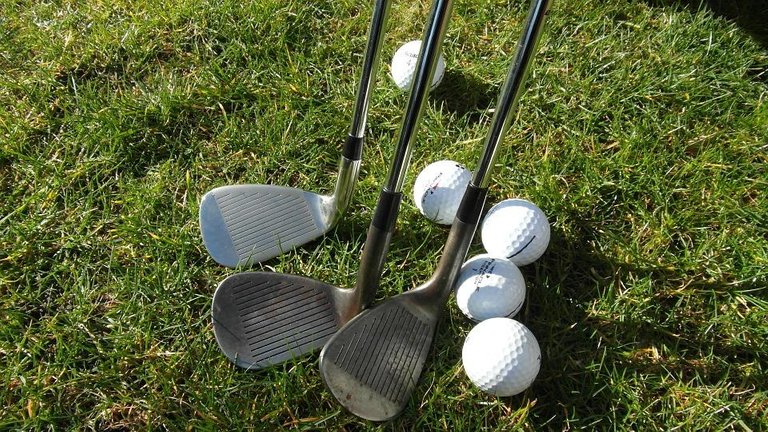 Source
It was not always the case, so let me tell you continue the tale about my early experiences with Golf.

Over the course of a year, I managed to get together a full set of clubs, in fact too many clubs! The maximum you're supposed to take in a bag in 14 and I probably had 16 or so.
Not that anyone noticed, but all these bits of metal were getting heavy and so I took to renting trolleys.
I was still playing on my lonesome as I didn't know any other golfers, but tried to team up with anyone solo hanging around on the first tee if possible.
Playing by myself generally resulted in bad play, more throwing of the clubs in anger and far less gratification.
View from the 12th green at Towneley Golf Club, looking down the fairway. I never managed to par this one, though I did try.
One such player at Towneley was nothing short of amazing. He struck the shot and the ball all but vanished into the air such was the distance he could strike a ball.
I took the time to learn from this dude who was older than me but not by much. If there was one thing that he taught me it was to change my grip.
Like most beginners, I was using the 10 finger grip, and although I used a glove it was far from ideal.
'Try the Vardon grip', he told me. Harry Vardon was responsible for this custom grip which overlaps your fingers and it felt strange.
Nevertheless, I stuck with it, and can't use anything else now, I don't know whether it improved my game, but as most professionals use the 'Vardon Grip', I'm happy to follow their lead.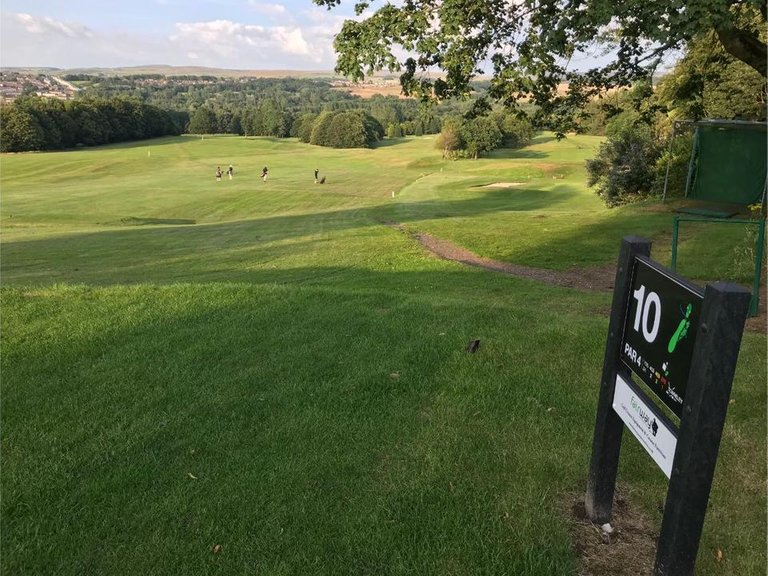 The 10th tee at Towneley Golf Club, so wide you just can't miss!
One day I was teeing off on the 10th at Towneley and something went badly wrong. The ball went a few yards, but the clubhead of my driver sailed into the air landing 50 yards down the fairway.
'This is what you get for buying crappy clubs', I thought. It was time for a change and something a little better.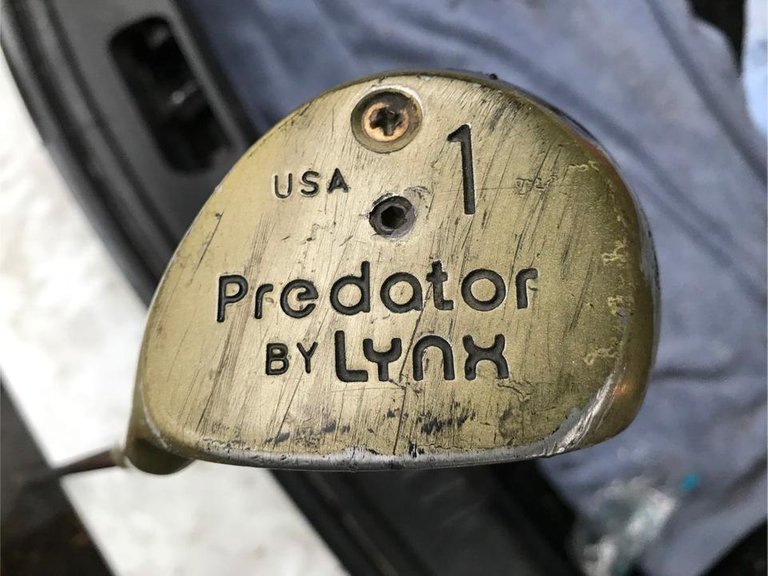 I still have the Lynx Predator driver though it no longer gets any use. It has seen plenty in the past and some of those marks were not due to hitting balls.
As there was no internet in 1981 and no Golf supermarkets. I had to travel to Urmston in South Manchester on the bus of all places to get my dream club, a Lynx Predator driver.
Surely this silver dream of a driver would improve my game? It cost me an arm and a leg, and I picked up a 2 Iron Lynx Prowler at the same time.
The 2 Iron was always famed as a tough club to use, and being a blade iron even more so. Swilken did not produce a 2 Iron, though I did have a 1 Iron that I rarely used.
I still have both clubs, and though the driver has been superseded I still use the 2 iron. The satisfaction you get from this quality club is amazing if you get the shot right though it demands a lot from the player.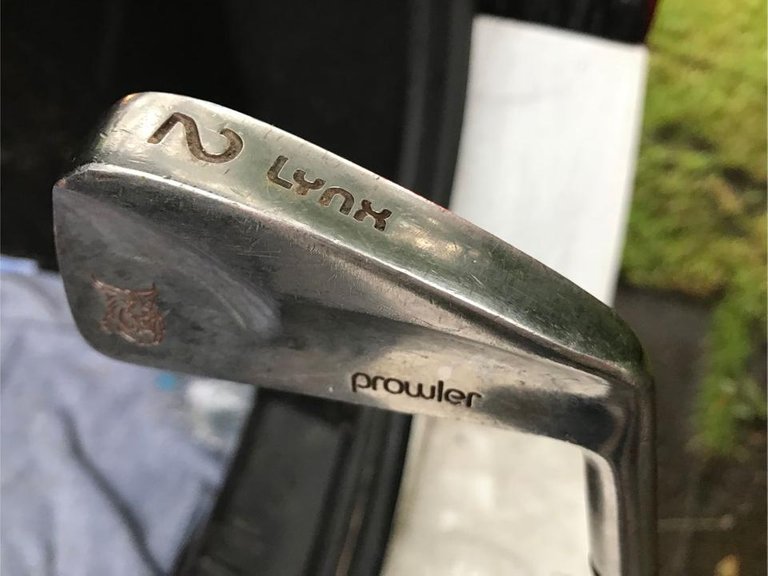 The Lynx Prowler 2 Iron. I still use this ancient club though your arms can be susceptible to voltage if you fuck your shot up.
It was to be several years later when I met another bloke who I started to play Golf with regularly. At the time we were quite equal in talent (quite bad) and so this worked quite well.
'Ed' introduced me to Nelson Municipal course which was more demanding than Towneley and even on that course we witnessed the statutory overweight middle-aged bloke yelling, 'OOOOYYYYYYYYY' to a bunch of kids intent on selling people lost golf balls for some pocket money.
These incidents stick in my mind. We were on the 12th fairway, fatty on the 13th and I can still picture the belly rapidly moving up and down while the red-faced fuming porker frantically raced toward these kids who really were not doing anything.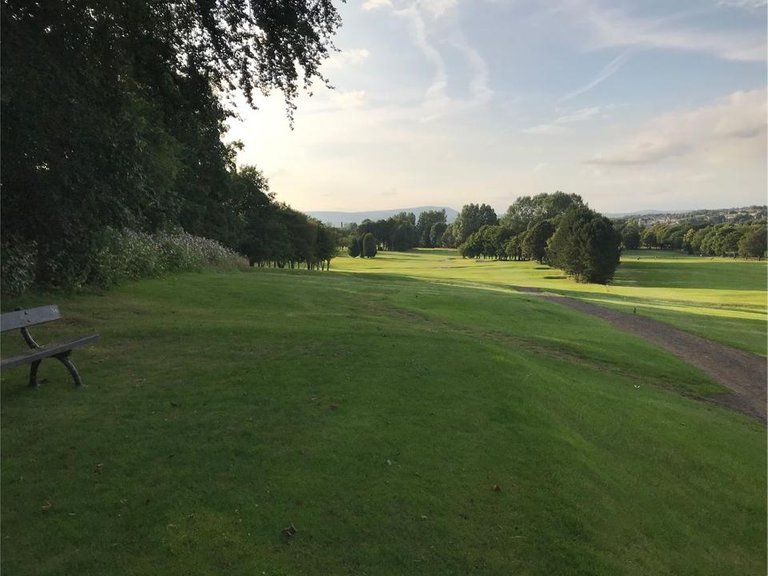 The 13th tee at Towneley Golf Club. A nice short par 4, though hookers did not fare well.
At least it was no longer me. I was in my early twenties now and a little more respected, or so I thought. I did buy some balls from the groups of untidy kids sometimes, but always bantered their prices down.
'How much', I used to say in feigned astonishment at their price demands. I wonder if this practice still goes on.
One day I was teeing off from the 15th on Towneley which boasts a much-raised tee. It belies a sense of great expectation and trying to hit the ball into next week is a common failing.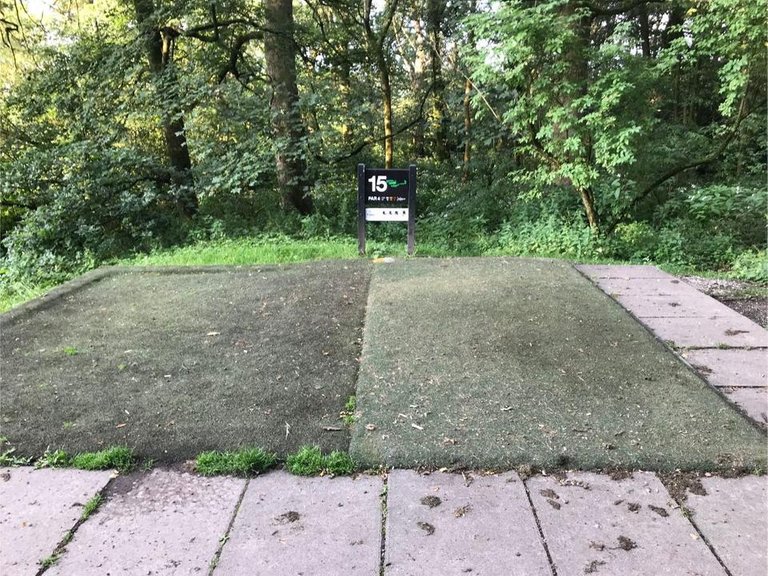 The 15th tee at Towneley Golf Club. The expectation was always great from this one.
Teeing up my ball I grabbed my silver dream of a driver and took an almighty backswing.
The ball hit the shank of my club, went whizzing toward a tree, ricocheted back and hit me hard in the leg resulting in me yelling and hopping around for several minutes to the chortles and laughter of 'Ed'. At least I think it was him.
That tree, next to the bin!
This bloody tree here is the one responsible. I visited it today just to take this photograph, it has a lot to answer for!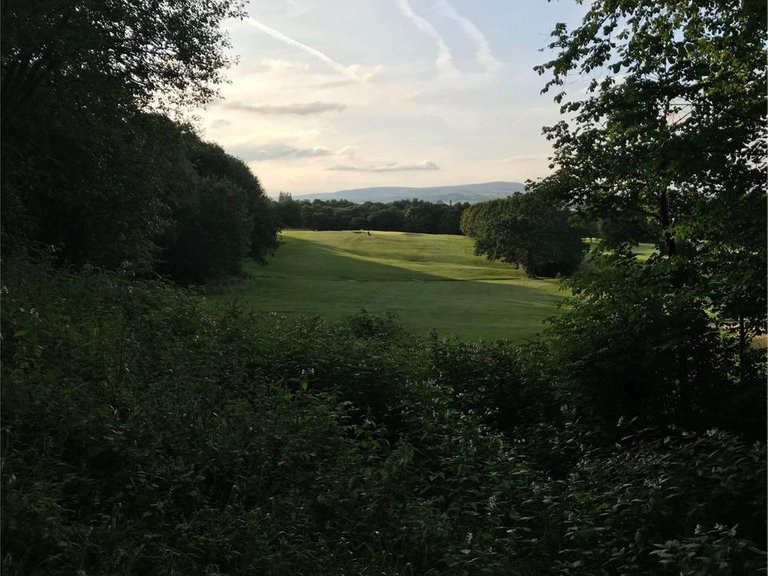 Panoramic view of The 15th tee at Towneley Golf Club. It's more overgrown than it used to be and also very bad for hookers.
More years went by, the red bag wore out and I bought a fantastic Lynx golf bag with trolley, a full set of cavity irons and an oversized Taylor Made driver from that same gold shop in Urmston.
One day 1998, I was playing Nelson Municipal with on the 6th hole and remember exactly where I was on the fairway. I hit a 5 iron toward the green and experienced the worst pain ever in my back. Something serious had torn and I could not continue.
'Ed' thought it nothing and wanted me to play but all I could do was watch. The pain lingered for years in my back and occasionally returns even now. I didn't do anything about it at the time.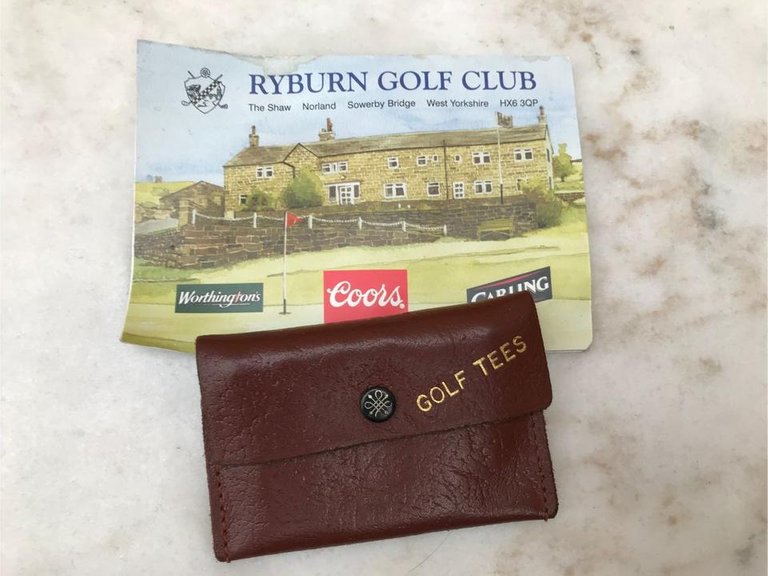 Was it torn ligaments or something else? I will never know.
It's funny that you never seem to lose your existing skill in golf and I know that if I played now I would be simply a little rusty. I do plan to take @dismayedworld to a local driving range soon and then a pitch and putt.
'Ed' is now a member of Blackburn Golf club and has recently invited me to play a round. He plays regularly now and will severely kick my arse, but that doesn't matter.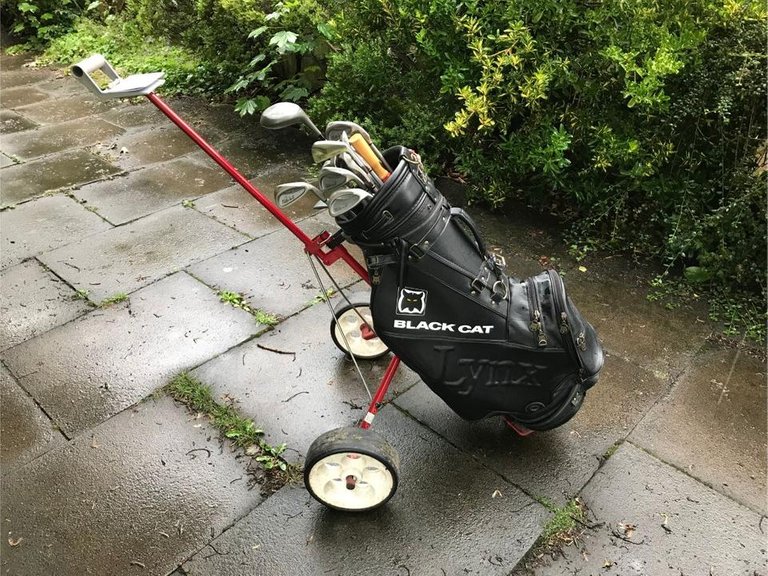 He tells me that the elitism has all but left the game, and clubs now struggle to keep going and attract members. This can only be a good thing.
It will be good to have another go, though I'll need to take it easy.

All Photographs unless cited are my Own.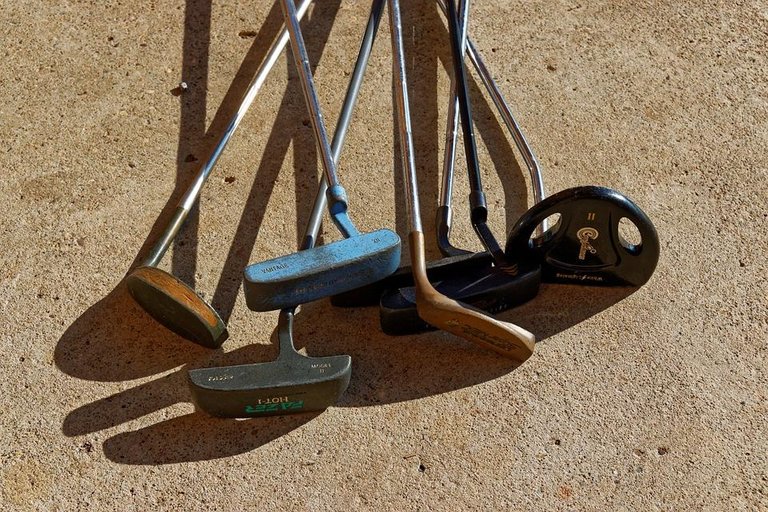 Source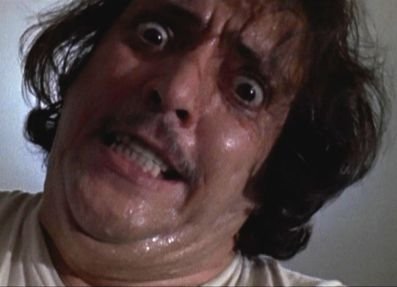 If you found this article so invigorating that you are now a positively googly-eyed, drooling lunatic with dripping saliva or even if you liked it just a bit, then please upvote, comment, resteem, engage me or all of these things.