Today in History: Al Capone released from Alcatraz
Due to the notoriety that the name carries with it, most people assume that Al Capone languished away in prison until an old age or was killed by rival mob bosses. However, despite being probably the most well-known gangster of all time, "Scarface" (a name he hated) was released from prison for relatively minor tax-evasion charges on this day and then disappeared from the public eye.
The year was 1939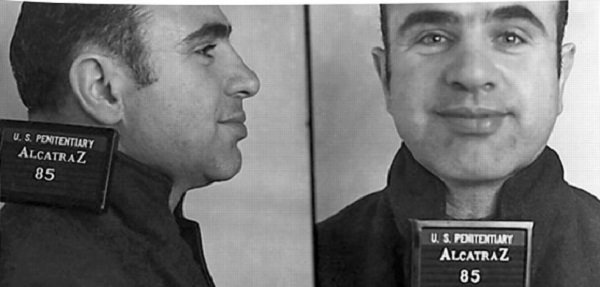 source
I have to admit, i also presumed that Capone had been done for murder, especially the famous St. Valentine's Day Massacre which resulted in the execution deaths of 7 members of a rival mob outfit in Chicago. However, not only was Capone not implicated in these murders, but the case was deemed "unsolved" and there is a lot of speculation that since it was "mob on mob crime" there was never a very serious investigation initiated.
When the word on the street turned out to be one of silence, there were never any serious leads to pursue. In a slightly morbid fashion, I kind of admire this devotion among the criminal underworld to never be a "rat" even when doing so could provide some sort of vengeance.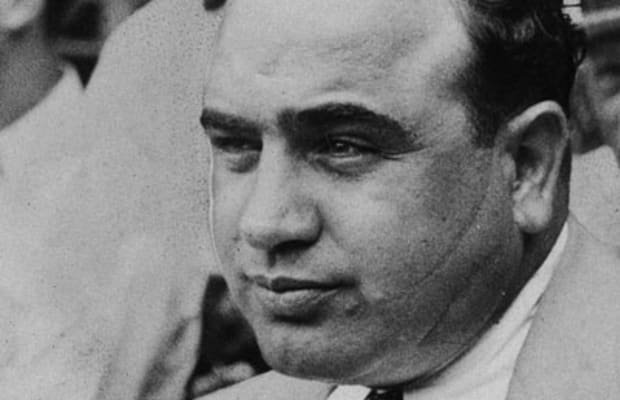 source
Capone had managed to obtain near celebrity status due to his nefarious activities (well, nefarious in the eyes of the government) but managed to be somewhat of a hero to the common man. He also did not shy away from the public eye, often taking interviews and being very up-front about what it is that he does.
In relation to his underground bootlegging operations, he is famously quoted as saying, on the record...
"Ninety percent of the people of Cook County drink and gamble and my offense has been to furnish them with those amusements."
Imagine that! Here you are, constantly under surveillance for exactly that sort of thing and then having the "untouchable" arrogance to publicly admit to precisely that. This is (or at least was) the power of due process back in the 20's and 30's. While everyone knew that Capone was involved in these sorts of things, on paper he kept himself far enough from it that any case against him wouldn't stick because he was meticulous in keeping a distance on paper and in most cases physically.
Alphonse never had a bank account and dealt exclusively with cash. There is only one known check that has ever been signed by Al Capone, and it was a check made out to Scarface, not the other way around.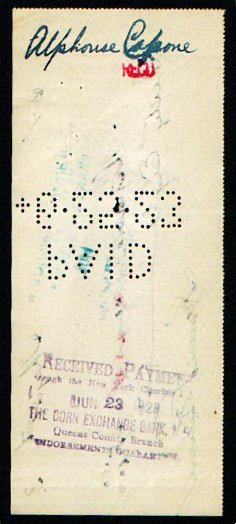 source
This piece is currently held by a private collector in Philadelphia and he has no intention of selling it
---
While the government was well aware of the fact that Capone was not only involved in organized crime, but was also in charge of it in Chicago (and beyond) there was nothing they could get to stick to him. Once president Herbert Hoover assisted in declaring Capone "Public Enemy number 1" there was a lot of pressure to convict the man of something... anything!
They got him once for carrying a concealed weapon in Philadelphia for which he served 9 months in jail and then later got him indicted on income tax fraud.
A lengthy trial ensued where the jury had to be swapped out because it became known that several of the jurors had been bribed by Capone's enterprise. In the end Alphonse was sentenced to 11 years in federal prison due to 5 convictions (out of 20.)
He was eventually moved to the "inescapable" Alcatraz prison and it is rumored that Capone was sent to this prison as a publicity stunt rather than out of necessity. The San Francisco island retreat was normally reserved for the most violent or problematic prisoners and Capone was known as an "especially well-behaved prisoner."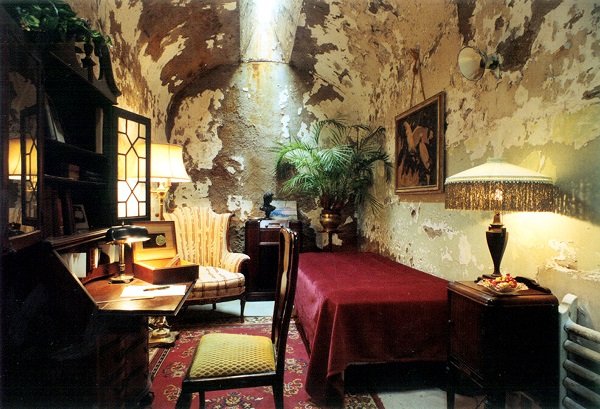 source
relatively luxurious accommodation
Upon his release, the government was likely suspecting he would return to the throne in Chicago, but precisely the opposite happened. He went to his estate in Florida, and stayed out of the public eye for the rest of his years.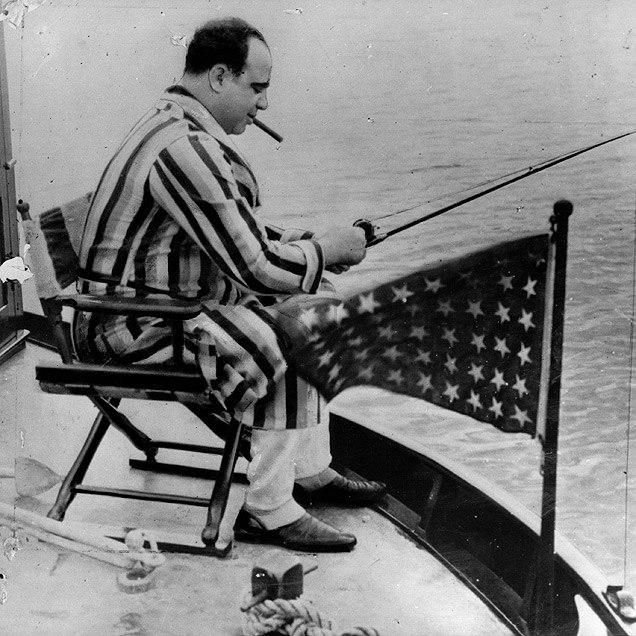 source
As far as anyone knows, Capone was never involved in criminal activities ever again after his release from prison, as he lived out his days fishing and doing other such harmless activities. However, this could have a lot to do with his deteriorated mental state after his decade-long stint behind bars.
Ironically, his 11 year sentence would end up being a death sentence, as he had syphilis as he had contracted the disease (and kept it secret) in his late teens. Medicine wasn't exactly top-drawer in the 30's - certainly not in prison.
Upon his release his vast fortune entitled him to the best available medical care but many hospitals refused to treat him. At that point the disease was too far developed for any sort of cure and his condition worsened over the years. I was a little disappointed to find out that the Chicago mob only granted him a stipend of around $600 a week and Capone's fortune, and his mental state, diminished rapidly during his final years.
While living out his days in Florida he suffered a stroke and eventually died of heart failure related to pneumonia. He was a mere 48-years old.
---
---