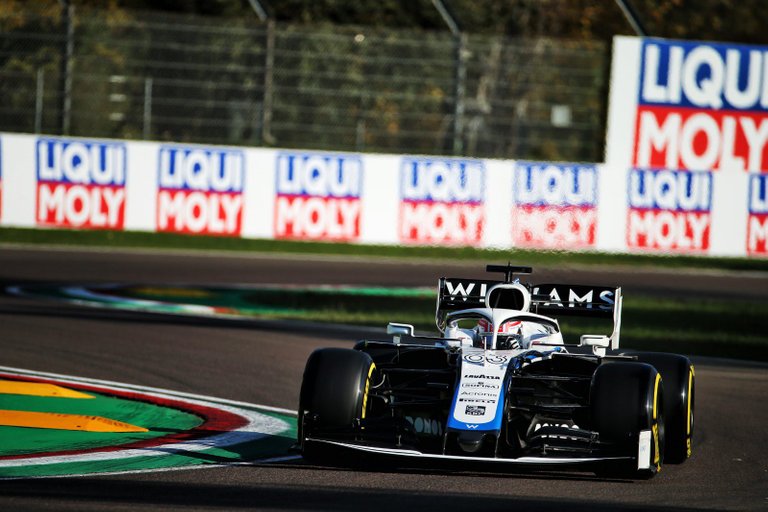 Source
George Russell became the first racer to be awarded a grid penalty at the 2020 Formula 1 World Championship for changing engines at the Turkish GP. The Turkish GP has just entered its first free practice session (Free Practice / FP1) However, the racer from Team Williams Racing-Mercedes has already been penalized by a reduction in the starting grid for the race on Sunday.
Russell occupies the caretaker position in FP1 after the Williams FW43 chassis carrying the Mercedes-AMG F1 M11 power unit only recorded a lap time of 1: 49,256 minutes. Russell is up to 14.179 seconds behind the fastest racer in FP1, Max Verstappen (Red Bull Racing-Honda).
After the FP1, Russell is rumored to be using a new Mercedes V6 engine, turbocharger and Motor Generator Unit - Heat (MGU-H). All of these components are the fourth he has used this year. Russell was confirmed to start from the back of the grid (20) in the race on Sunday (15/11/2020). Russell will also use his third Motor Generator Unit - Kinetic (MGU-K) for the race. However, it still fits the regulations.
According to FIA rules, for F1 2020 the number of engines, turbo, MGU-K, MGU-H and Internal Combustion Engine (ICE) - all called power units when put together - is limited to three for 17 races. Meanwhile, the battery (energy store) and electronic systems are limited to only two per season. Russell's penalty started in the first two races in Austria in July 2020. After bulldozing 49 laps of the Austrian GP race at the Red Bull Ring Circuit, Russell had to withdraw. At that time, engineers Tim Williams said the fuel pressure made the race engineer asked Russell to turn off the engine.
Williams then brought the power unit to the headquarters of Mercedes AMG High Performance Powertrains (HPP) in Brixworth, England. After investigation, it was revealed that Russell's power train had a problem due to a faulty gear drive. Russell then came down with some new components for the second race at the Red Bull Ring, GP Styria. Back then, Williams knew that some of these changes would lead to penalties for their riders.
This season, Russell has quite often qualified for the second qualifier (Q2) with only 15 riders followed (because five riders late in Q1 were eliminated to start from the 16-20 grid). Therefore, Russell regretted that he would start from the back of the grid because he felt that FW43's performance looked better at the Istanbul Park Circuit.
The British racer, 22 years old, also explained that the Williams FW43 chassis is always suitable for short circuits that require large downforce such as in Budapest, Hungary (Hungaroring Circuit). Of the 13 races that Russell has participated in in F1 this season, he has been unable to complete the race four times. His best finish was the 11th position of the Tuscan GP at the Mugello Circuit, Italy, 13 September 2020.