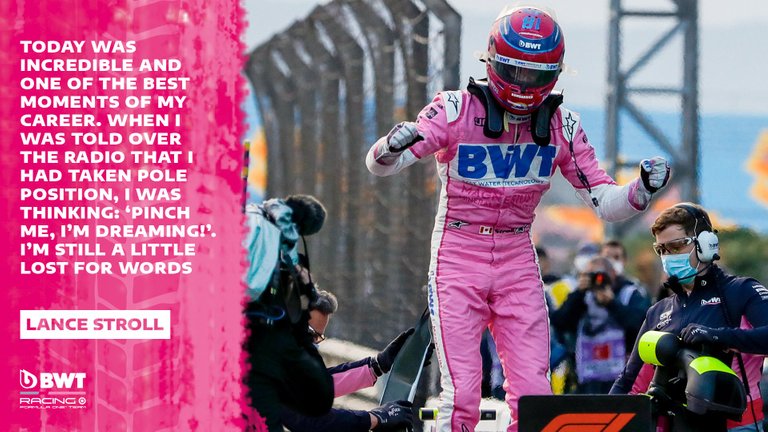 Source image
Lance Stroll is set to take the lead at the Turkish Grand Prix on Sunday, the 14th Formula 1 World Championship, after taking pole position through dramatic qualifiers.
BWT Racing Point Team racer, Lance Stroll, made a surprise by taking pole position in the Turkish Grand Prix qualifier which took place dramatically at the Istanbul Park Circuit,
For Stroll and Racing Point, this is the first pole position for both of them in F1.
Stroll will start in front of the race on Sunday (11/15/2020) tomorrow after recording a lap time of 1 minute 49.321 seconds in Qualification 3 (Q3). Stroll's Racing Point RP20 did have a hard time with intermediate tires in the early rain of Q1.
However, the tire selection turned out to be right after the track started drying in Q2 and Q3.
It did rain before Q1 started. Renault team racers: Esteban Ocon and Daniel Ricciardo, Mercedes-AMG Petronas duo: Valtteri Bottas and Lewis Hamilton, Alfa Romeo Racing: Kimi Raikkonen and Antonio Giovinazzi, duet AlphaTauri Honda: Pierre Gasly and Daniil Kvyat, and duo Williams: George Russell and Nicholas Latifi, get off with wet tires.
At the beginning of Q1, Max Verstappen (Red Bull Racing-Honda) came down with intermediate tires. However, these tires are not able to produce grip on the wet track in Istanbul Park. As a result, Verstappen's Red Bull RB16 slipped several times.
Ocon recorded the fastest time in Q1 with 2 minutes 06.115 seconds when the red flag appeared due to increasingly heavy rain.
Back then, Verstappen's timing didn't make it through to Q2. After a long delay, Q1 was resumed. And on the third try, Verstappen finally made sure he recorded the fastest time in Q1 with 1 minute 57.485 seconds.
Verstappen's teammate, Alex Albon, came in second. Meanwhile, Hamilton qualified for Q2 despite slipping at the exit of Turn 1 and finishing 14th in Q1.
The Q1 result knocked out five riders, namely Kevin Magnussen (Haas), Kvyat, Russell, Romain Grosjean (Haas), and Latifi. They will start from 16th to 20th in the Turkish GP race on Sunday.
The competition in Q2 which lasted 15 minutes looked tighter even though at the beginning the pit lane was opened, there was still a yellow flag in sector 2.
Some of the racers use wet and intermediate tires. The two McLaren drivers, Lando Norris and Carlos Sainz Jr., continued to use intermediate tires.
Verstappen again showed his speed in this session. When the track started to dry up, Stroll was the fastest.
Albon is also once able to be faster (about 0.4 seconds) than Verstappen. Both Red Bull riders wore wet tires in Q2.
Verstappen finally recorded the fastest time in Q2 with 1 minute 52.036 seconds. A surprising result was made by Alfa Romeo, who for the first time sent his racer to Q3 after Giovinazzi and Raikkonen finished fifth and eighth respectively in Q2.
On the other hand, the Ferrari drivers experienced bad results. Able to be fast enough in three free practice sessions, but none of their riders have qualified for Q3.
Sebastian Vettel and Charles Leclerc will only start from the 12th and 14th grid until they are eliminated in Q2 alongside Norris (11), Sainz Jr (13) and Gasly (15).
In Q3 which lasted 12 minutes, Verstappen continued to try to maintain the top position. As a result, he was top with 1 minute 52.326 seconds or about four seconds ahead of the 10 remaining riders in Q3.
With 1 minute remaining, Stroll moved up to second. However, Verstappen was again able to take second place while Perez slipped to third after Stroll recorded 1 minute 49.321 seconds. Verstappen, who tried to fight back on the last lap, finally had to settle for starting from the second grid in the race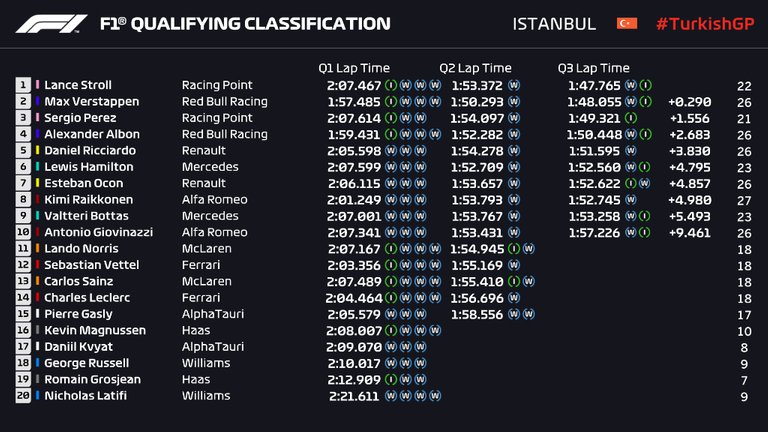 Source image