BRAZIL SECURED SPOT IN SEMI-FINAL DESPITE RED CARD./ BRASIL ASEGURÓ EL LUGAR EN SEMIFINAL A PESAR DE LA TARJETA ROJA.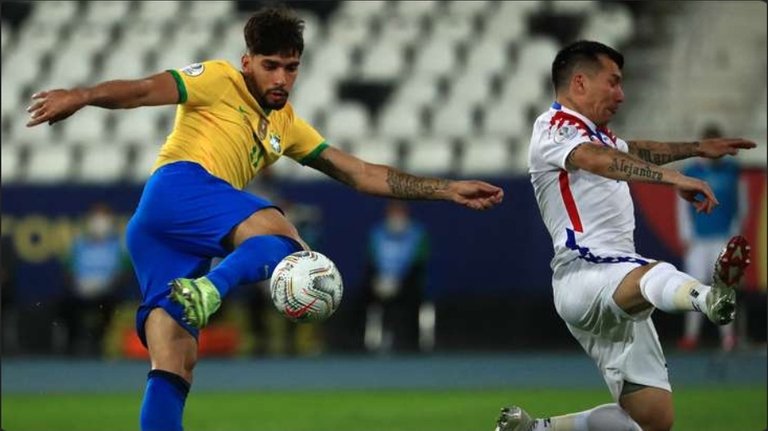 Completely against pre-match expectations, Chile began the match in lively fashion, whilst the Brazilians looked very lacklustre. This was the theme throughout the first half, as Eduardo Vargas - marking his 100th cap for Chile - was yet again at the forefront for everything good his side produced against the heavy favourites.
Despite Vargas' high press on the Brazilian defence, home goalkeeper Ederson looked comfortable between the sticks and made easy saves. As the half went on, Brazil began to grow into the game, but still lacked a cutting edge in the final third, and their best chance came via a Danilo shot from distance, which sailed just over the bar.
The opening five minutes of the second half produced more action alone than the entire first half. Within 60 seconds of the restart, HT substitute Paquetá opened the scoring for Brazil, and justified Tite's tactical decision to bring him on. The way he finished off a fabulous move of intricate passing and flicks from his teammates was simply 'classic Brazil'.
Just minutes later, the Brazilian mood went from high to low, as Gabriel Jesus was shown a straight red card for a reckless high boot into the face of Chile defender Eugenio Mena. Inevitably, Chile stepped up the pressure, and thought they had an equaliser when Vargas found the net. However, after a lengthy VAR review, the goal was ruled out for offside. Thereafter, it was British-born Ben Brereton who then came closest to levelling, with a looping header that had Ederson beaten, but the crossbar came to the goalkeeper's rescue.
Despite playing over 40 minutes with ten men, Brazil saw out the final stages of the game without much threat from Chile, as they showed great professionalism and defended their one-goal lead with the resilience of champions. They now face Peru in the semi-finals.
SPANISH
Completamente en contra de las expectativas previas al partido, Chile comenzó el partido de manera animada, mientras que los brasileños lucieron muy mediocres. Este fue el tema durante la primera mitad, ya que Eduardo Vargas, que marca su partido número 100 con Chile, estuvo una vez más a la vanguardia por todo lo bueno que produjo su equipo contra los grandes favoritos.
A pesar de la alta presión de Vargas sobre la defensa brasileña, el portero local Ederson lució cómodo entre los palos y realizó paradas fáciles. A medida que avanzaba la mitad, Brasil comenzó a crecer en el juego, pero aún carecía de una vanguardia en el último tercio, y su mejor oportunidad llegó a través de un disparo de Danilo desde la distancia, que pasó por encima del larguero.
Los primeros cinco minutos de la segunda mitad produjeron más acción solo que toda la primera mitad. A los 60 segundos del reinicio, el sustituto del HT, Paquetá, abrió el marcador para Brasil y justificó la decisión táctica de Tite de traerlo. La forma en que remató un movimiento fabuloso de intrincados pases y movimientos de sus compañeros fue simplemente "Brasil clásico".
Pocos minutos después, el ánimo brasileño pasó de alto a bajo, cuando a Gabriel Jesús se le mostró una tarjeta roja directa por una bota imprudente en la cara del defensa chileno Eugenio Mena. Inevitablemente, Chile aumentó la presión y pensó que tenían un empate cuando Vargas encontró la red. Sin embargo, tras una larga revisión del VAR, el gol fue descartado por fuera de juego. A partir de entonces, fue Ben Brereton, nacido en Gran Bretaña, quien estuvo más cerca de nivelar, con un cabezazo en bucle que tuvo a Ederson derrotado, pero el travesaño vino al rescate del arquero.
A pesar de jugar más de 40 minutos con diez hombres, Brasil vio las etapas finales del juego sin mucha amenaza de Chile, ya que mostró una gran profesionalidad y defendió su ventaja de un gol con la resistencia de los campeones. Ahora se enfrentan a Perú en las semifinales.
---
---