A Magnificent round of golf at 5 star Glenlo Abbey Hotel and Golf resort
Variety is the spice of life
It will come as no surprise to most of you to hear that I love golf. I love to watch it, I love to play it, I love to buy things for it, I like to win things playing it. You get the idea. The great thing about golf is the great equaliser that is the handicap system, meaning that anybody can play anybody on a fair system where everyone has a handicap base on their capabilities, which affectively means that I could play somebody like Rory McIllroy and I would have a chance to compete against him. Now to be fair that might be a stretch, but a player in my club playing of scratch playing against me a 14 handicap golfer should be a fairly even game, as the scratch golfer will be giving me 14 extra shots, which goes a long way to evening things up. If he has an off day by his standards, I'll probably win and if I have an off game by my standards, the scratch golfer will likely win. If we both have off days, it could go either way, but more than likely the scratch player will win as they will have better temperament more typically, otherwise they never would have gotten it down to zero on the handicap front.
So competitive golf is a sport that can be enjoyed as a teenager, in your twenties, thirties, forties, fifties, sixties, seventies and I have even played in competitions with guys in their eighties, now that last category you do not come across too often, as most people have hung up their clubs by then, but the point is that as someone who thrives in competition, I have a sport where I can realistically play competitively right up into my seventies and I don't think there is another sport out there that can boost that capability.
It should be no surprise then that I am a member of a local golf club, and I play on average at least once per week and spend most of the week looking forward to getting out onto the fairways to have a go at hitting a low score by trying to get the ball in the ball in as few shots as possible eighteen times. The majority of these games are played at my home course, but occasionally I will get out for an open day at other golf courses around Ireland, so when my friend was coming to a hotel in Galway where I live, which just happens to have a golf course, I booked some time off work and off we went to Glenlo Abbey.
5 star Glenlo Abbey Hotel and Golf resort
My friend was down for a romantic few days away with his wife, but he also brought his mistress, yes his wife is very understanding like that, although the mistress had to travel in the boot. Yes, his mistress is his golf clubs and new found love of the game. I found golf around fifteen years ago, but my friend has just found it in the last year and is full blown mad into now and will play a round at any opportunity, so his wife booked in for a Spa treatment and he met me for a round of golf.
Now, let me share a few photos to give you a feel for the course at Glenlo Abbey and how we got on.
Shooting for Eagle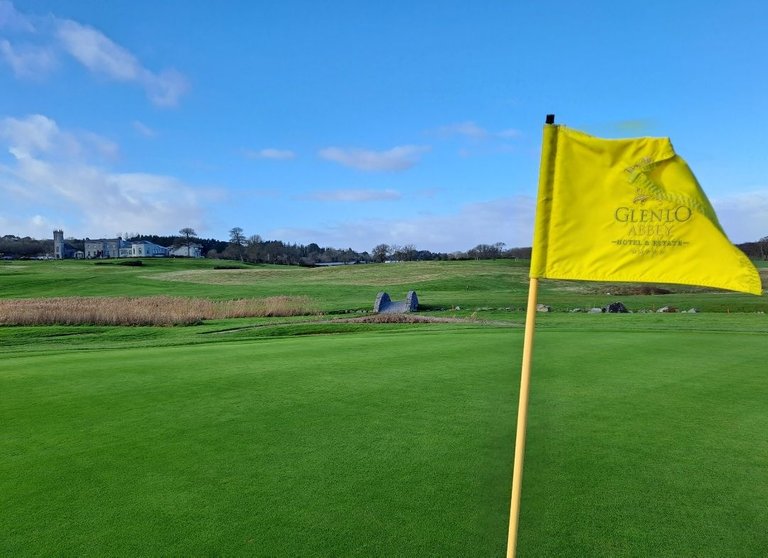 As the flag fluttered away 490 yards in the distance, I remembered back to playing this hole as a young lad and in fairness I did birdie it on occasion, but there were also plenty of 7s, 8s and 9s, as it is frought with danger. You can try to take on the water which required a carry of around 250 yards or else you can play safe and aim towards the bunkers straight ahead aiming to leave it a little short and have a 3 wood to the green.
When my friend and I teed up for this hole, there was a strong breeze at our back, so I was tempted to take on the water - as a youngster I would not have had the power to do so, but now I had and I was a much more accomplished golfer. I pulled the driver and took it on and I won't lie to ye, I hit one of the best drives of my life, with a baby draw that not only carried the water, but trundled down the fairway towards the green, leaving me an 8 iron into a difficult par 5 - I had cut off around 100 yards by being brave (or stupid!)
I pulled the 8 iron and pured my second, I actually caught it too well and it flew straight over the top of the flagstick, but I now had a putt from the fringe for eagle - Here are a few shots, lucky that the course was really quite and I had time to take a few photos.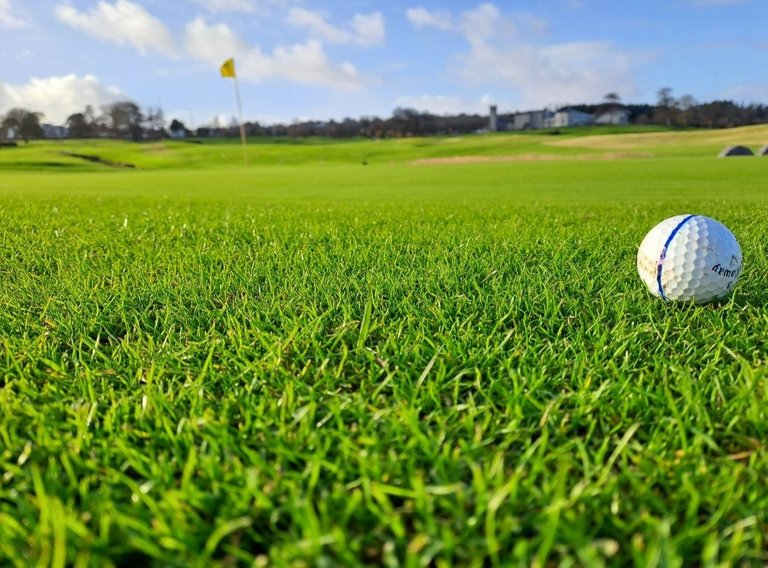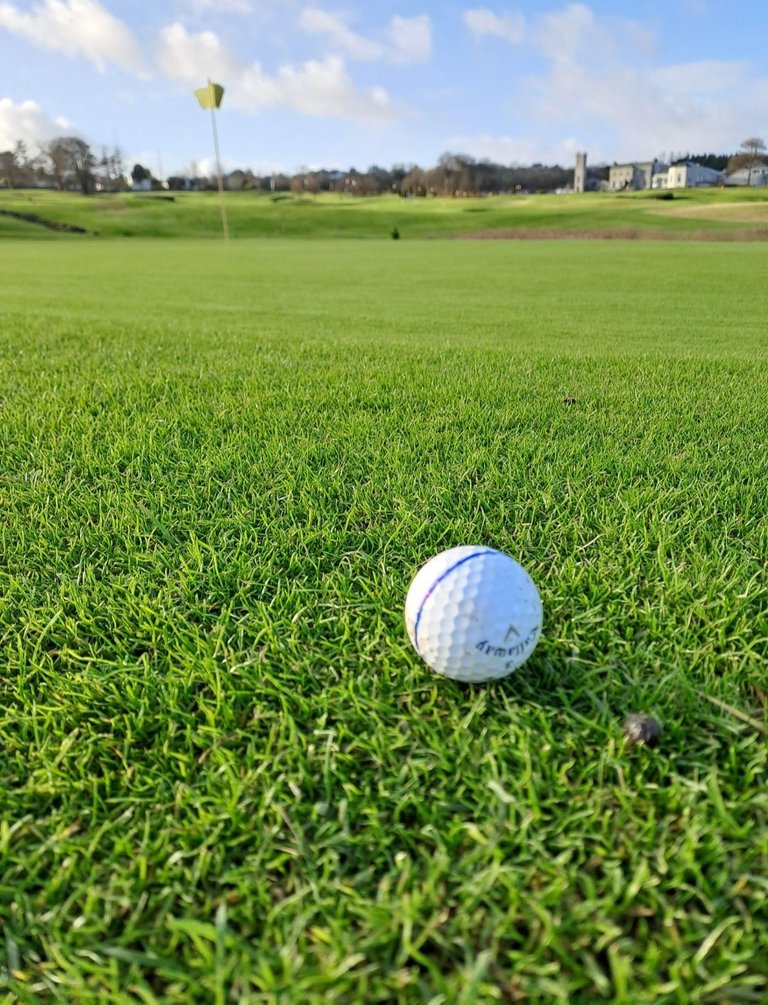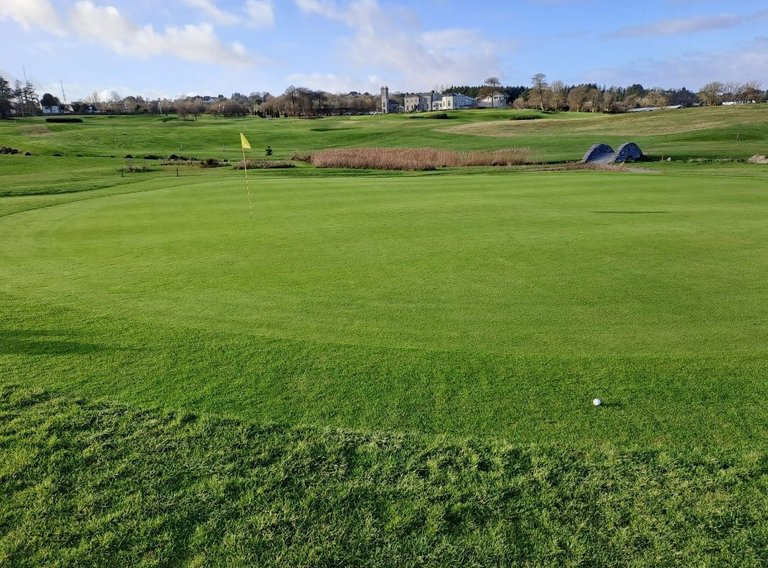 I missed the putt, but only by a few feet, so I tapped in for a sweet birdie in the end, which left me with a big smile on my face.
Par 3 magic
So any of you that know golf, will be familiar with TPC Sawgrass and in particular the island green on the seventeenth, where a pulled shot is going in the water, a pushed shot is going in the water, a short shot is going in the water and a long shot is going in the water. You get the idea. Well Glenlo Abbey has a similar hole and it is the par 3 fourth hole.
I forgot to take a good phot from back at the tee box, but if you look at the photo below, beyond the Pullman restaurant (which is an experience everyone should try, dining aboard an old train for the Orient Express) you will see the lake, well that is the island green.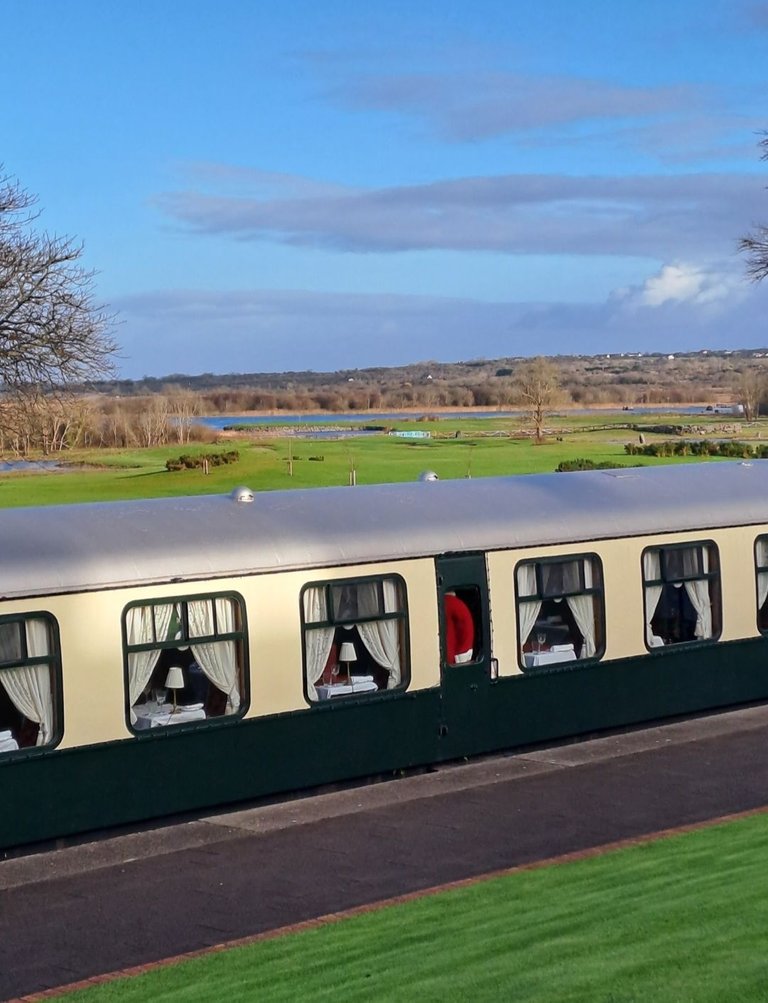 Here, let me zoom in another bit for you, that is the green. Sorry the quality is a little bit grainy, but you get the idea. This was a tough tough par 3 by anyone's standards, pro and amateur alike.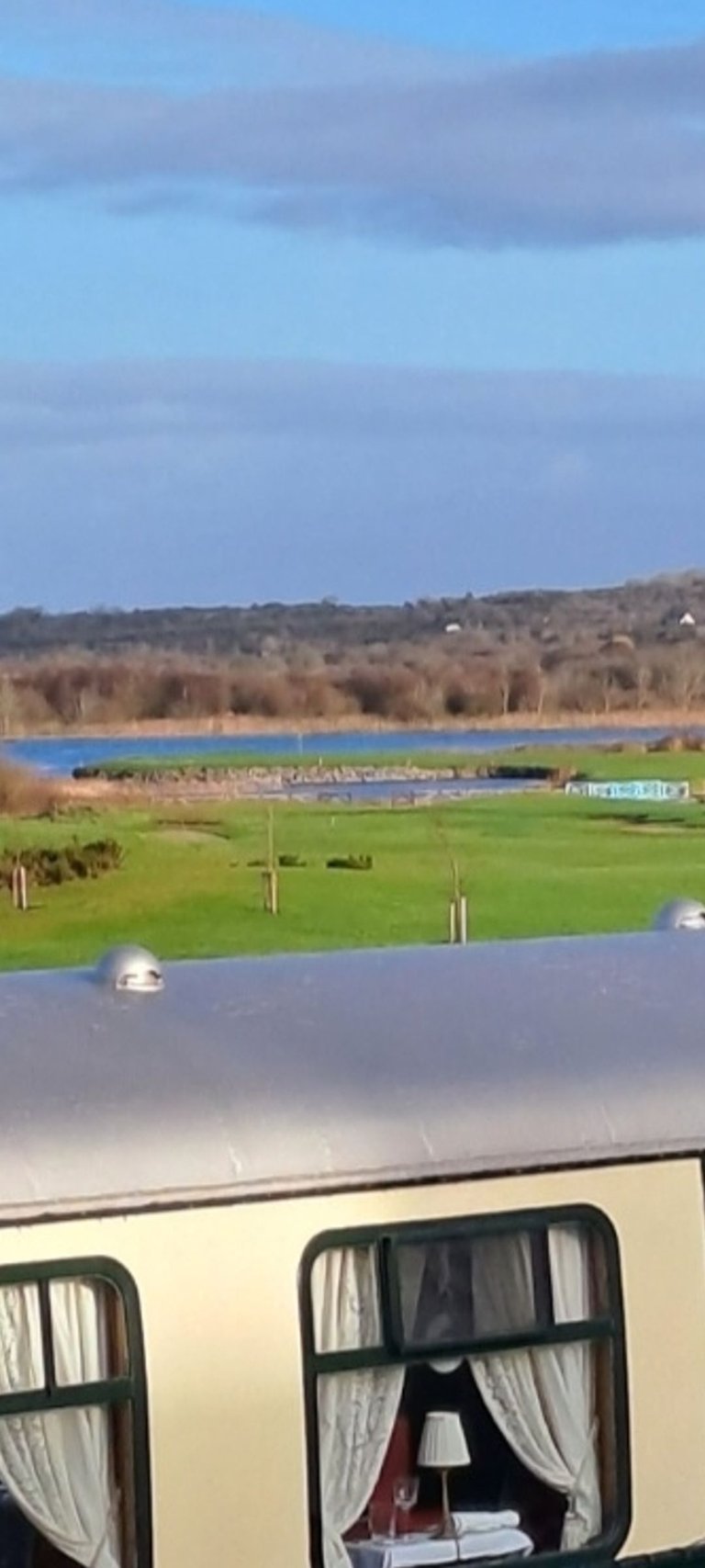 Here is a look from up near the green, as you can see there is a small bail out area to the right, but if the pin is in the middle or left of the green, it is very hard to not have a go.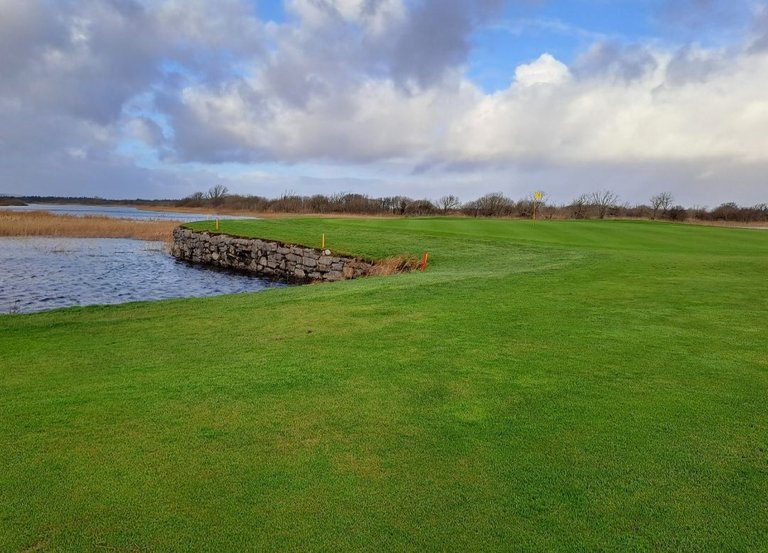 We were playing off the white tees up until this hole, but the blue professional tees for this hole are a sight to behold, so we opted to tee off from them for this hole only. I ended up bailing out right by accident, but my ball was dry, so I was happy enough to be honest, then my friend whose handicap is 37 stepped up and hit an absolute worldy, leaving the ball on the green with a makeable 12 footer left for birdie. It absolutely made his day and although he missed the birdie, he made par which he was thrilled with.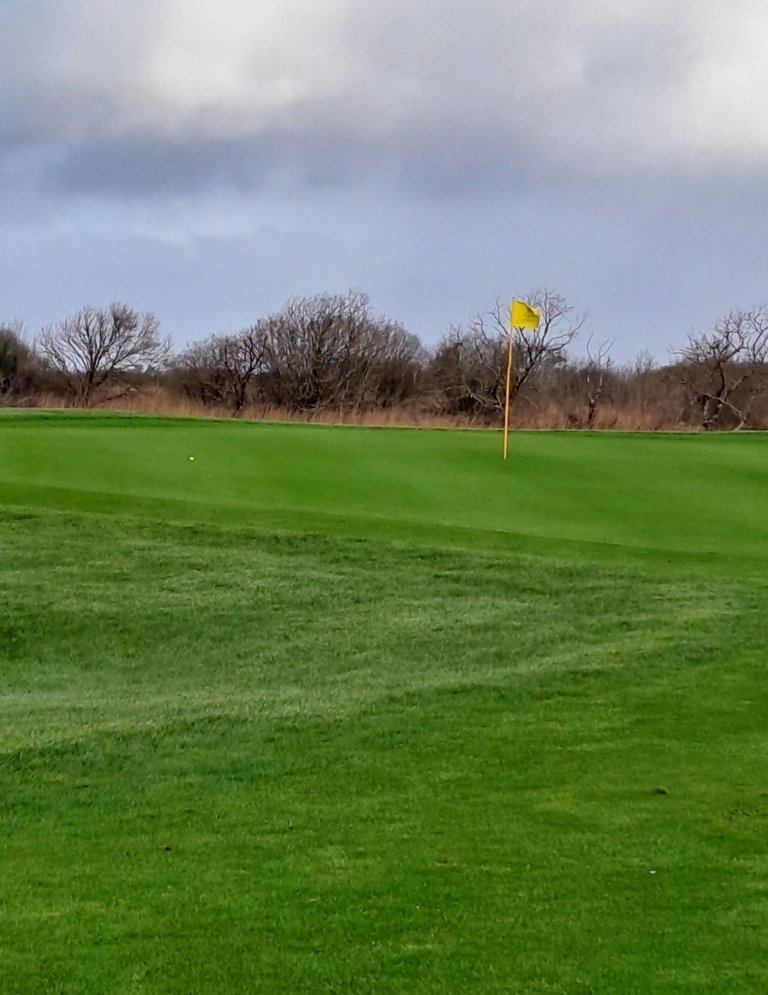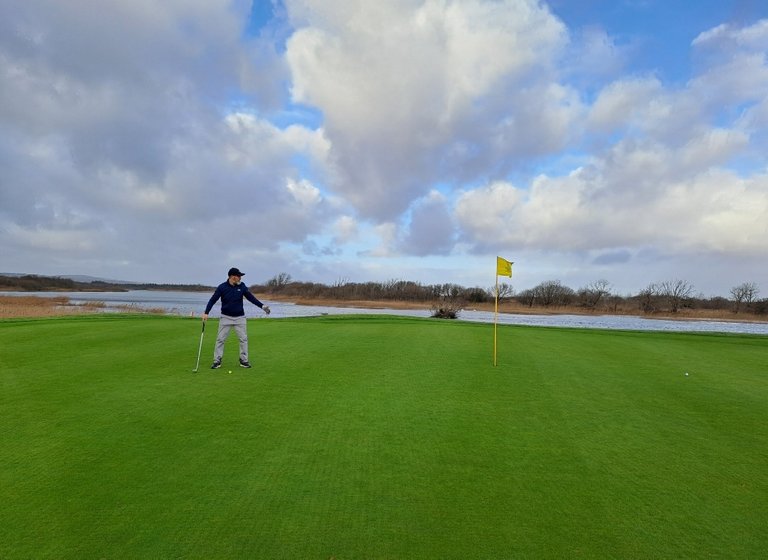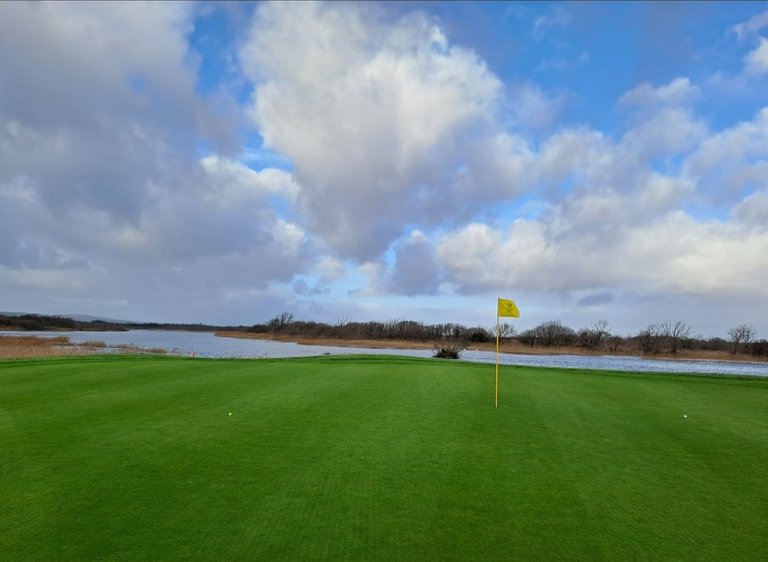 The wind was blowing hard too, which will be something my buddy @cryptoandcoffee would be well used to in South Africa, which made my friend's tee shot all the better. You could honestly have had John Rahm and Rory McIlroy in the fourball with us, and they may not have gotten in closer, which is the beauty of golf, you can hit a shot better than a pro every now and again.
Chipping It Close
I managed to get my handicap down to 14 last year and I am hoping to shave another few shots off it this year, I'd be quite happy if by the end of the year, I have it down to 12.
For a long time, like many golfers I hovered around 20, I might get down to 19, but could as easily go out to 22, but I never got below 18 or went above 22, that is until I dedicated a little bit of practice time to my short game - that is chipping and putting and the results speak for themselves and I can now proudly say that I play off 14, which portrays a far better golf than someone who says 21.
While playing at Glenlo abbey, I fell short of the green with my second shot and still had a lot to do, but as you see from the shots below I chipped it in close and made par. Having a good short game makes the game so much easier and so much more enjoyable.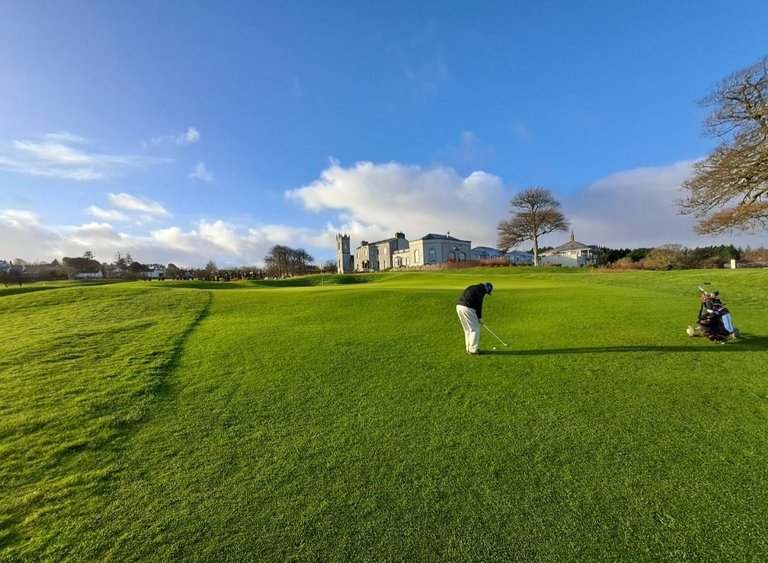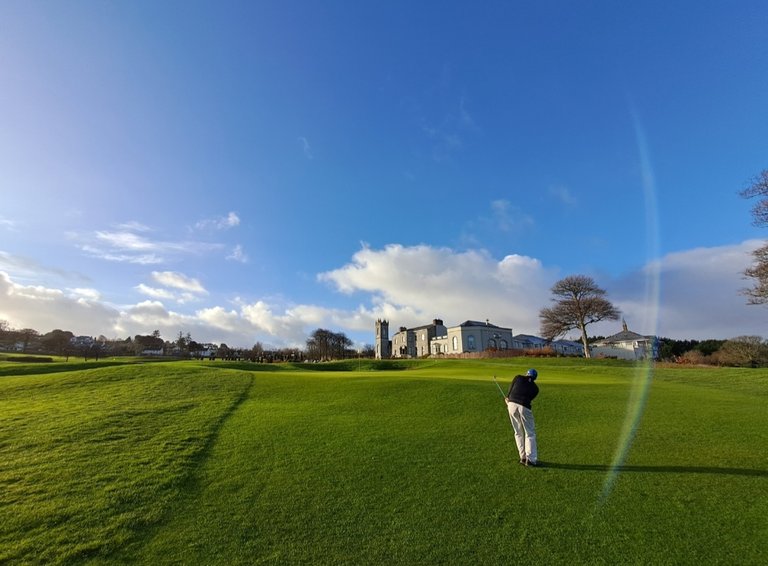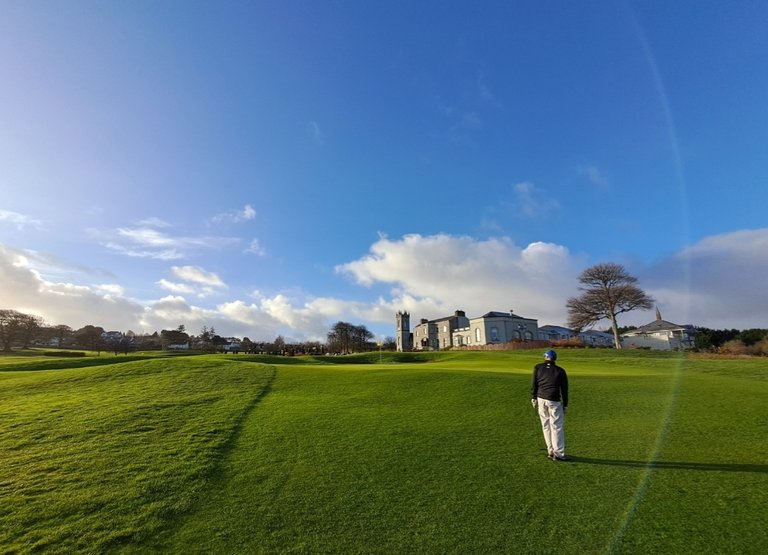 Some more shots from around the course
I'll leave you with a few more shots from around the golf course to give you an idea of how good the course is. My only complaint is that it is only a nine hole course, which is an awful pity, as another nine holes would make it a course to rival many in the West of Ireland.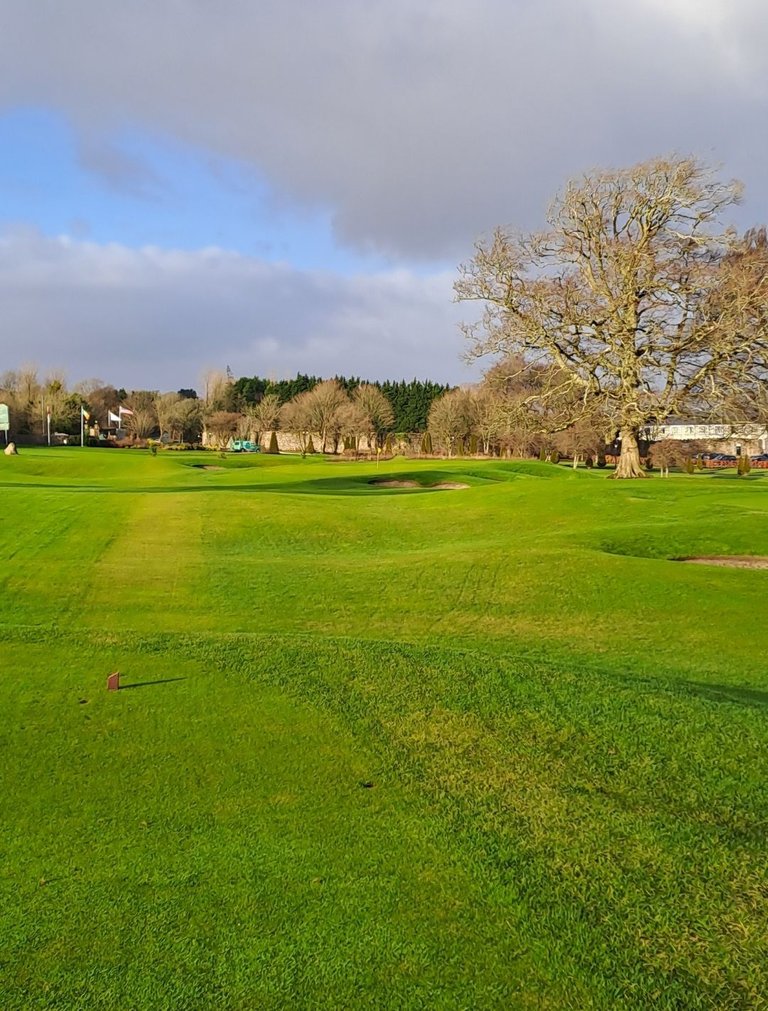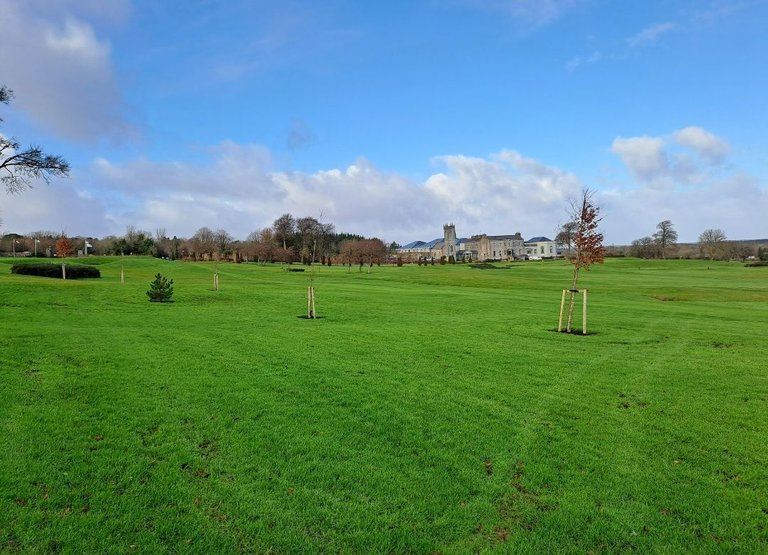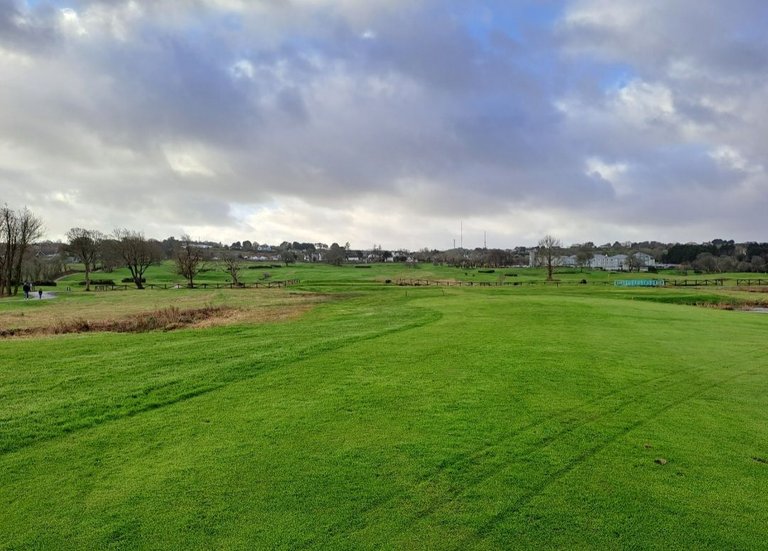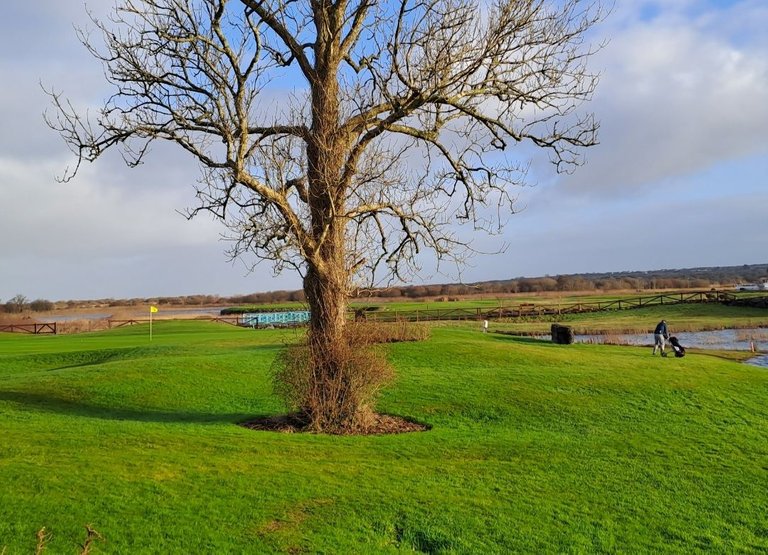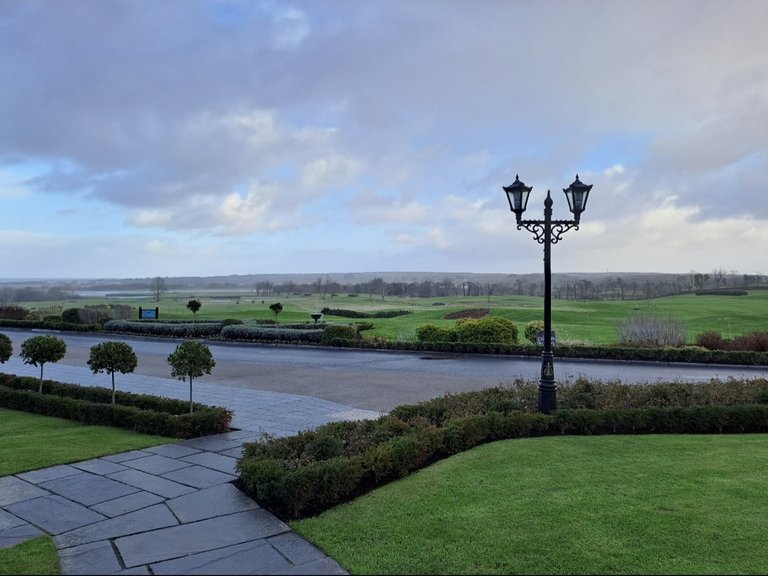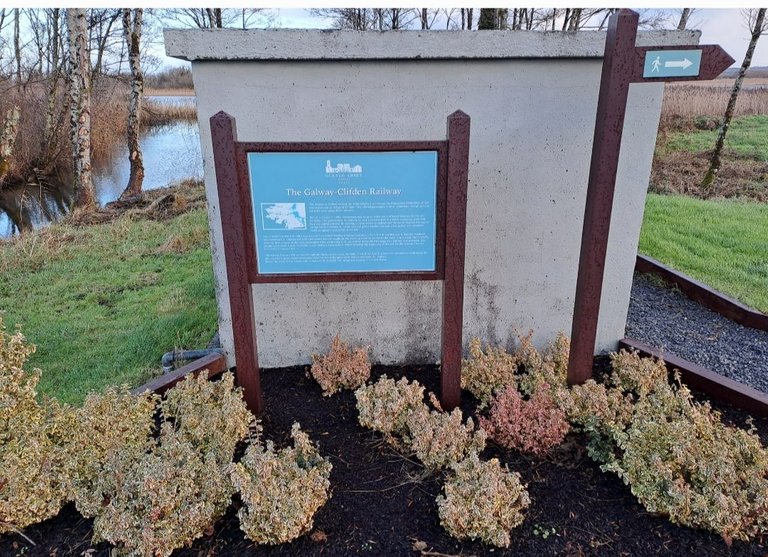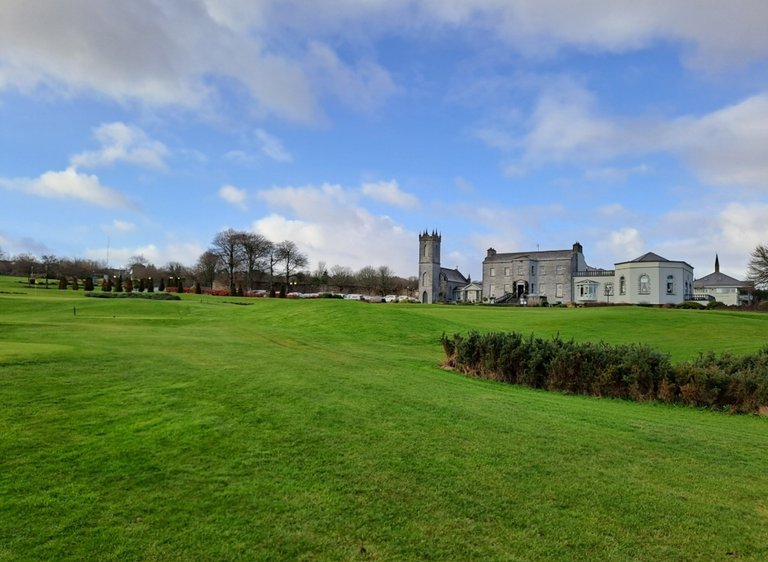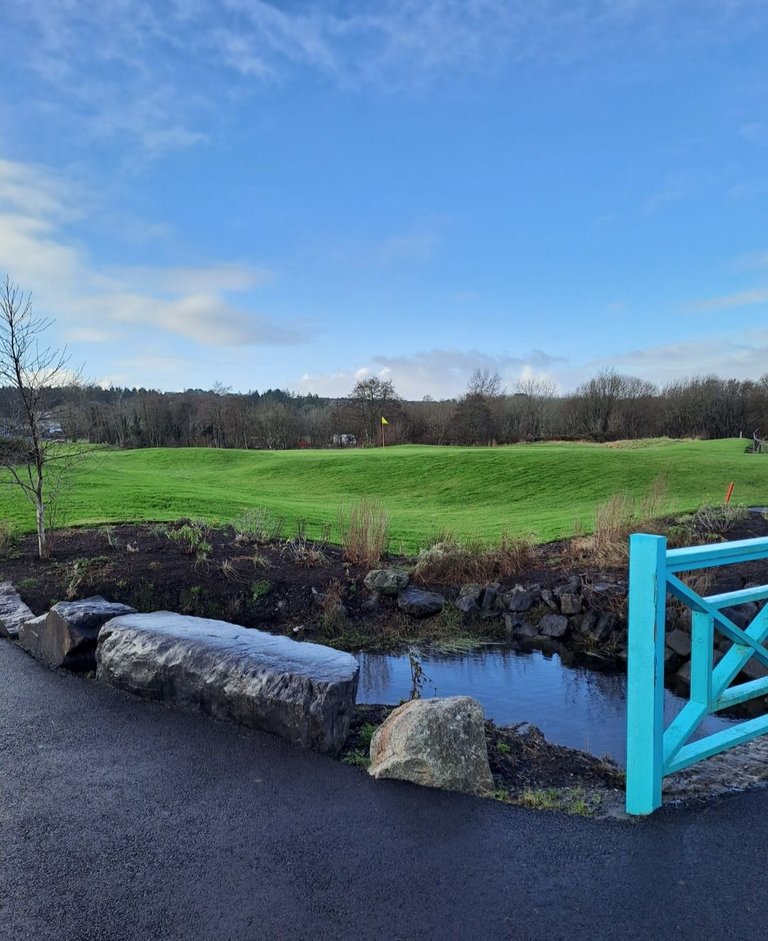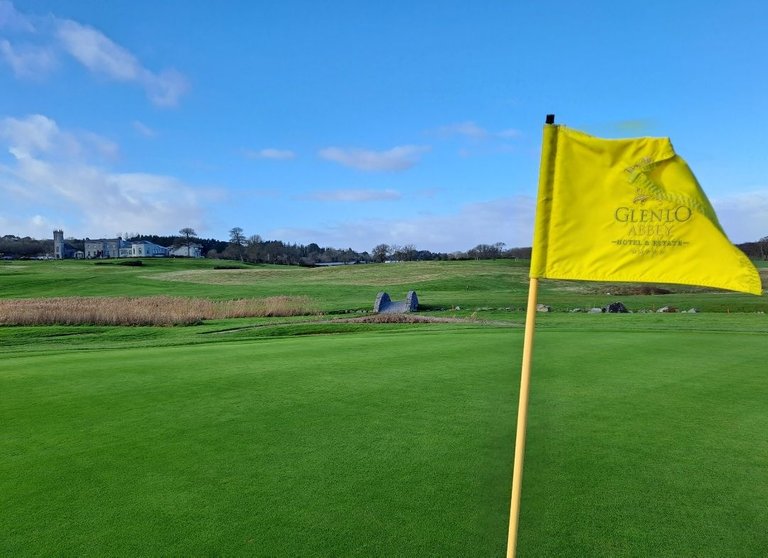 These are all original photos captured by me on my Samsung Smartphone other than the shots of me! Mt friend took those on my phone!
Thanks as always for stopping by everyone.
Peace Out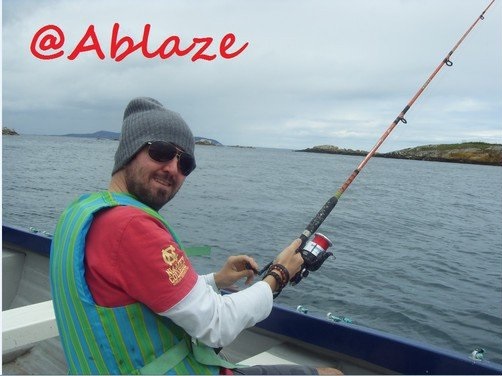 ---
---