To the land of the rising sun 🌄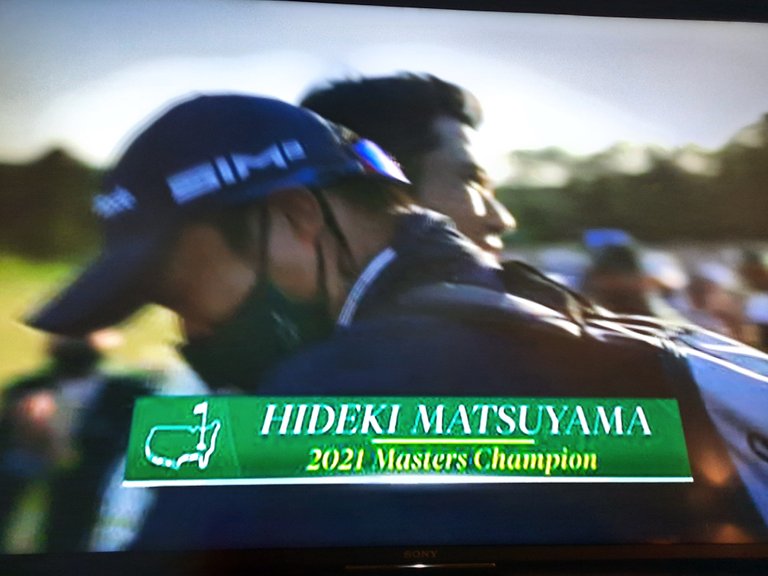 No sooner had Jack and Gary teed it up on the first hole on Thursday, that Hideki was feeling snug in his shiny new green jacket. What a tournament this was and what a worthy champion. Take a bow Mr. Matsuyama, you are the 2021 Masters champion.
My god did he make hard work of it at times. After getting himself into a 6 shot lead on the back 9, a catalogue of terrible decision making could easily have cost him. It's clear that his caddie is just a friend, as any caddie worth his salt would have told him to lay up on the two pars 5s on the back 9. Instead he went for gold on both par 5s, and on another day he would have paid dearly. He crunched his drive on 13 straight into the trees, but fortunately for him the ball finished on the fairway. Now, lay up.
Nope, I'll go for the green thinks Hideki, sure it's only the Masters!
He unleashes a long iron aiming straight for the pin that comes out hot. It looks long as soon as he hits it and if it lands one yard longer, its in the azaleas at the back of the green. Fortune again shines warm on his back, as the slope at the back of the green saves his bacon. His next shot is genius, as the images below show and he somehow makes the birdie. That chip affected Xander in 2nd place and he then missed his makeable eagle putt and they finished the hole as they started, separated by 5 shots.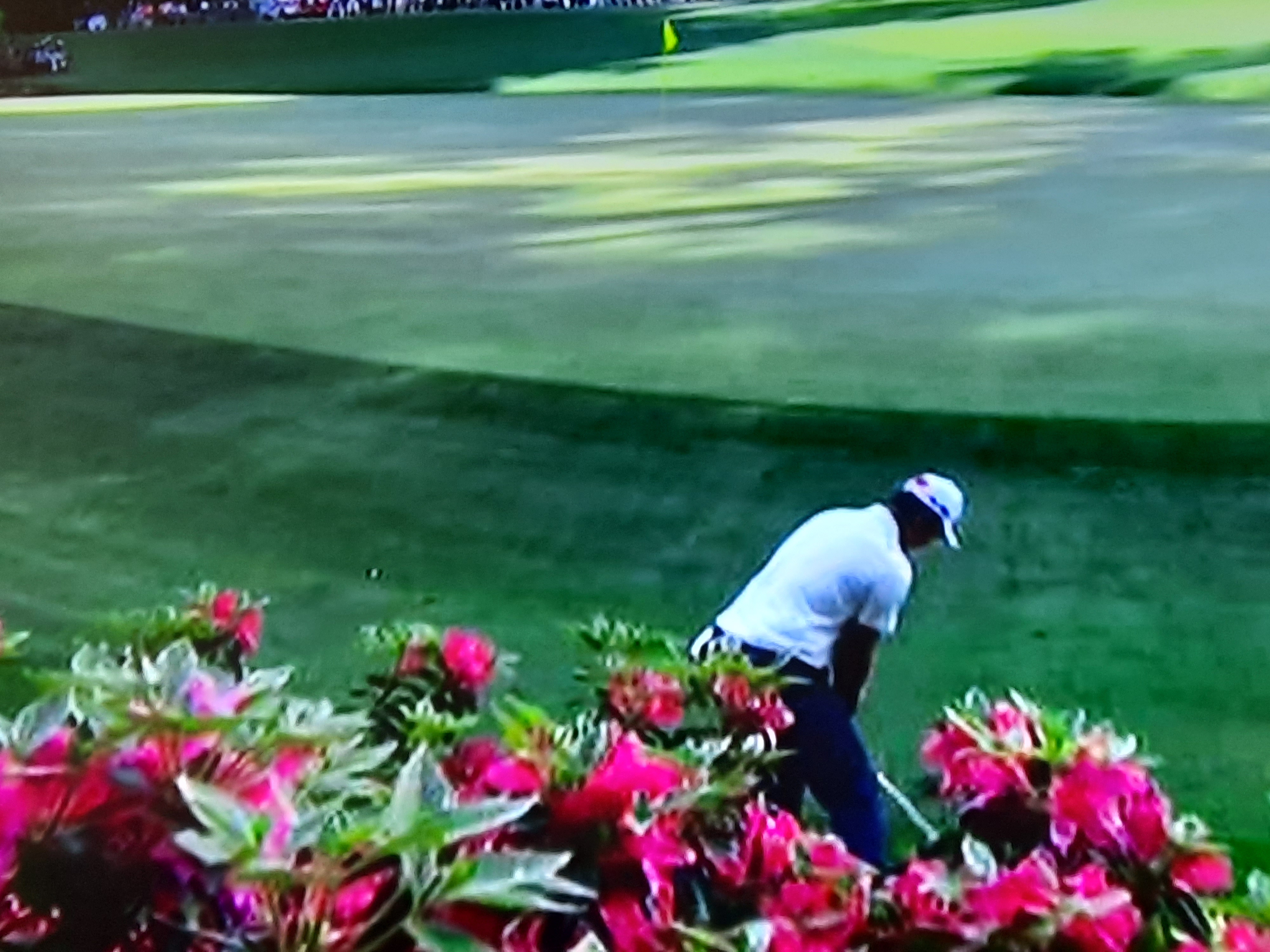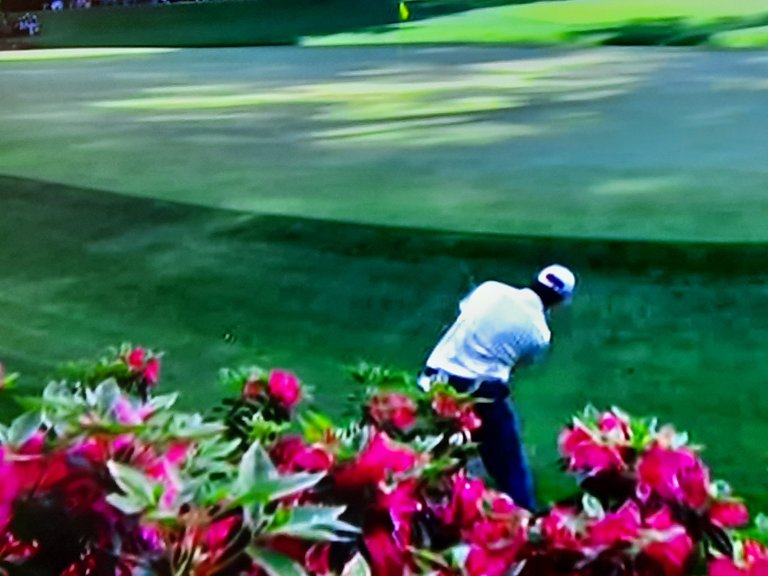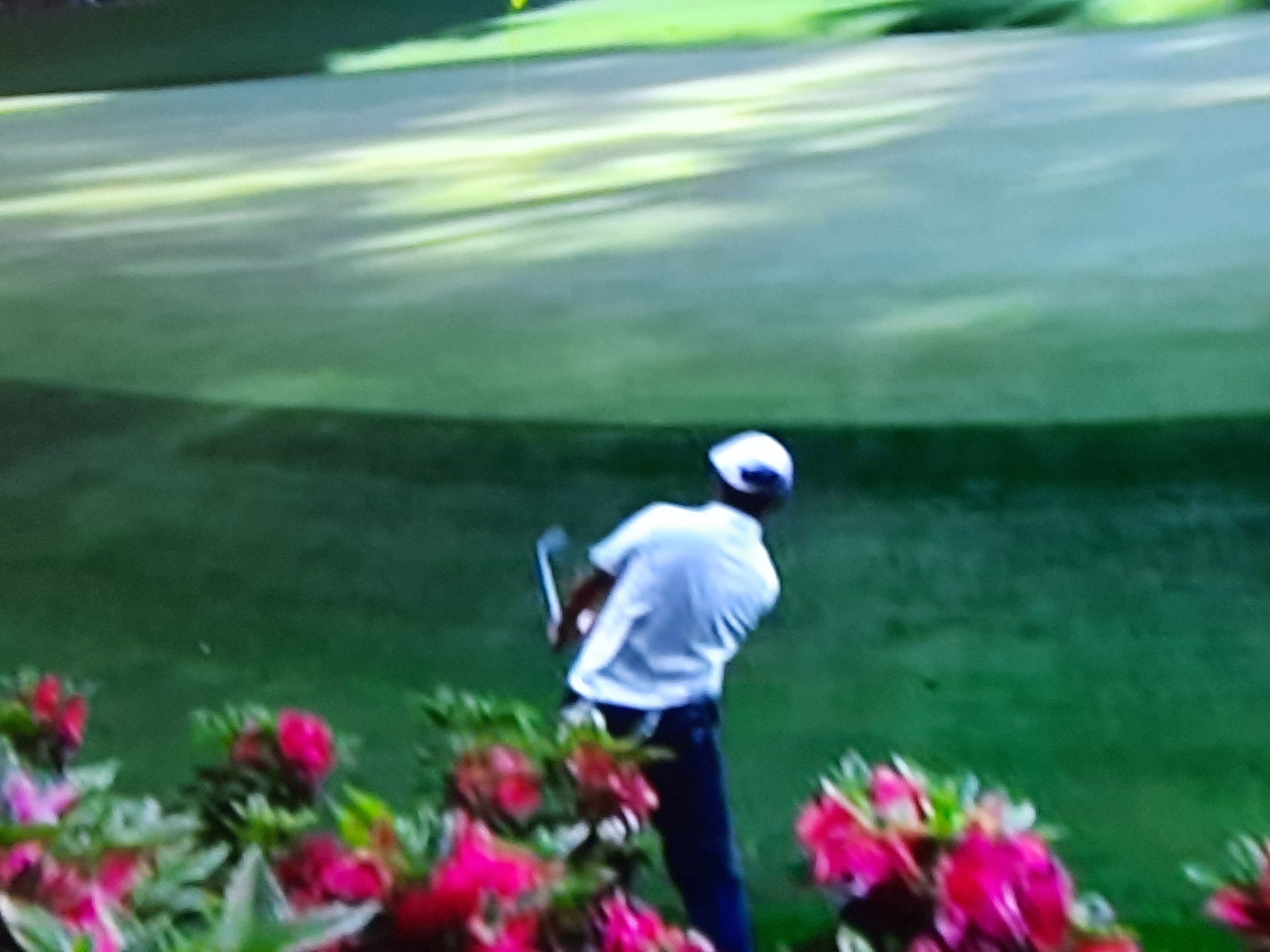 Ok, lesson learned. He surely won't go for it on 15. Guess again. He went for it again and surprise surprise, he overcooked it ending up in the water behind the green. He took a bogey this time and Xander very nearly chipped in for eagle from the greenside bunker. That would have slimmed the lead down to 1. Instead he tapped in for the birdie and the lead was down to two with three holes to play.
They both walked up to the par 3 16th and the momentum was with Xander. However it turned into a nightmare for the man from Hawaii. He put his tee shot in the water, and then overshot the green with his penalty shot, ending up with a triple bogey 6, while Matsuyama bailed out left away from the water and scribbled a precious par down on the card. That 3 shot swing closed the door on the competition and a par/bogey finish was enough to give Matsuyama the narrowest of victories.
Rahm's Charge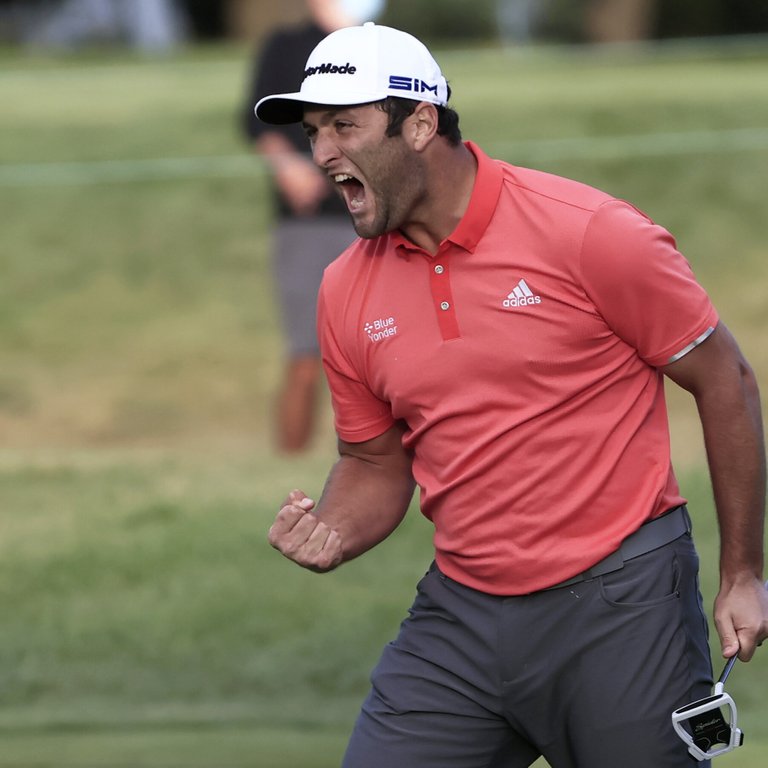 The feisty Spaniard started the day off on even par. He was to be an also ran. John Rahm does not do also ran. It's simply not in his vocabulary. The new Dad who only arrived here on Wednesday showed us his real abilities on Sunday. It's just a pity he was not a few shots under par coming into Sunday. He finished the day and the tournament on an impressive score of -6 making him the early clubhouse leader.
A bit of humour
Any golfer who's seen hilarious golf comedy Happy Gilmour will get a good laugh out of this!! Zalatoris is the absolute head of this kid from that movie.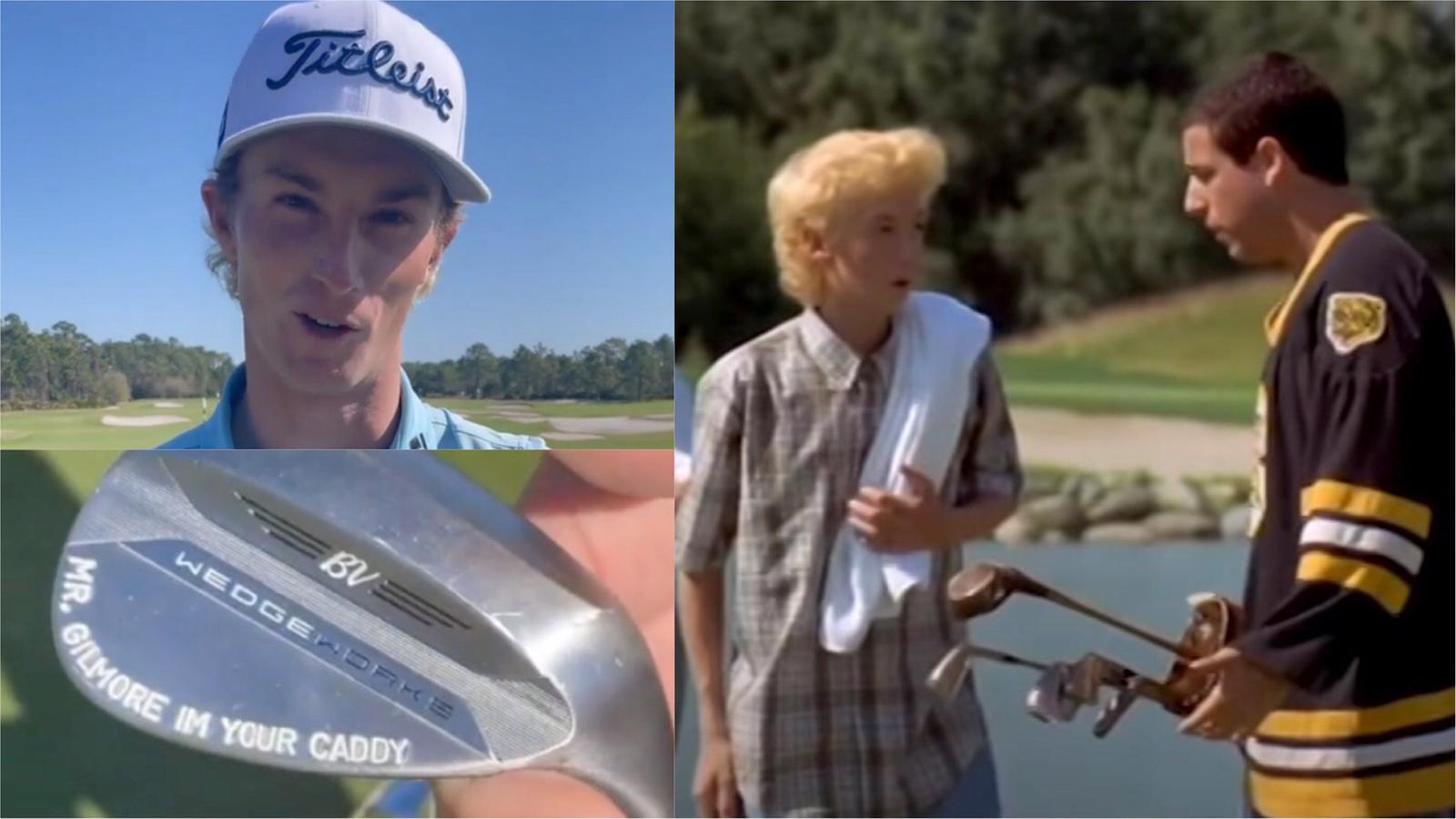 And here we see Dustin Johnson arriving back after his two days off to present the most famous green jacket in the world!
We all need a laugh every now and then, so i hope that gave you all you golf and sports fans one.
My predictions
These are the players i mentioned before a ball was hit earlier in the week and I didnt do too badly, i think you'll agree.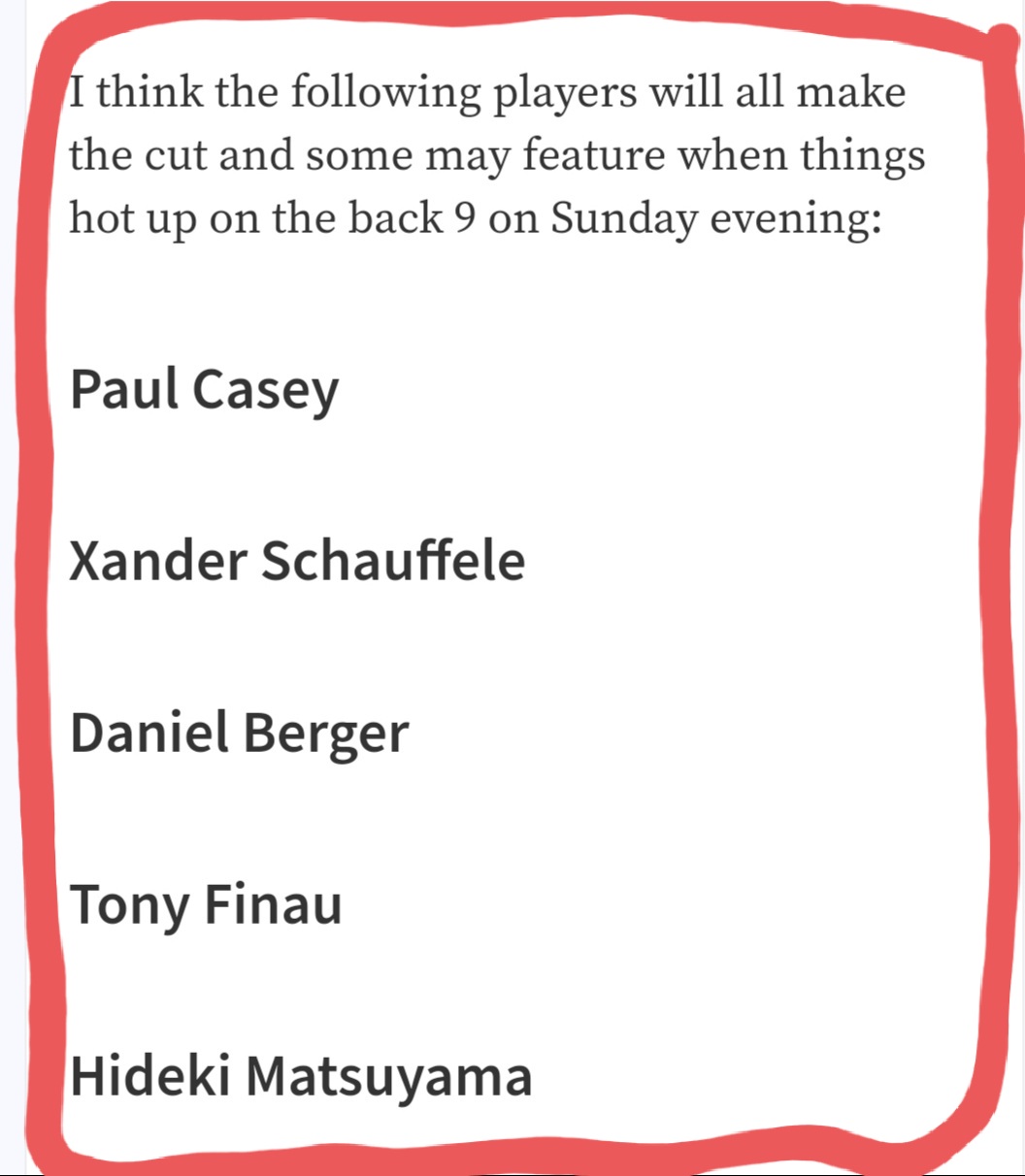 4 from 5 made the cut and one of them won it and he was a 45/1 shot!
Paul Casey (26th)
Xander Schauffele (3rd)
Daniel Berger CUT
Tony Finau (10th)
Hideki Matsuyama - (Winner)
Here's how it finished in the end. The leaderboard after 72 holes and some shots of our 2021 Masters champion Hideki Matsuyama.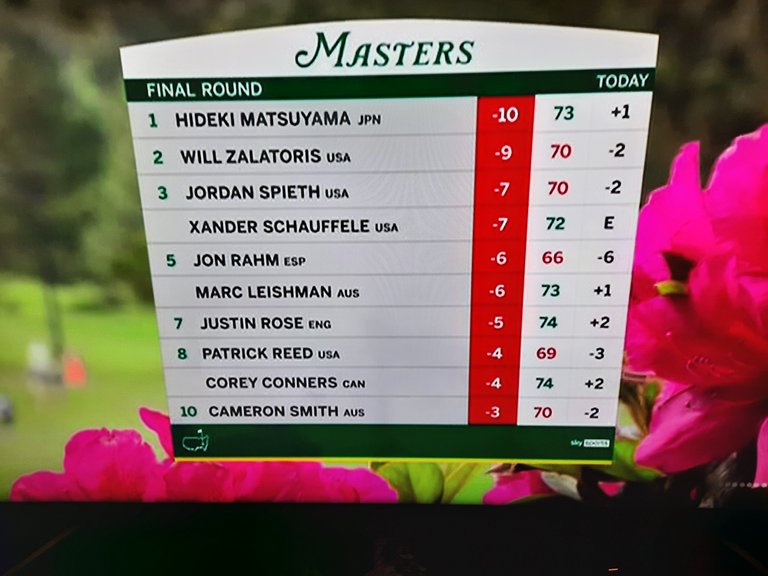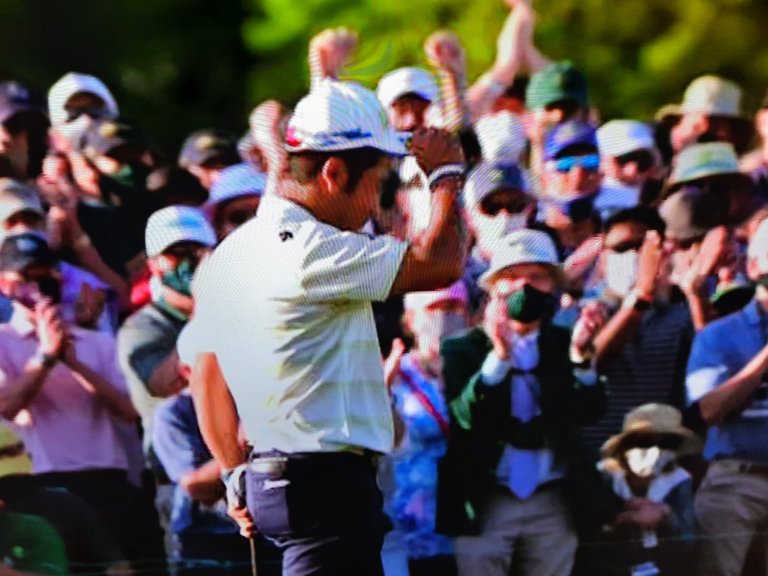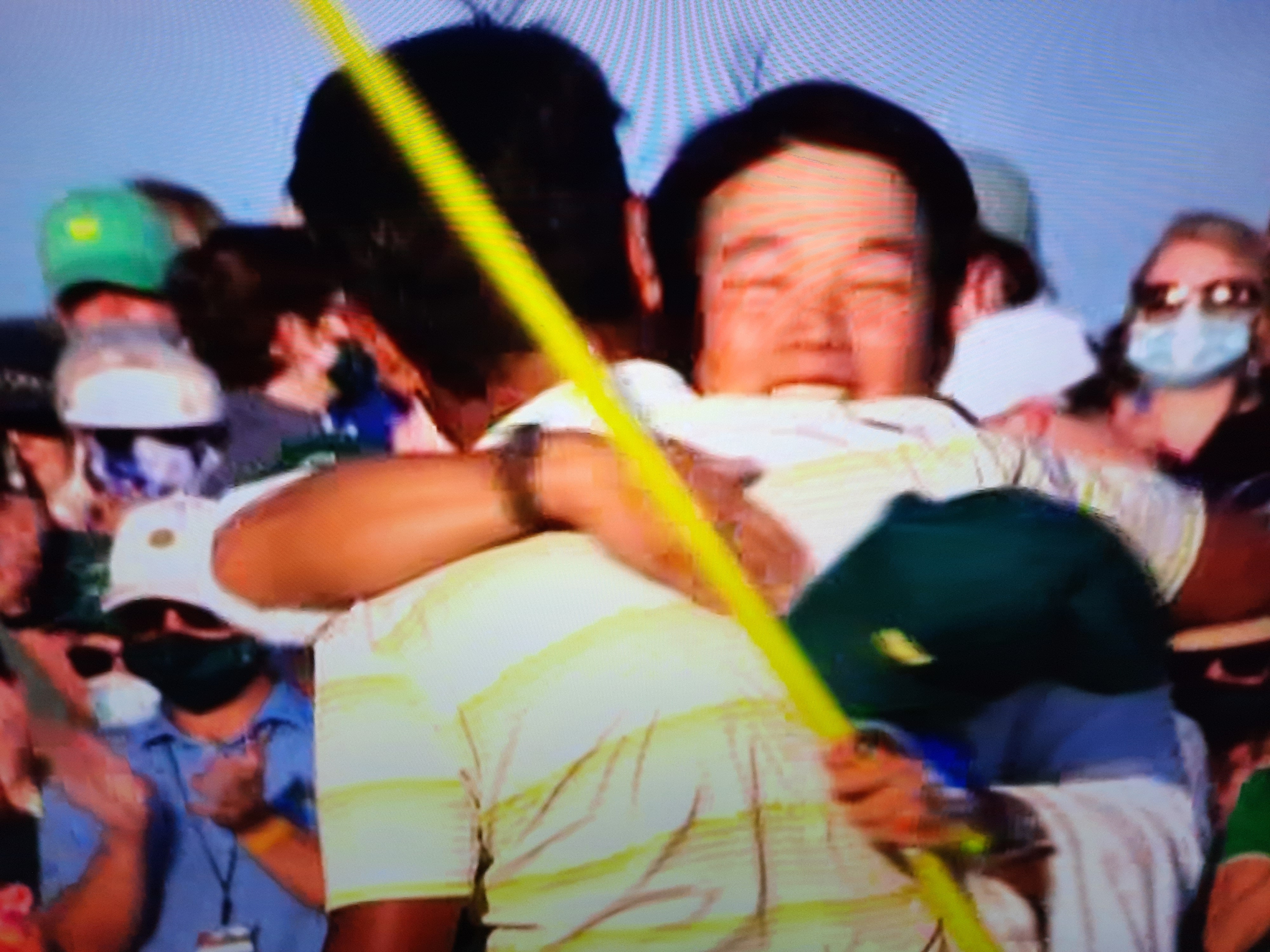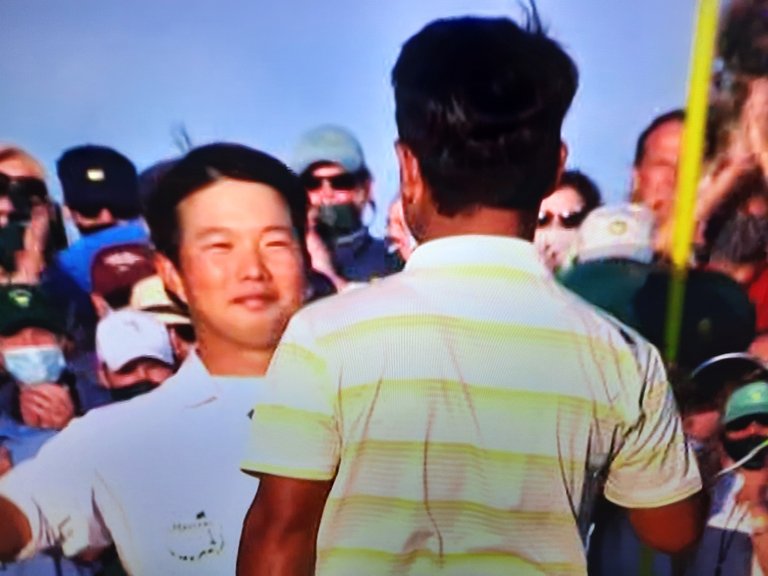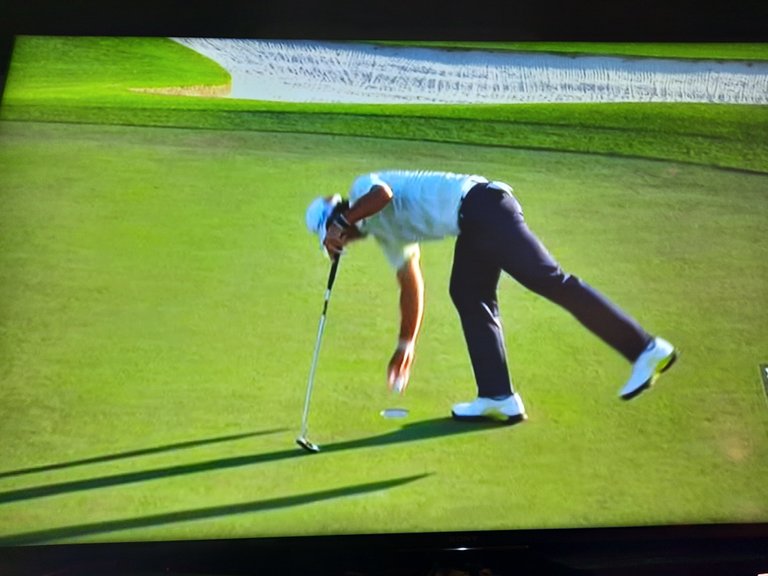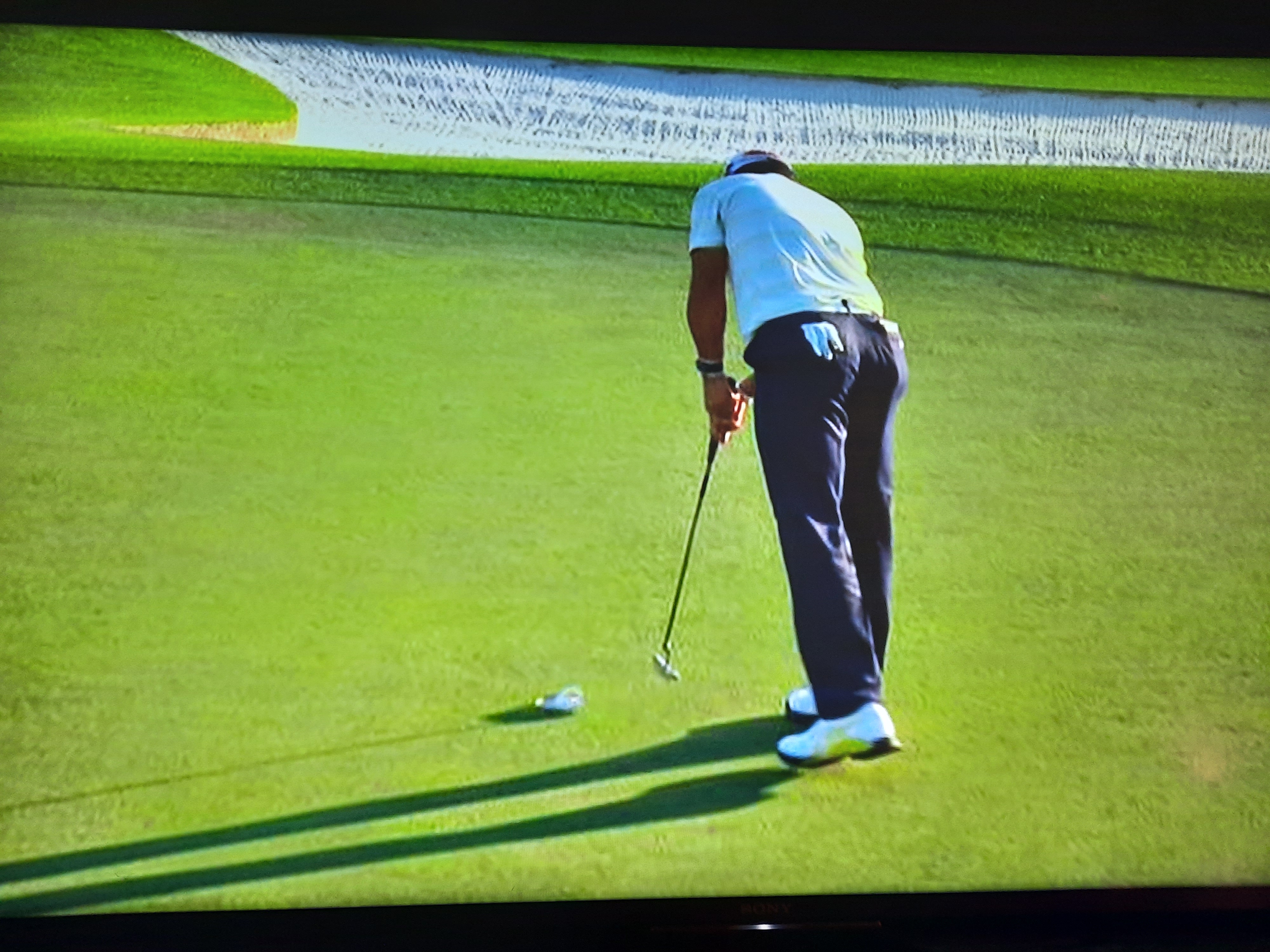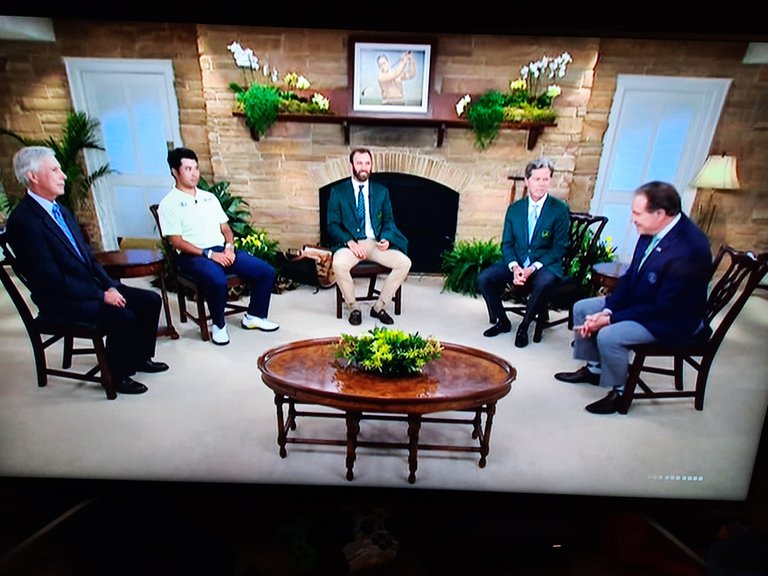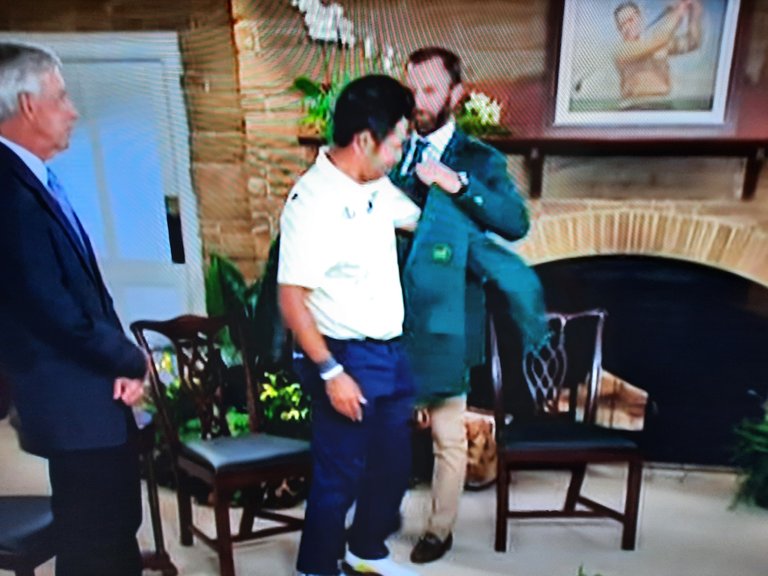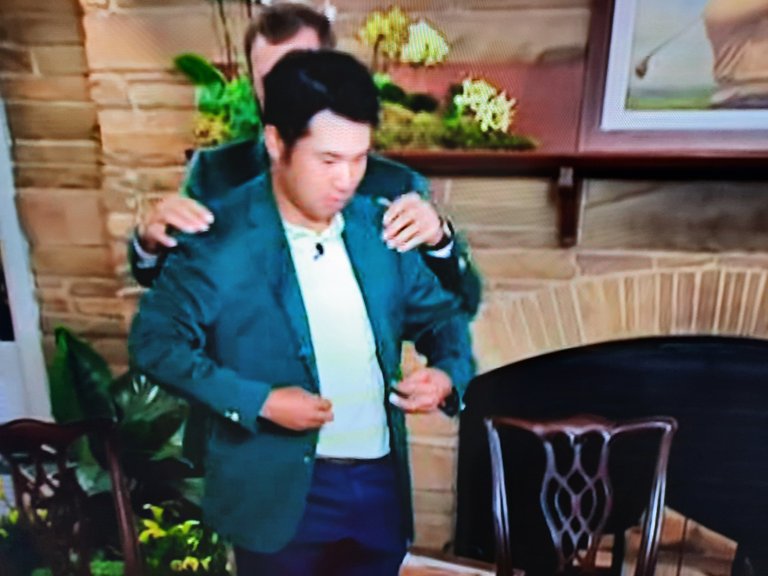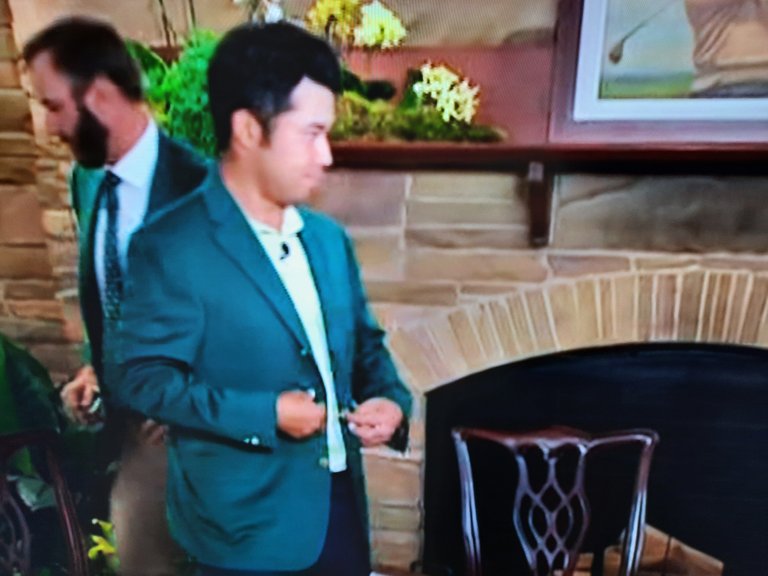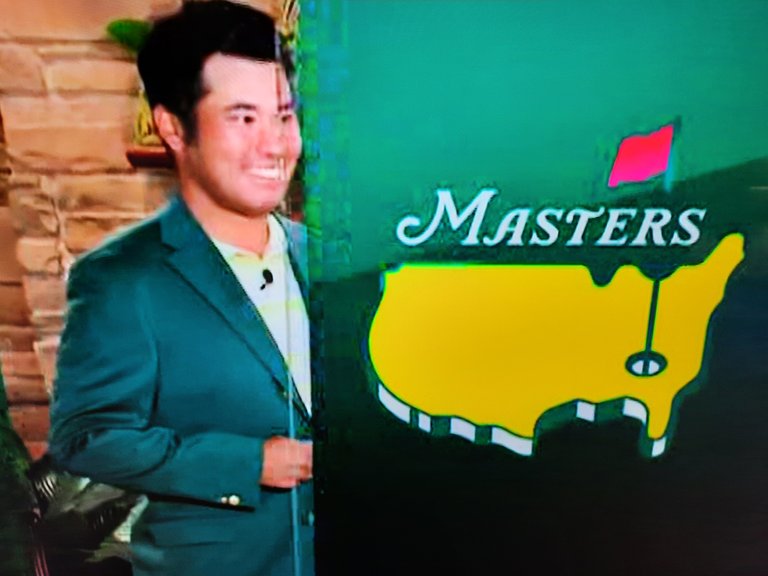 Thanks for reading.
The images throughout were taken of my television
Peace Out.