My lifelong love of Soccer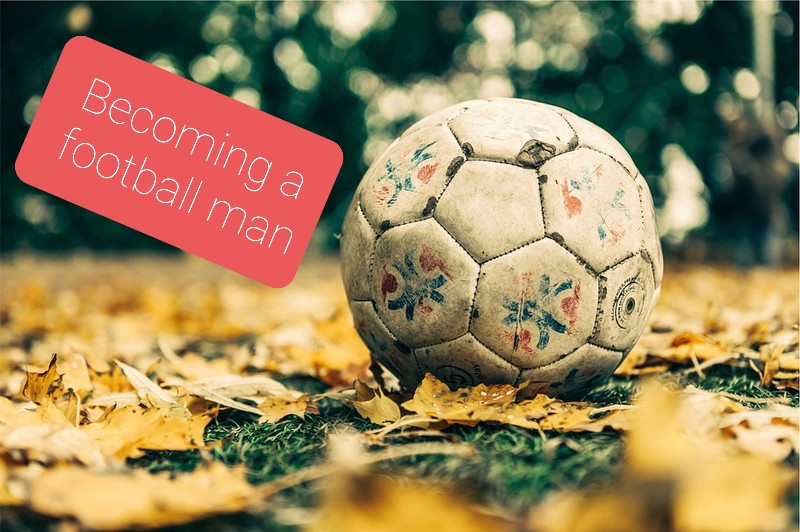 For as long as I can remember, I have loved the beautiful game. I have long since grown into a lover of all sports, but soccer will always have a special place in my heart, as it was my first love in sport.
As a boy, I could never be found without my football at my side. And man did I go through my fair share of footballs. The reason for that was twofold. The first reason is pretty obvious, we played a lot - I mean hours on end. five-a-side, two on two, three goals in, knockout, nods and volleys, crosses, crossbar challenge, keepy uppies, curbsies. You name it, we played it.
The other reason was due largely to the fact that there wasn't always someone there to play football with, there were times when my mates were away, or were doing homework or whatever it may be, but I still wanted to play ball. The trusty gable wall of our house, which had no windows was my trusty partner in crime. Many's the hour I whittled away kicking ball after ball after ball against that wall. I would try to not let it bounce sometimes and see how many shots over and back I could do, without it touching the ground. Other times I'd hit it as hard as I could and take the rebound down on my chest, knee, thigh to practice my first touch. There was also a little Electrics box on that wall, so that would be my target for free kicks, and I got pretty damn good at hitting from all sorts of angles. It brings a smile to my face now, thinking back on all the hours I spent kicking balls against that wall. What Patience my Mum had, as the sound must have been very apparent inside the house as I pummeled ball after ball against the wall.
Indoor Soccer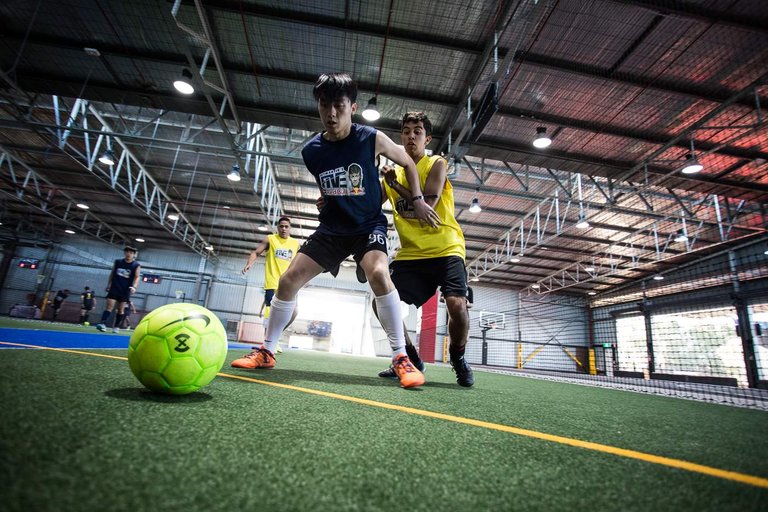 The first ever competitive soccer I played was in a huge indoor hall in Galway city, where one hundred or more kids under ten, ranging in age from 5 to 9 played every Saturday morning. At the start of each year, the teams for the year were picked, with a mix of age groups and skills picked on each team.
I think I was around 6 or 7 when I first went down, and I still remember the big biscuit tin on the way in, you paid your 25P to the man at the door, who threw the money in the tin, as he stamped your hand. Then, off in you went into the hall to play soccer for real. It was competitive and I absolutely loved it, in fact I don't think my love of the game was ever greater than in those early days, and I can still remember that feeling when I scored my first goal, and all the bigger boys on the team were high fiving me and saying well done. I felt like my heroes from the telly.
Each Saturday each team would play 3 matches and there was a league table printed out and hung up in the corner for the following week, so you could see how your team was doing. There were around 10 or 12 teams in total, and the top four teams at the end of the season would playoff in 2 semi finals, and then a final and the winners and runners up got trophies or medals. I still have some of these medals someplace buried beneath other relics of times gone by. I was so very proud of these medals back in the day.
This was the start of my playing days with Newcastle United, and I played for their U10s, U11s, U12s, U13s, U14s and U15s. They were taken over by Galway United for the U16 season, and that's when I hung up my boots, it was getting quite professional at this stage and my interests were tied up more with girls than soccer :o)
So, I loved to play the beautiful game, but I also loved to watch it, and I still do. So, who is my team, I hear you ask.
My Team is Arsenal and this is why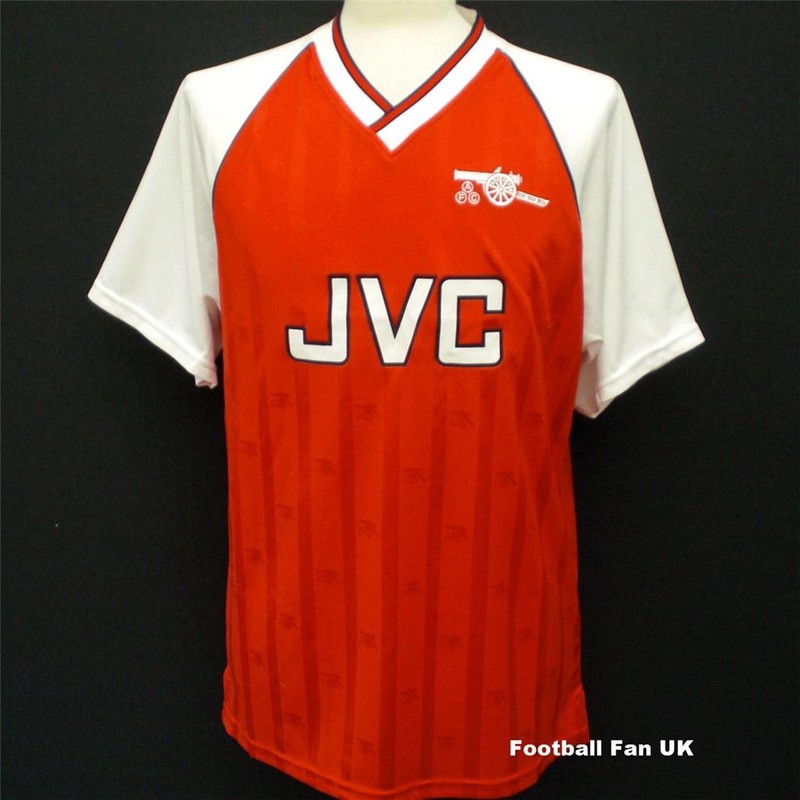 I'm a huge Arsenal supporter. Even though I'm Irish, I follow an English football team, and the same is true of most Irish people. You do have the hardcore few who only support their local Irish team, and of course I support my local team Galway United, but I also support Arsenal.
What's more a lot of Irish people also support a Scottish team called Glasgow Celtic, which seems a bit mad, as how can you have two or three different teams, but strange as it seems, that's just the way things are here in Ireland.
I think back to my youth sometimes, and try to pinpoint how I ended up supporting Arsenal? Was it my Dad? Nope, he doesn't have a team per say, he supports Ireland and likes to see the Irish guys do well over in the UK. Maybe it was one of my brothers? Nope, they were both massive Liverpool fans - glad I dodged that bullet! ha ha.. So, I think it was probably my next door neighbour who I used to hang around with a lot back in those days, we played loads of football together, and he was an avid Arsenal fan, so I think maybe that's where the Arsenal supporting came from.
It was pretty cool actually, as the vast majority of the kids in my primary school were Man United fans or Liverpool fans, with the occasional sprinkling of Leeds fans mixed in, and then their was me, my neighbour and one other guy in the whole school who supported Arsenal. I always liked to be a bit different, so it was pretty cool not being a Liverpool or Man United fan like the majority of kids in school and in the street.
I think I must have got the new Arsenal jersey every year without fail for about 15 years and that was expensive business back in those days, so again a huge thanks goes to my parents, who always managed to find the money to buy the jerseys for me for birthdays, Christmas etc. The early days of being an Arsenal fan was tough work, but it was all worthwhile when the 1988/1989 season came around, and one of the most famous finishes to a soccer season ever materialised.
1988/1989 League Title drama and cementing of a fan
Arsenal and Liverpool were by far and away the best teams in the league that year, and on the last day of the season Liverpool were sitting pretty on top of the league, two points clear of my team Arsenal. Liverpool had 76 points and a goal difference of +39, and Arsenal were on 74 points, with a goal difference of +35.
In order to have any chance, Arsenal had to win, but not by any old score, we would have to win by two clear goals to equal Liverpools goal difference, and if we could manage that, we would be crowned champs, as after points and goal difference, the next deciding factor is goals scored, and going into the crunch end of season game, Arsenal had found the back of the net 71 times vs Liverpool's 65. So things were perfectly poised for this last game of the season shootout between the two best teams of the 1988/1989 season.
Surely it was just too great a hurdle to maneuver for the London club, especially given that the game was to played at Anfield on front of the Kop and the Liverpool faithful.
It was an unusual match in that it was supposed to be played a month earlier, but was suspended due to the Hillsborough disaster, and rescheduled until about a week after the FA cup final, which LIverpool won.
The first half was a very cagey affair of few chances, as Arsenal successfully quietened the home fans with a very defensive display. George Graham knew that he had to make sure that Liverpool didn't, as whatever chance they had of bagging 2 goals, 3 was clearly beyond them.
Arsenal got on the front foot more in the 2nd half and when Alan Smith found the back of the net, with a header, the impossible seemed possible for a while. But, then the time just kept ticking on and on, with no goal coming. 90 minutes were up and we were into inury time. So close, but yet so far. To come so close was heart breaking, but that's sport I guess, but what's this now??
Lee Dixon launches a hopeful ball forward, Smith takes it down expertly and with his second touch swivels and plays the ball into the path of Michael Thomas. The Liverpool defender will intercept, but no he doesn't, Thomas is in on goal, he's one on one with Bruce Grobbelaar. He flicks it over him and it ripples the back of the and in the most dramatic of circumstances, Arsenal are league champions! Absolutely unbelievable Roy of the rovers stuff were at play that day!
Here is a video of that wonderful moment that cemented my future as an avid Arsenal fan. Can you imagine my excitement watching this unfold as a seven year old boy! Remarkable stuff.
You can't get much more drama than that, Arsenal win 0-2 at Anfield bringing them onto 76 points as well, and with the exact same goal difference of +37 and so it goes to goals scored, and Arsenal's 73 trump Liverpool's 65.
Amazing stuff. The hollywood writers could not have written this, too far fetched they'd have said. But it happened, it happened in 1989 and my younger self watched on in amazement as it unfolded.
The League Standings 1988/1989
Here are the league standings. Even 33 years later, i don't grow tired of looking at the Gunners sitting pretty atop the top tier in English football. What a year!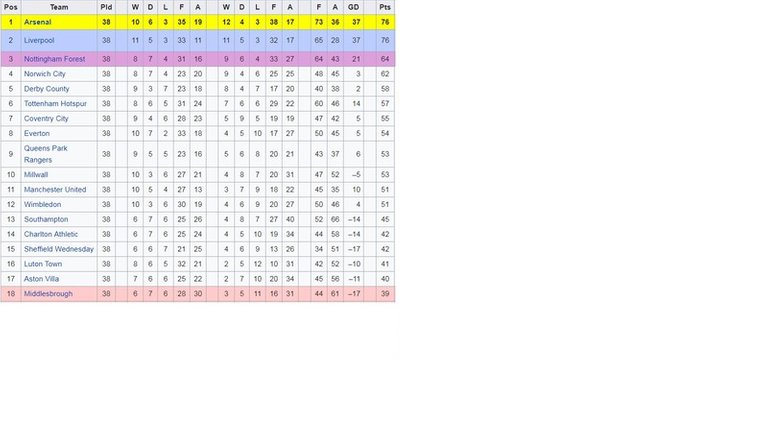 The Guys celebrating their famous and most improbable of wins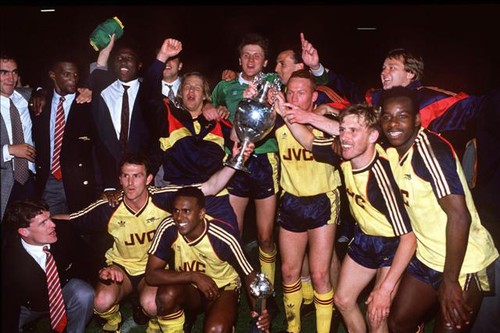 The Wenger Years
We won the title again in 1990/1991 and were very hard to beat, but we had gained a reputation as a defensive team, who would grind out 1-0 victory after 1-0 victory and gained the label of 'Boring Boring Arsenal', but so long as you are winning, you really don't care what people are saying.
George Graham was at the helm throughout this successful period in the late 80s/early 90s, but when £400,000 bungs related to John Jensen's signing were revealed, his position became untenable and he was given the sack in February 1995. Arsenal gave a little over one year to new manager Bruce Rioch, and then on 1st of October 1996, Arsenal football club, and indeed the Premier League would change forever.
A bespectacled French man who many had never heard of filled the Arsenal dug out and changed Arsenal football club. No longer would we be called 'boring boring Arsenal'. Wenger would begin a renaissance of attacking swashbuckling football, which football fans the world over would admire. In fact looking back, I think only Barcelona were playing a nicer brand of football.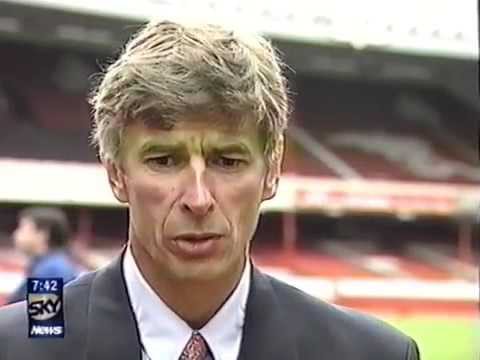 He brought diets and discipline, skill and guile, and it's hard to see anyone who influenced the premier league more, with the exception maybe of Sir Alex Ferguson and Pep Guardiola more recently. He helped mold some of the greatest players to grace the Premier League. Guys like Denis Bergkamp, Thierry Henry, Robert Pires. In those early days though, he was able to build these attacking options on top of a very robust and reliable defense - a defense he would have to thank George Graham for.
In fact arguably, that is why Arsenal did not do better in the later years of Wengers career, as he could pick out gems when it came to attacking players, however, when it came to defensive players, he was not such an alchemist. I'm thinking Igors Stepanovs and Sébastien Squillaci, Mikaël Silvestre and Philippe Senderos. These guys wouldn't be fit to lace the boots of defenders like Adams, Winterburn, Dixon, Keown and Bould. I won't go into further detail on this here though, but if you're interested I did drill into thatbin this recent post: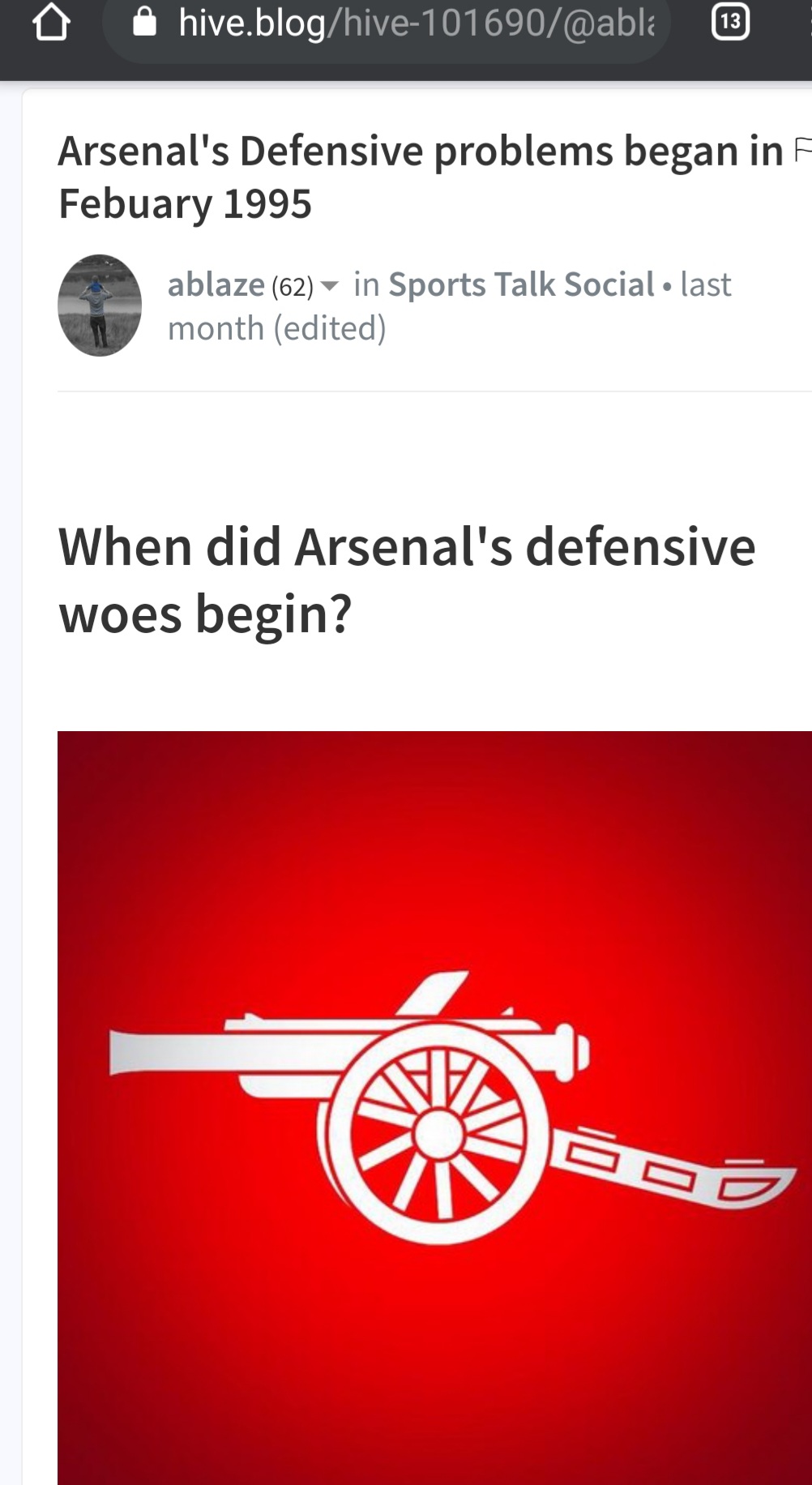 https://hive.blog/hive-101690/@ablaze/arsenal-s-defensive-problems-began-in-febuary-1995
But, I have such found memories of those early days in the Wenger reign, when we played with such verve and passion, but we were still impenetrable at the back. He led us to an amazing League and FA Cup double in 1998, which was probably the highlight of his career.
Let's not forget the incredible invincibles team from the 2003–04 season also, where Arsenal went a full league season unbeaten, a feat managed only once previously in the English top flight, by Preston North End team in the 1888–89 season. I suspect it will be a long long time before that feat is repeated too, maybe the 2090s some time...
So, Arsene gave me many many happy years, but he also caused me to pull my hair out on an ongoing basis in the later years. For me the following picture sums it up perfectly, showing the age gap between when he joined and when he left.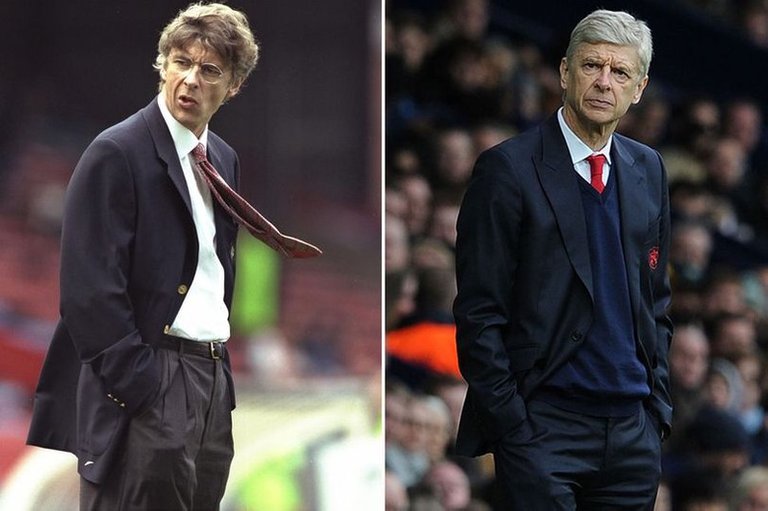 Yes, that's right, Wenger stayed too long in the end. He is a club icon and did amazing things for the club, but really he should have handed over the reigns 3 or 4 years before he eventually did.
The photo shows that he grew old with the club, and in many ways was so ingrained and invested, that he felt he couldn't walk away, Arsenal were like a son or daughter to him. I wish him every good wish in the future. Those that have come since, namely Emery and Arteta have watched on as Arsenal have faltered and dropped down the table, but I do still think Wenger's time was well a truly up. We will come again, no doubt, but these things take time. So that is an insight into my love of the game of soccer. Like anything in life though, you cannot take it for granted, and here are some serious dangers to the sport.
Dangers for the modern game
Diving - This practice is rampant, as we all see every day across every league in the world. It started rearing it ugly head in the 1990s and has slowly permeated the game, and is a scar on our game. It goes right down through the divisions, and you can even see it now on the school boy pitches around the world, as youngsters try to emulate their heroes. Neymar take a bow. You can see a photo of him below, when he was shot by a sniper in the crowd - he was lucky not to lose his leg. No, an actual fact a Belgium player ran past him, and the Neymar threw himself to the ground, in a fashion more deserving of an Oscar than a Ballon D'or. Perhaps the most annoying thing is that he is an amazing player, with incredible technical ability, and he doesn't need to do this - for me it really tarnishes him as a player. So, what can we do? Retrospective bans are the answer in my opinion. Have a panel of experts review the weeks games, and in cases of diving or simulation, hand out 5 match bans, with no exceptions. This could really affect clubs, who should therefore fine the players for such infractions. Hit them where it hurts, their pockets, which brings me nicely to my second point.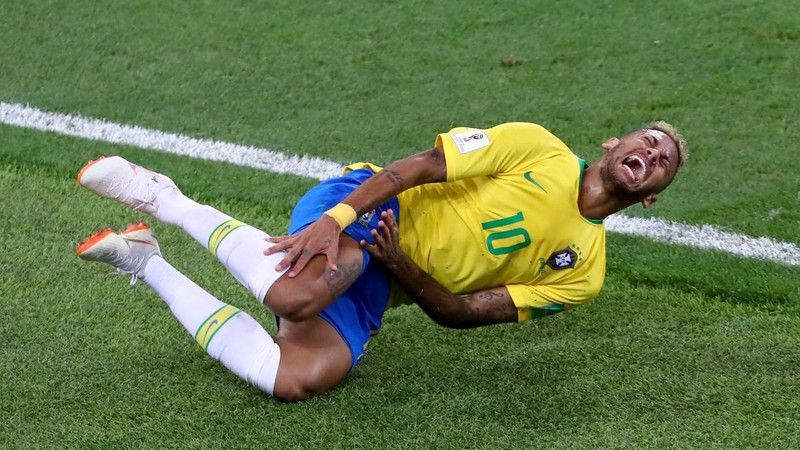 Money - The amount of money floating around soccer these days is obscene and it cannot continue like this forever. The players wages, the transfer fees, the tv money, it is all completely crazy, and in my opinion, it is unsustainable. They need to look at introducing caps to bring it all back into check. I mean, on what planet is Neymar worth €222 million?? So, the solution here is caps, this could also help to ensure a more even and fair distribution of top players. It's definitely something to think about. I am not even going to get started on the Super League idea. The greed, cynicism and ugliness of what the attempted here is still too raw for me to post about.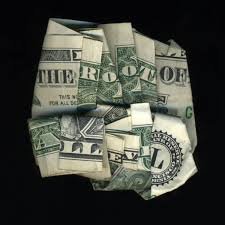 Disrespect for referees - This one is a big one of me, and the lack of respect for referees in soccer leads to a lack of respect for others in society. These players are held in the same reverence as saints were a generation ago, and adults and children alike want to emulate their stars. When they see them shouting in a referees face and swearing at them, what message those this send out to society? Does it tell us that it is OK to shout in peoples faces and disrespect them? Again, another sport comes to mind here, and it is rugby this time. Take a look at a rugby match, and watch how the players interact with the ref. It is the polar opposite of soccer, and they listen to and respect the referee. They may not agree with him, but they dare not back chat or disrespect him, or they know the sin bin awaits them, or worse still a sending off. Let's bring that level of respect to the soccer field, after all it is the most popular sport in the world. Who knows, maybe people's respect for one another around the world may improve too as a result?
The images used are not my own and the following are the sources:
https://www.the18.com
https://www.brisbanecityindoorsports.com.au/sport/soccer
https://www.pixabay.com
https://www.ebay.co.uk
https://www.skysports.com
https://www.thefearlessman.com/is-money-the-root-of-all-evil-hint-money-isnt-the-problem/
Peace Out.