Best of the best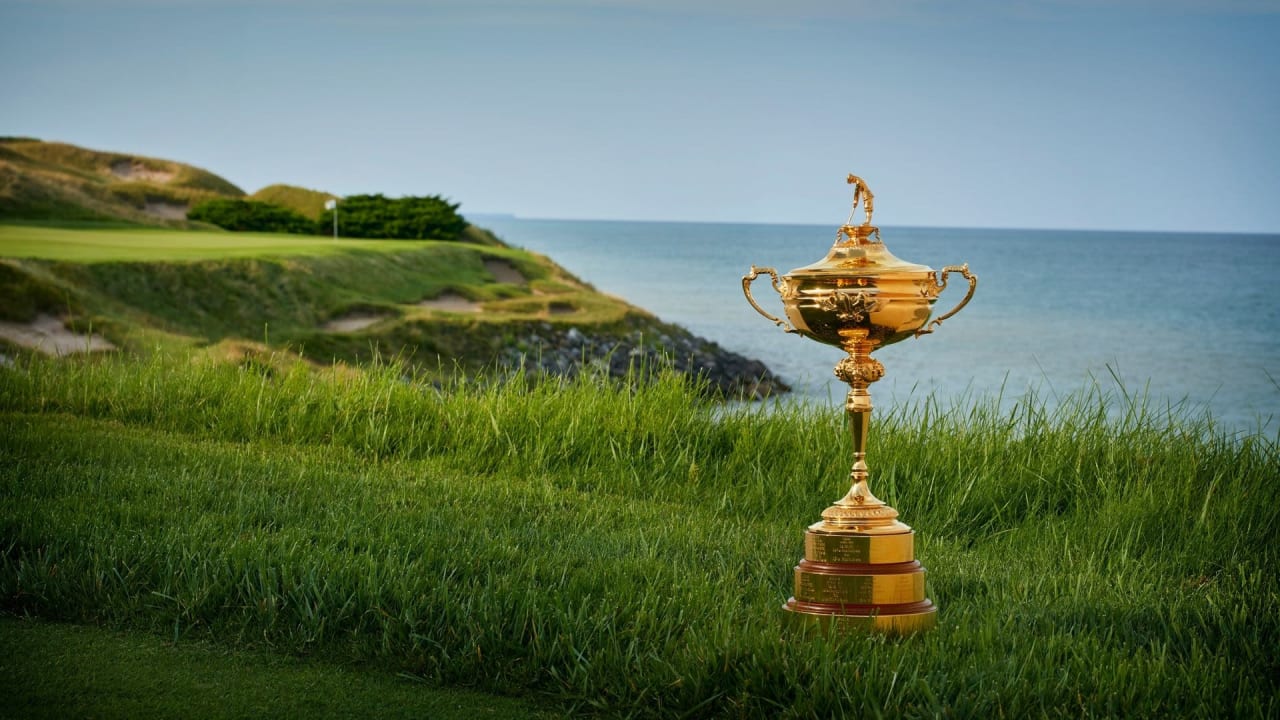 The divots open up beautifully on the lush green grass, as Europe and America's best golfers go head to head for the ultimate in golfing bragging rights.
For me there is nothing quite like the Ryder cup. I do love the magic of Augusta national, and trying to figure out who will slip on the green jacket in the butler cabin or a windy British open, where many of the worlds pros struggle against the elements and look almost human in their abilities.
Then there is the Ryder cup. It is another step up, especially for the fans who watch intensely as putts roll agonisingly by the hole or as delicate chip shots ebb and flow over contours slowly finding their way to the back of the cup and the galleries go wild with roars of USA USA USA or OLE OLE OLE OLE.
They are magical scenes and the pros love it and can really get super charged by it. Guys like Ian Poulter seem to rise to it and they their best golf in match play situations and most especially in the Ryder Cup, which is the best known matchplay competition in the world.
The Ryder Cup Format
So most readers probably understand the format, but for those that don't here is a quick education. The Ryder Cup is a golf tournament played every two years between Europe and the USA. each team is made up of twelve players, nine of which are decided by form alone, and the remaining three wildcard picks are made by the captain of each team.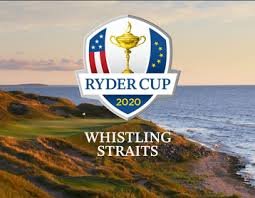 There are 28 points up for grabs in total, so to win outright the target is 14.5 points. A draw is possible, however, should that happen the team who previously won retains the trophy and title. So, after triumphing in some style in France in 2018, Europe are reigning champions, and so 14 points will do it for them this September when Ryder Cup 2020 is finally played.
The Ryder Cup is played over 3 days, with all games being matchplay, which makes for great excitement for spectators, as things can change quickly, and 3,4 and 5 shot deficits have been turned around over the years.
For the benefit of those who have no idea what matchplay means, it basically means the players play head to head on each hole. So say both players have parsbon the first hole, that match remains all square. They move to the second where player A gets a birdie and player B gets a par. Player A is now 1 Up. When the 18 holes have been played whichever player is Up wins and gets one of the precious 28 points for their team. There can of course be draws as well and if both players or pairings are level or all square after 18 holes, each team gets 0.5 of a point and believe me, every 0.5 of a point really matters as sometimes it goes right down to the wire, like Medinah in 2012! More on that later.
The first day has 8 points up for grabs. They play 4 foursomes matches and then four fourball matches or vice versa. The foursome in particular makes for great viewing, as the pros play every second shot, meaning you really need good chemistry and trust in your playing partner. The fourball format involves each player playing their own ball only, and the best score to count on each hole for each team.
Day two follows a similar format, with 4 fourballs and 4 foursomes, so by the end of day 2, 16 points have been shared out.
Then, we are left with the exciting finale, when all 12 players from each team take to the course and do battle for the remaining 12 points. It is always good from a neutral point of view when it is pretty close going into day 3, but as a proud European and Irishman, 16-0 after day 2 would do just fine :o)
Now let me take you on a mystical magical journey of the mind where I take you back nine years. Fasten your seatbelt.
Miracle at Medinah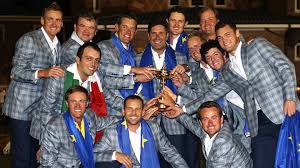 Sometimes the golfing gods serve up great drama, and this happened in Medinah, Illinois in 2012. The USA were on home soil and romped to a 10-6 lead after day 2 and it looked all but over. In fact the European boys found themselves 10-4 down after 14 matches and I'm sure many viewers switched over to the Football or Baseball or Cricket thinking it was curtains for the Europeans, after all the USA only needed 4 points from the next 12 on offer. More times than not, they'd have been right, but not this time.
Something very special happened. Some might say it was the spirit of Seve, but who knows. I like to think it was. This, my friends is why we all love sport. The upset. The unthinkable. The unexpected.
Under the masterful guidance of Spain's José María Olazábal, the Europeans dragged themselves back into it. The catalyst was Ryder Cup maestro Ian Poulter, who managed to birdie the last 5 holes and snatch victory from Jason Dufner and Zach Johnson along with team mate Rory McIlroy.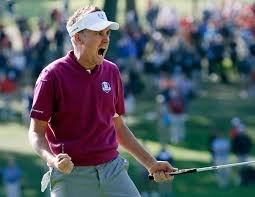 Europe miraculously went on to somehow win 14.5 to USA's 13.5 in an unprecedented turnaround. They won 8.5 of the 12 matches on day 3 to win in historic fashion.
Ian Poulter was surely the best player of 2012's Ryder Cup, with an amazing 4-0 tally. Who will shine this year? Phil the comeback king or will Rory rediscover his form of yesteryear?
The 39th Ryder Cup was truly sensational, and will be hard to top in terms of pure excitement. So, what will 2021 serve up? Let's hope it's another classic.
Ryder Cup 2021
That brings us nicely along to this year's Ryder cup in Whistling Straits at the end of September. Anyone who watches golf knows that this is a beast of a golf course and will undoubtedly be the scene for massive excitement across the three Autumnal days in September 2021. Who will the golfing gods shine upon this time?
As with most Ryder cups, USA will be the favourites, but it would take a brave man or woman to bet against the Europeans who always seem to perform better as a team. These two legends will be hoping to be pivotal in managing their team to glory.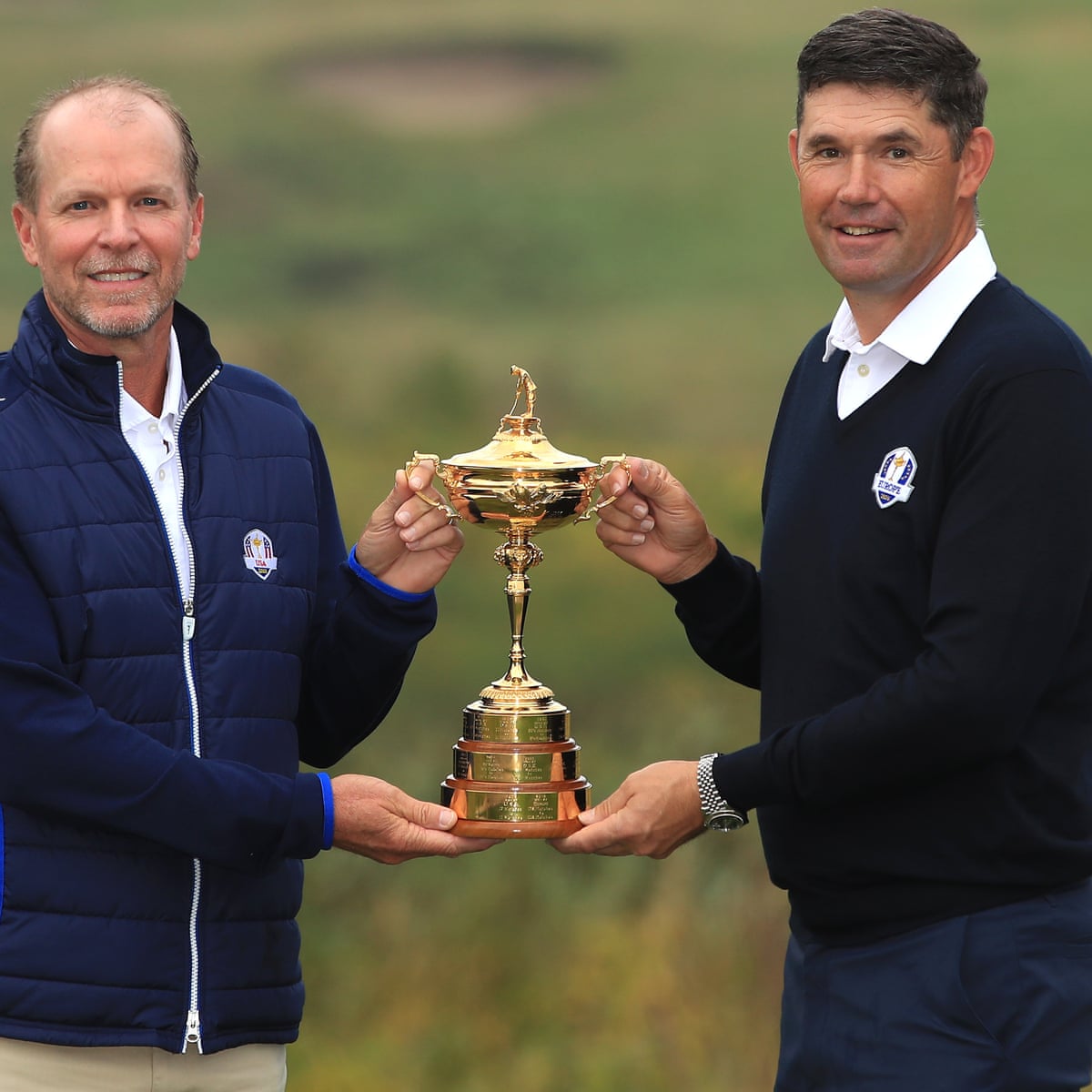 So now the excitement is building, and it's only three months until we settle onto the couch and watch golfs greatest show unfold. I for one, cannot wait!! For those of you lucky enough to have tickets, remember to share them here with us mere mortals and give us a view from inside the ropes as you watch one of the teams lifting this famous trophy aloft in glory.
The photos used throughout are not my own and were sourced here:
http://www.pixabay.com
http://wikipedia.org/wiki/2021_Ryder_Cup
Thanks for reading
Peace Out