Written in English and Spanish.
Few weeks ago, I wrote a post in the Sports Talk Social community about a singular Formula 1 season: The Strange 2009 Season. This time, I will write about my experience as a Formula 1 fan during the Red Bull era, where Sebastian Vettel won 4 drivers' championships from 2010 to 2013.
Hace unas semanas, escribí un post en la comunidad Sports Talk Social acerca de una temporada singular de la Fórmula 1:
La extraña temporada 2009
. Esta vez, escribiré acerca de mi experiencia como fanático de la Fórmula 1 durante la era Red Bull, donde Sebastian Vettel se alzó con 4 campeonatos de pilotos de 2010 a 2013.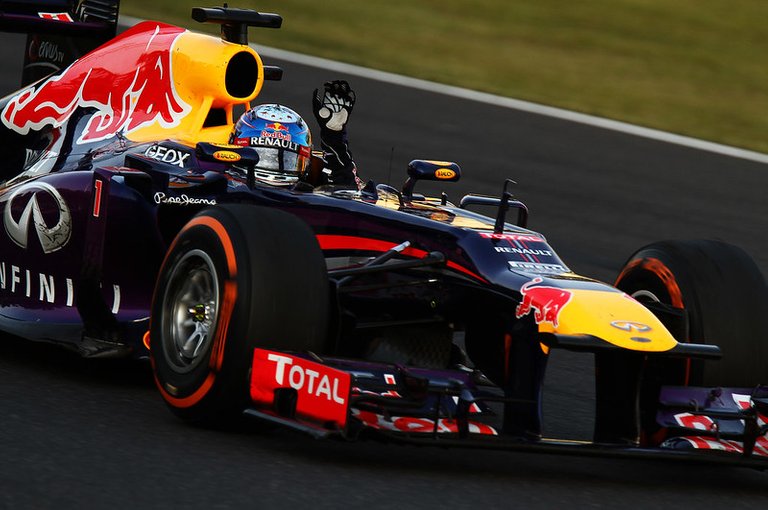 flickr
---
2010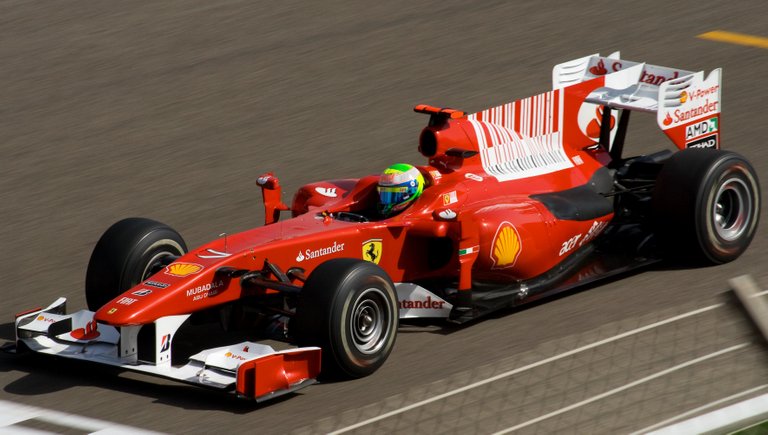 Felipe_Massa_Ferrari_during_Bahrain_2010_GP.jpg: Andrew Griffithderivative work: Chubbennaitor, CC BY 2.0, via Wikimedia Commons
I was finishing high school when the 2010 season started. After seeing Felipe Massa almost win a championship with Ferrari in 2008, I became quite enthusiastic about the Brazilian driver. After his accident in mid-2009, Massa was returning to race with the Ferrari team in 2010. I expected Massa to come back strong to win a world title this time. After the third race of 2010, Massa was the championship leader, but a few races later, the true reality began to show.
The driver who had won races in 2008 was unable to win in 2010, while Fernando Alonso, his new teammate, was emerging as a candidate for the world title. The event at the German race "Fernando is faster than you" made it clear what Massa's new role at the Scuderia was. I think everyone agrees that Fernando Alonso is at another level. This in Formula 1 can be very determinant from a psychological point of view, the fact that your teammate is constantly outperforming you.
Me encontraba finalizando la secundaria cuando empezaba la temporada 2010. Luego de ver a Felipe Massa casi ganar un campeonato con Ferrari en 2008, se despertó en mi un fanatismo importante por el piloto brasilero. Luego de su accidente a mitad de 2009, Massa regresaba a competir con el equipo Ferrari en 2010. Esperaba que Massa regresara con fuerza para lograr esta vez alzarse con un título mundial. Luego de la tercera carrera de 2010, Massa era el líder del campeonato, pero unas cuantas carreras después se empezaba a notar la verdadera realidad.

El piloto que ganaba carreras en 2008, no lograba llegar a la victoria en 2010, mientras que Fernando Alonso, su nuevo compañero, se perfilaba como candidato al título mundial. El evento en la carrera de Alemania "*Fernando is faster than you*" dejó claro cuál era el nuevo papel de Massa en la Scuderia. Creo que todos concuerdan en que Fernando Alonso está a otro nivel. Esto en la Fórmula 1 puede ser muy determinante desde el punto de vista psicológico, el hecho de que tu compañero te supere constantemente.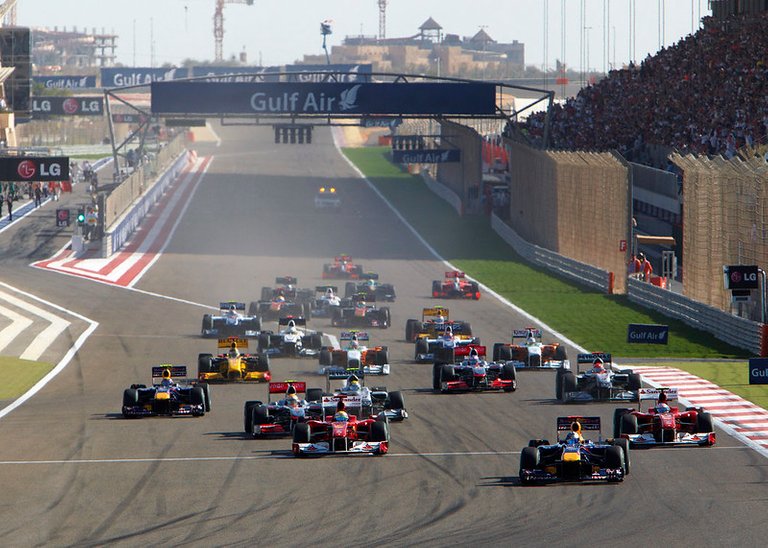 flickr
I had already written in the previous post that the 2009 cars left much to be desired in terms of visual appeal, with the exception of a few like the Toyota. In my opinion, the 2008 Formula 1 cars were quite visually appealing, especially the Ferrari F2008. For 2010, the visual appearance of the cars improved significantly over 2009. They looked more robust and balanced, and we were starting to get used to the tall rear wing.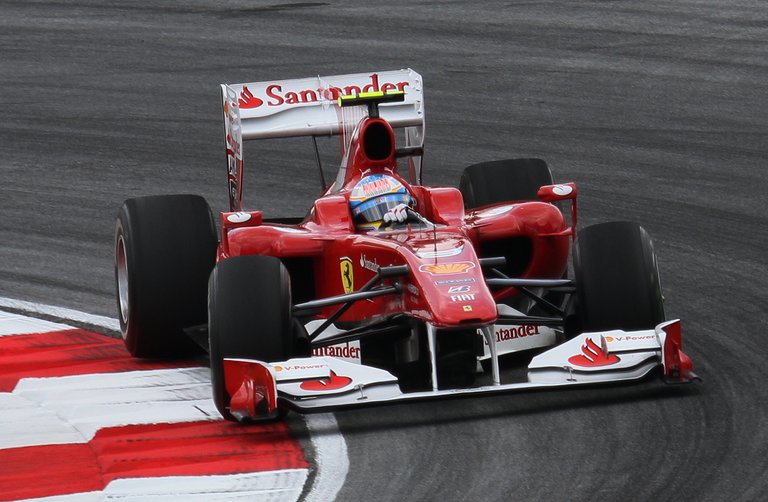 Morio, CC BY-SA 3.0, via Wikimedia Commons
One of the most visually attractive cars was precisely the Ferrari. Fernando Alonso is one of the best drivers in Formula 1. The new measure of Ferrari performance was that Massa represented the "standard" while Alonso pushed the car to the limit.
Ya había escrito en el post anterior que los autos de 2009 dejaban mucho que desear en cuanto al atractivo visual, a excepción de algunos como el Toyota. En mi opinión, los autos de Fórmula 1 de 2008 eran bastante atractivos visualmente, especialmente el Ferrari F2008. Para 2010, el aspecto visual de los autos mejoró significativamente respecto a 2009. Se veían más robustos y balanceados, ya empezábamos a acostumbrarnos al alto alerón trasero.

Uno de los autos más atractivos visualmente era precisamente el Ferrari. Fernando Alonso es uno de los mejores pilotos de la Förmula 1. La nueva medida del rendimiento del Ferrari era que Massa representaba el "estándar" mientras que Alonso llevaba el auto al límite.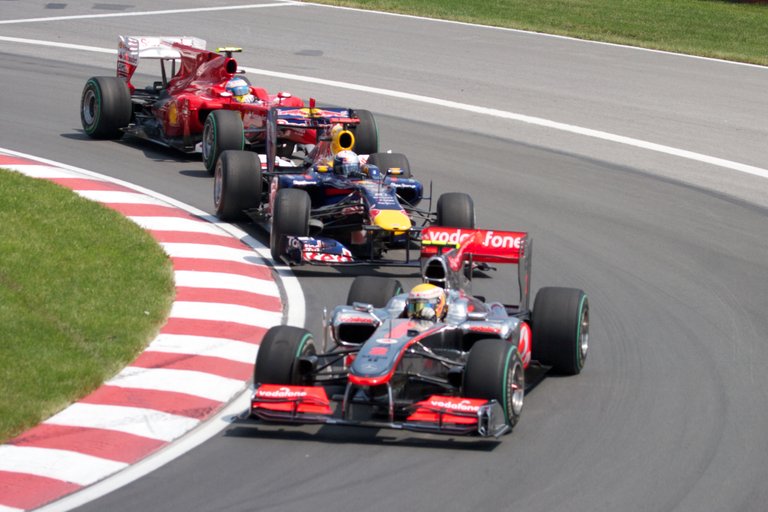 Mark McArdle, CC BY-SA 2.0, via Wikimedia Commons
Although I don't remember much of that 2010 season, I do remember that the championship could have been won by Mark Webber with Red Bull. The Australian driver had a good amount of points in the last races of 2010. However, Sebastian Vettel came back in a big way to win the championship in the last race. If I remember correctly, this was the last Formula 1 championship where there were more than 2 candidates for the title in the last race. Alonso, Vettel, Webber, Hamilton and Button all had a chance to be champion at the Abu Dhabi race. It seems to me that it has been one of the most "decentralized" championships in history, with several winners, which was ultimately won by Sebastian Vettel.
Aunque no recuerdo mucho de aquella temporada 2010, si recuerdo que dicho campeonato pudo haberlo ganado Mark Webber con Red Bull. El piloto australiano contaba con una buena cantidad de puntos en las últimas carreras de 2010. Sin embargo, Sebastian Vettel remontó de manera importante para ganar el campeonato en las última carrera. Si mal no recuerdo, este fue el último campeonato de Fórmula 1 donde se tenían más de 2 candidatos al título en la última carrera. Alonso, Vettel, Webber, Hamilton y Button tenían posibilidades de ser campeón en la carrera de Abu Dhabi. Me parece que ha sido uno de los campeonatos mas "descentralizados" de la historia, con diversos ganadores, el cual ser terminó llevando Sebastian Vettel.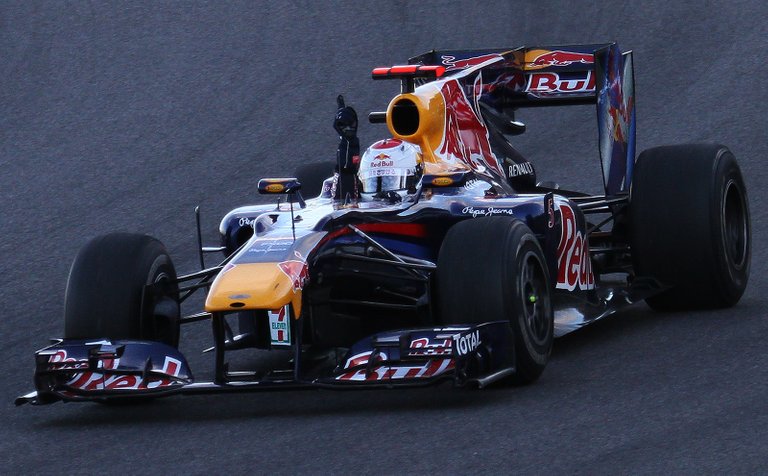 Morio, CC BY-SA 3.0, via Wikimedia Commons
---
2011
To be honest, this was far from being one of my favorite seasons. Instead of a diversified fight for victory, we saw a Red bull dominance similar to that of Mercedes today. But it goes beyond that, I don't remember really memorable races from this season, beyond the conflicts between Massa and Hamilton and few other races like Canada.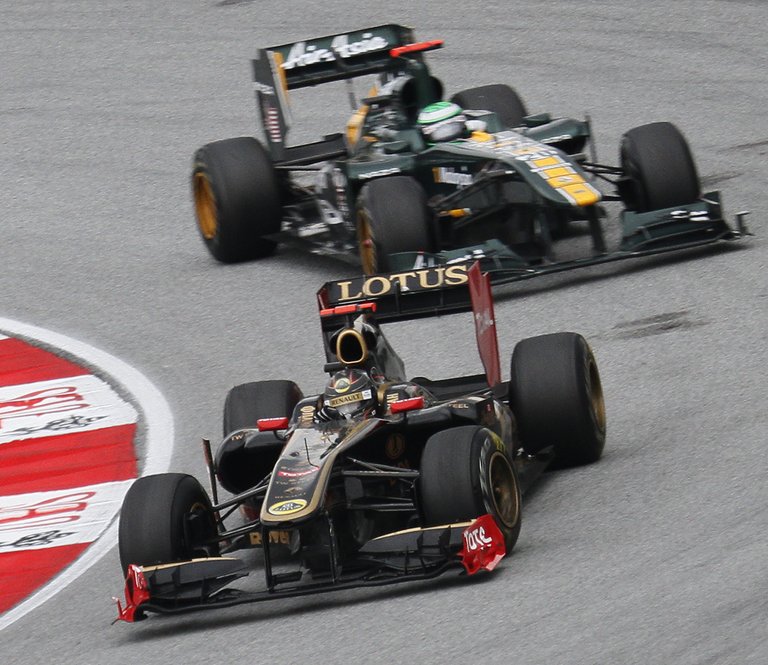 Morio, CC BY-SA 3.0, via Wikimedia Commons
What I remember most about the 2011 season is the continuous repetition of the RedBull-McLaren-Ferrari order both in Pole and in the race. I remember that Alonso even said "I'm a subscribed to the fifth position". However, Alonso's talent led him to achieve important race results. On the other hand, Massa disappeared from the podium, which he had occupied a few times in 2010. The Brazilian driver did not stand out this season, with some poor results and even being outperformed at times by the Mercedes of Rosberg and Schumacher, who at the time were the fourth strongest team.
Siendo honesto, esta estuvo lejos de ser una de mis temporadas favoritas. En lugar de una lucha diversificada por la victoria, vimos un dominio de Red bull similar al de Mercedes hoy en día. Pero va más allá, no recuerdo carreras realmente memorables de esta temporada, más allá de los conflictos entre Massa y Hamilton y alguna que otra carrera como la de Canadá.

Lo que más recuerdo de la temporada 2011 es la repetición continua del orden RedBull-McLaren-Ferrari tanto en Pole como en carrera. Recuerdo que Alonso llegó a decir "estoy abonado a la quinta posición". Sin embargo, el talento de Alonso lo llevó a conseguir resultados importantes en carrera. Por otro lado, Massa desapareció del podio, que había ocupado algunas veces en 2010. El piloto brasilero no destacó esta temporada, con algunos resultados pobres y siendo incluso superado en ocasiones por los Mercedes de Rosberg y Schumacher, que en ese momento eran el cuarto equipo más fuerte.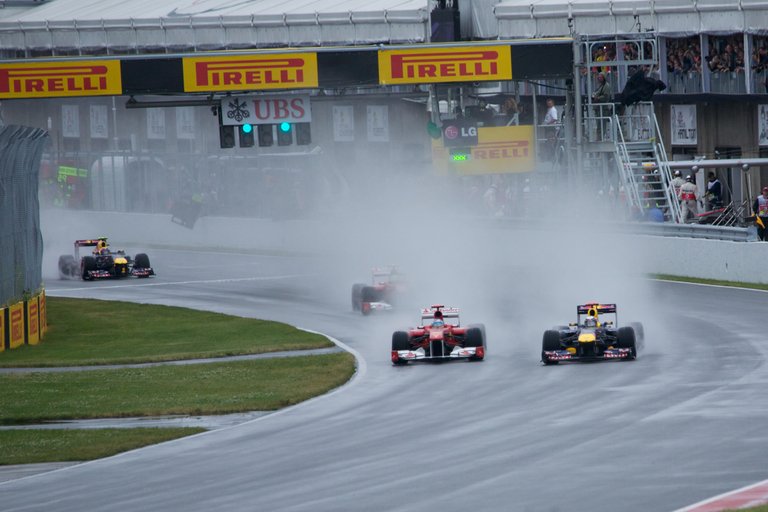 Mark McArdle from Canada, CC BY-SA 2.0, via Wikimedia Commons
Talking about the look of the cars, the most noticeable difference was the higher noses of the cars, this was especially noticeable in cars like Ferrari. McLaren and Red Bull had lower noses than the rest (precisely the strongest teams in 2011). I didn't really like this new look, I preferred the one the cars had in 2010.
Hablando del aspecto de los autos, la diferencia más notoria era la nariz más alta de los autos, esto era especialmente notoria en autos como el Ferrari. McLaren y Red Bull tenían narices menos altas que el resto (justamente los equipos más fuertes en 2011). Realmente no me agradaba mucho este nuevo aspecto, prefería el que tenían los autos en 2010.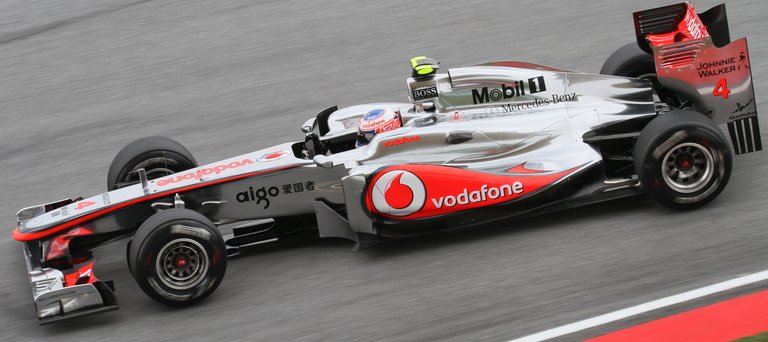 Morio, CC BY-SA 3.0, via Wikimedia Commons
The year 2011 was the consolidation of Button as a driver of excellent technical quality, surpassing Hamilton in points and taking the drivers' sub-championship. The proof of this was the race in Canada, where he won under the rain starting from last place. Unfortunately the McLaren could not compete with the Red Bull, and Webber did not have the same competitiveness as Vettel, who swept the championship.
El año 2011 fue la consagración de Button como piloto de excelente calidad técnica, superando a un Hamilton en puntos y llevándose el sub-campeonato de pilotos. La muestra de ello fue la carrera de Canadá, donde ganó bajo la luvia partiendo de último lugar. Lamentablemente el McLaren no podía competir con el Red Bull, y Webber no tenía la misma competitividad que Vettel, quien arrasó en el campeonato.
---
2012
Formula 1 needs more seasons like 2010 and 2012. This has been one of my favorite seasons, because of the spectacle until the last race, the different winners and the unpredictability of the races. There were 7 or 8 different winners in the first half of the season.
A Ferrari that seemed not to be a competitive car ended up being a candidate for the drivers' world championship, driven by Fernando Alonso, who made practically no mistakes. Unfortunately for Alonso, the champion was Vettel, who had a superior Red Bull.
La Fórmula 1 necesita más temporadas como las de 2010 y 2012. Esta ha sido una de mis temporadas favoritas, por el espectáculo que brindó hasta la última carrera, los distintos ganadores que hubieron y lo impredecible de las carreras. Fueron 7 o 8 ganadores distintos en la primera mitad de la temporada.

Un Ferrari que parecía no ser un auto competitivo terminó siendo candidato por el campeonato del mundo de pilotos, al volante de Fernando Alonso, quien no cometió prácticamente ningún error. Lamentablemente para Alonso el campeón fue Vettel, quien contaba con un Red Bull superior.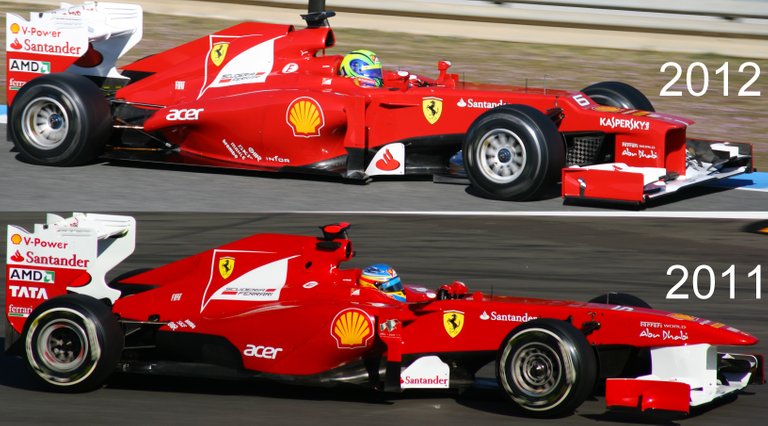 2012 - Gil Abrantes from Portugal2011 - Luca Barniderivative work (crop, merge and years) - Sasha Krotov, CC BY-SA 3.0, via Wikimedia Commons
But one of the most noticeable features of 2012 was the appearance of the cars. The regulations apparently caused the nose to be radically modified, generating a sort of "step". This was not to the liking of many, however, although this appearance was somewhat strange, in my opinion it was not really that ugly. Above I have talked about the appearance of the cars, making some criticism of certain seasons regarding the beauty of the cars. However, I don't consider it a necessary thing. If there is spectacle the visual aspect doesn't matter much, and the 2012 season was an example of this. However, there were certain exceptions, as in the case of the Lotus E20, for me one of the most visually attractive cars of the decade:
Pero una de las características más notorias de 2012 fue el aspecto de los autos. El reglamento aparentemente hizo que la nariz fuera modificada radicalmente, generando una especie de "escalón". Esto no fue del agrado de muchos, sin embargo, aunque este aspecto era algo extraño, en mi opinión no era realmente tan feo. Arriba he hablado del aspecto de los autos, haciendo cierta crítica de ciertas temporadas respecto a la belleza de los autos. Sin embargo, no considero que sea algo necesario. Si existe espectáculo el aspecto visual no importa mucho, y la temporada 2012 fue un ejemplo de esto. Sin embargo, hubieron ciertas excepciones, como es el caso del **Lotus E20**, para mi uno de los autos más atractivos visualmente de la década: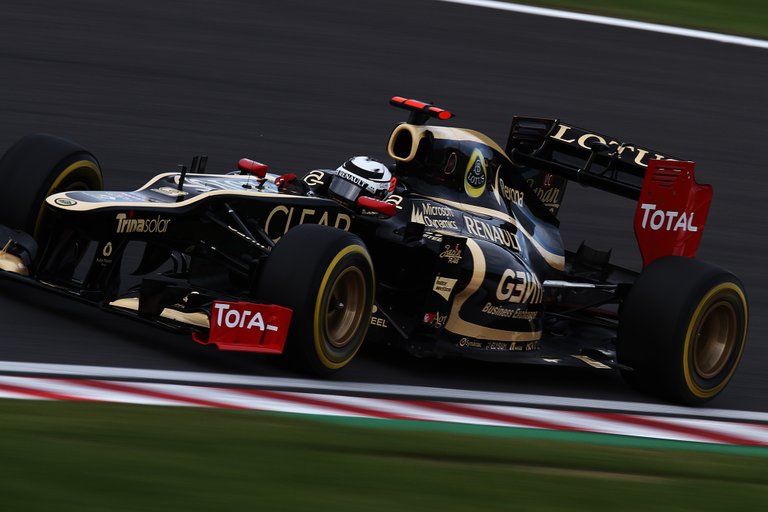 Takayuki Suzuki from Kanagawa, Japan, CC BY-SA 2.0, via Wikimedia Commons
One of the most unique races of the 2012 season was Pastor Maldonado's victory in Spain over Alonso and Raikkonen. As a Venezuelan it was a special race, beyond the controversy that this driver caused during his time in F1, listening to the national anthem during the end of the race was fantastic. Maldonado had a very fast Williams, and he did everything right that day to manage to win the race against Fernando Alonso himself.
Una de las carreras más singulares de la temporada 2012 fue la victoria de Pastor Maldonado en España frente a Alonso y Raikkonen. Como Venezolano fue una carrera especial, más allá de la controversia que este piloto causó durante su paso por la F1, escuchar el himno nacional durante el final de la carrera fue algo fantástico. Maldonado tenía un Williams muy veloz, y hizo todo bien aquel día para lograr arrebatarle la victoria al mismo Fernando Alonso.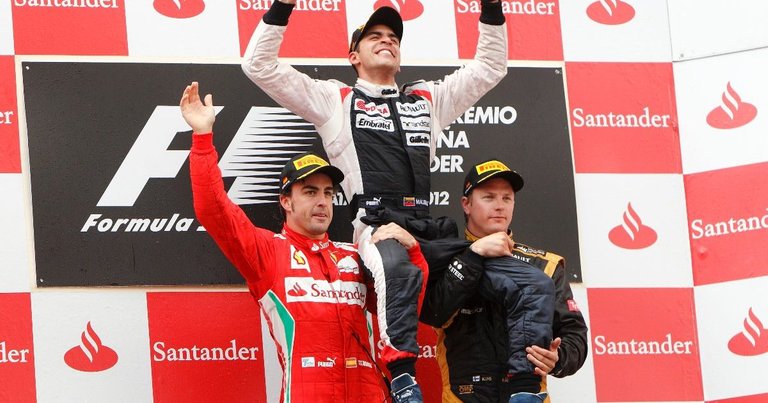 planetF1
---
2013
This season, like 2011, was not one of my favorites either. The "step" on the nose of the car was eliminated, returning to a design somewhat similar to that of 2011. This time, the Ferrari presented a more attractive design than 2011, and teams like Mercedes had something different, a sort of " intermediate" between the "step" and a smooth nose.
Esta temporada, al igual que la de 2011, tampoco fue una de mis favoritas. Se eliminó el "escalón" en la nariz del auto, volviendo a un diseño algo similar al de 2011. Esta vez, el Ferrari presentaba un diseño más atractivo que el de 2011, y equipos como Mercedes tenían algo diferente, una especie de "intermedio" entre el "escalón" y una nariz lisa.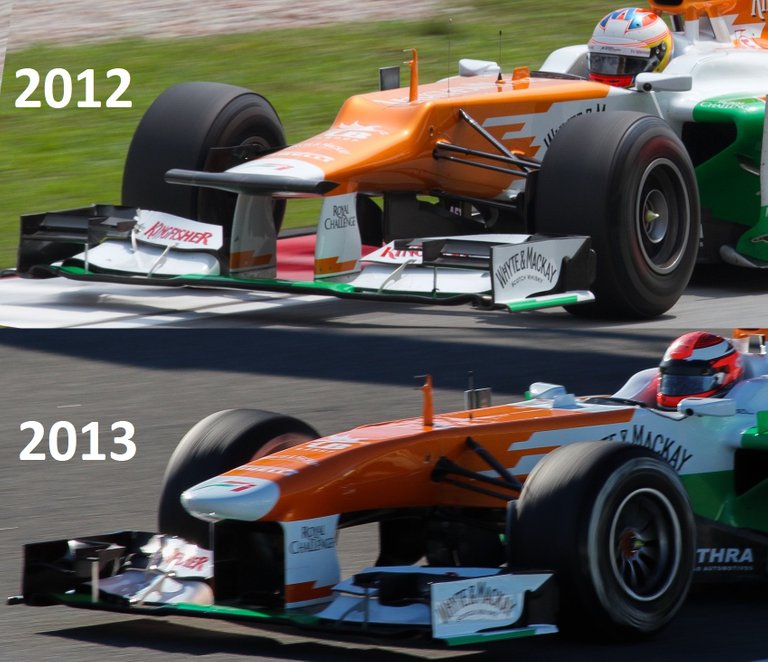 Leo Hidalgo & Morioderivative work: Sasha Krotov, CC BY-SA 3.0, via Wikimedia Commons
We are already starting to see the Mercedes team becoming more solid on the track, with some victories by Rosberg and Hamilton. Hamilton leaves McLaren, and joins a Mercedes team that still did not seem to be a dominant team, but was already starting to show signs of it. Let's remember that Mercedes had already won a race in 2012, which was the Chinese Grand Prix.
Ya empezamos a ver que el equipo Mercedes empieza a adquirir mayor solidez en pista, con algunas victorias de Rosberg y Hamilton. Hamilton deja McLaren, y se une a un equipo Mercedes que aún no parecía ser un equipo dominante, pero que ya empezaba a asomarse. Recordemos que Mercedes ya había ganado una carrera en 2012, que fue el Gran Premio de China.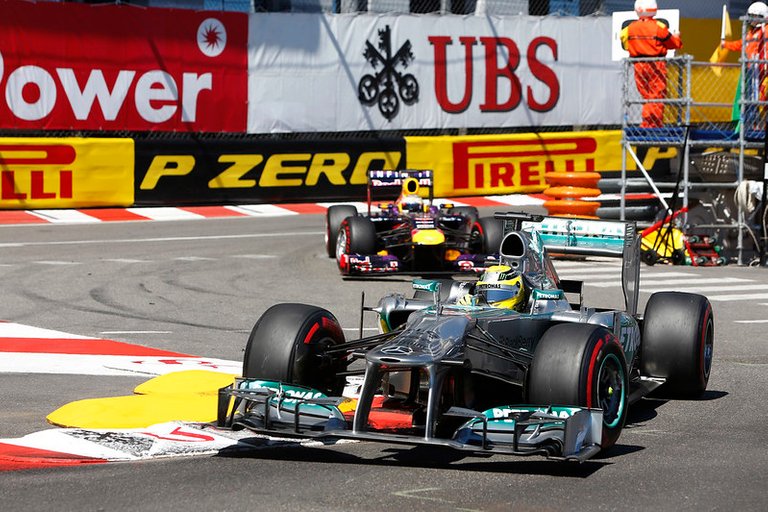 flickr
In 2013 we also saw an important performance by Lotus, with a victory by Raikkonen in the first race and several podiums throughout the season. Massa reappeared on some podiums, however, it was already clear that the Brazilian driver would never be the same as he was in 2008, he would never win races again, much less be a candidate for the world championship. On the other hand, the driver from my country, Maldonado, found himself with a Williams of poor performance, and could only score a few points.
En 2013 también vimos un rendimiento importante por parte de Lotus, con una victoria de Raikkonen en la primera carrera y varios podios a lo largo de la temporada. Massa volvió a aparecer en algunos podios, sin embargo, ya quedaba claro que el piloto brasilero nunca volvería a ser el mismo que fue en 2008, no volvería a ganar carreras ni mucho menos ser candidato al campeonato del mundo. Por otro lado, el piloto de mi país, Maldonado, se encontraba con un Williams de rendimiento pobre, y solo pudo obtener unos pocos puntos.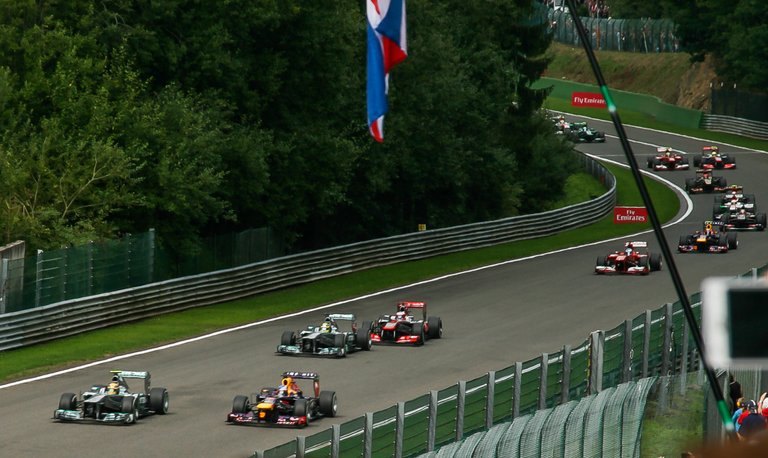 Malte89N, CC BY-SA 3.0, via Wikimedia Commons
The first half of the 2013 season was a tight fight between Alonso and Vettel for the championship lead. However, the second half proved to be a total domination by Vettel. This dominance by Red Bull for four consecutive years ended in 2013, giving way to the hybrid era and the dominance of Mercedes to this day.
La primera mitad de la temporada 2013 fue una pelea ajustada entre Alonso y Vettel por el liderato del campeonato. Sin embargo, la segunda mitad resultó ser un dominio total por parte de Vettel. Este dominio de Red Bull por cuatro años consecutivos terminó en 2013, dando paso a la era híbrida y el dominio de Mercedes hasta nuestros días.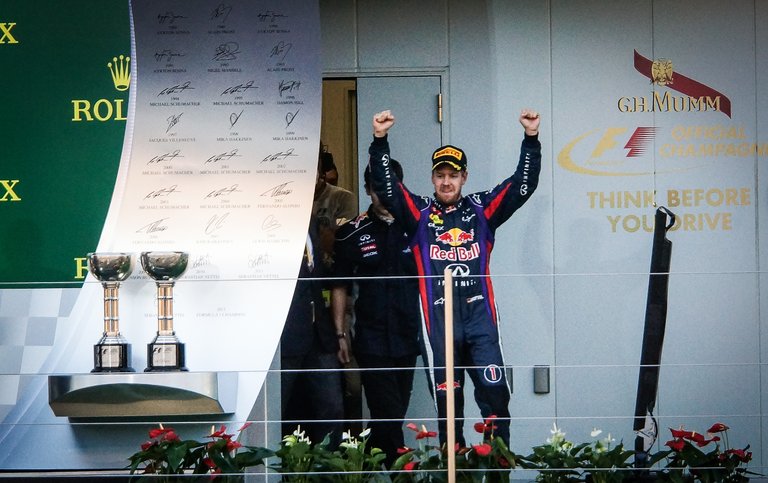 Cannik, CC BY 2.0, via Wikimedia Commons
Maybe I'll write about the Mercedes era later. Do you think we will enter into a new Red Bull era in 2022?
Leave a comment if you found it interesting and share (reblog) this post.
Quizás escriba luego acerca de la era de Mercedes ¿Crees que entraremos en una nueva era Red Bull en 2022?

Deja tu comentario si te ha parecido interesante y comparte (reblog) esta publicación.
---
Translated to English with the help of DeepL.com.
¡Gracias por visitar! — Deja tu comentario 🚥🏆