Lately today i was thinking about the draw between Manchester United and Leeds United and it went so deep on me as i was considering the fans of both team wishing their teams to win but it turns out to be at neutral point for them.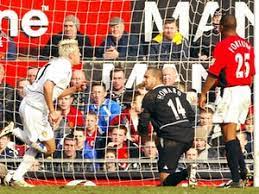 the game took place at Elland Road as Manchester United pushed the game with the Leeds United. At the start, it became somehow clear that Manchester will take the lead in the game but at a long run, the energy equalizes.
I was hoping that the Manchester would take the victory due to the strength in quest for goals but Leeds couldn't let them have a chance for that. Leeds United really tried their best in the battle though they messed up as some players accumulating yellows for the team.
Manchester toped the game with a nice ball position gab of 6. The pressure was high for the Leeds United but i really admired their strength and agreement that nothing will enter into their goal till the end of the game. I can see the Joy in the minds of Leeds United fans as they were able to maintain a steady play without loosing but rather draw the game while it was a lost for the United fans because of full assurance of taking the victory.
As football is not a sure winning game, Manchester United in my few though i have not checked the table yet should be 12 point ahead of the mighty West Ham which they may clash again. many questions keep dropping my mind, what could have happened if Manchester won Leeds? that is to say that Leeds United really prepared to break the record of Manchester playing unbeaten this season.
Seeing the draw from the betting side, many people predict that Manchester will win the game, and had to go with their prediction, but at last, it ended them on a draw. this is a big blow and lost to people who predict that. This season, i have come to observed that Leeds United are good at drawing games with any team seeming to be strong and i really love that effort. I had to consider the draw which made many loose their cash and some gain. Goodosss to those that predicted draw on the game. i wish to have This team clash again. I really want to Know who is the strongest at this point. Manchester seemed dominating, but a draw couldn't qualify them.
Thanks for always reading, remain loved and be Loved.