The Euro2020 England vs Denmark: A Talk of the Town
It is such a nice moment to have England make a such a wave in the our community. Everyone, both young and old is talking about England's victory over other games. It really interest me to make this post today as i can't hold my hands.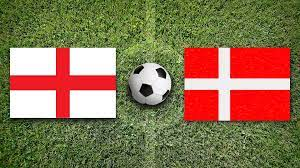 Denmark as i know is a long standing team with vibrant players, but what captures my mind the most is the England's perform this season. it is not all that easy to play unbeaten till the semi-final. many have started staking England to win Denmark. i believe too that England would win Denmark considering their records this season.
Looking back on England's record 25 years ago, the team wasn't this strong as it is today. i really appreciate the effort of the manger and the player for putting in their best to push the team this far. I really feel the push of Harry Kane, Harry Maguire, and Jordan Handerson in the team for striking to place the team at it stage today. i can't even forget victory the had from Ukraine on Saturday. It was a nice sheet keeping.
One thing keeps disturbing my mind even when i discuss their parallel victory and it a question. What will happen if England looses to Denmark this night?
Up till now i can't answer that question and its still beating in my breath. I will be so steady to follow up this match today to see the outcome though England boys have really prepared for Denmark on this Euro2020 Championship after what hands in to them in the National League where Denmark went home with the victory 0:1
Bring in my discussion with guys at my end to you. In your own opinion. What do you think will be the reaction of Denmark on England having won England in a National League? i keep asking my friends at this end to have their mind and what they think about the team as well. i believe it will a storming one for both team, but one must go with the victory tonight. Many times i think of foodball, i think of people's minds towards each victory and their thought towards history.
Tonight be a real heat on the street at the end of the match. it will be so good to have England finish this season with a clean sheet. at the end of the game, my mind will be at rest and all my questions will be answered through the outcome tonight.
Thanks for reading. still your favorite,@anicom
---
---