Atletico Madrid is on their best way to reach the champions of La Liga 2020-2021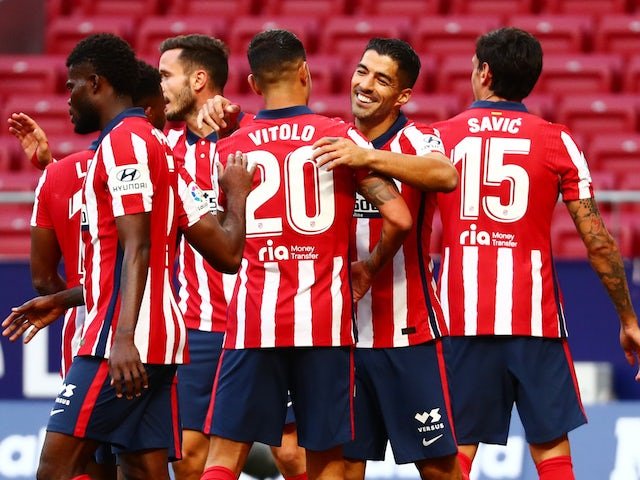 .
The battle for the championship in the Spanish La Liga this season has entered half of the season. In the meantime Atletico Madrid are only the hottest candidate. Meanwhile, two Spanish giants, Real Madrid and FC Barcelona still performed less convincingly to win the trophy this season. Real Madrid looked confused and Barcelona is still unstable in every game they played this season. You must know that only Atletico Madrid can continue to run fast to leave both of them. Will this season's La Liga competition bring Atletico Madrid as a champions?
Diego Simeone's team leads the Spanish League standings with 38 points of 15 matches. Luis Suarez and friends are two points ahead of Real Madrid who has played 17 matches. Zinedine Zidane's players are still struggling in second place in the standings. Meanwhile, Atletico, who still have two matches remaining definitely still have the opportunity to leave their city team even further. And what happened to Lionel Messi and friends? They have played in 16 matches and they are at fifth in the standings by earning 28 points. This reality is too different to the previous seasons for Real Madrid and FC Barcelona. Both of them always performed better at the beginning of the season until La Liga ended. Is this the revolution of Spanish League? Are the roles of Real Madrid and Barcelona cannot be the influencer clubs Spain?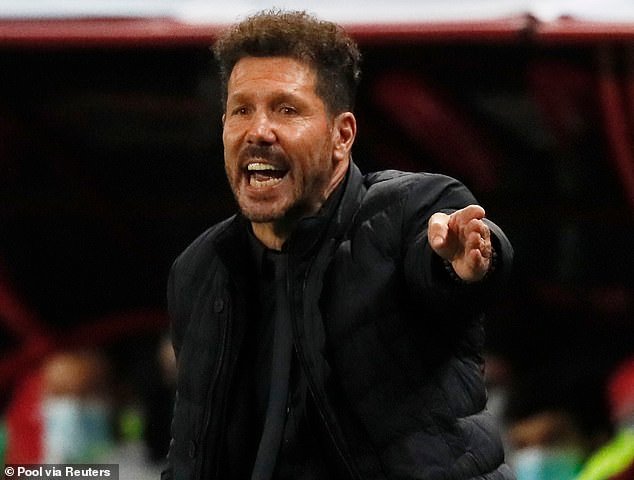 Diego Simeone is the man behind the successful of Atletico Madrid
.
Of course you can already see how fast Los Rojiblancos are running this season. They managed to dominate the Spanish League even though there are still 23 matches this season. Diego Simeone has a big influence as a manager at Atletico Madrid. Since his arrival in 2012 to Wanda Metropolitan the Argentine had reached so many progress and he made some big changes for his former club. Slowly but sure, Simeone is able to manage Atletico Madrid came out of the Real Madrid and FC Barcelona's pressure. Usually, it is really difficult for Atletico Madrid to win a match when they met the two giants from Spain. Simeone became a magician and he was able to build Atletico Madrid to be a new giant in Spain. Atletico Madrid achieved great success built by Diego Simeone. You can compare to the other Managers did in Atletico before. Simeone could present Atletico Madrid a champion of La Liga at his first season as Manager. It happened in the 2014/2015.
And Diego Simeone was also able to show his best in the European Champions League. Atletico Madrid has played twice in the final before being defeated by Real Madrid. Diego Simione builded Atletico to play football in a different style. They had achieved a great success this season even though the La Liga is not over yet. Their chances to be a champions this season are bigger this season because Real Madrid and FC Barcelona still fight to solve their problems.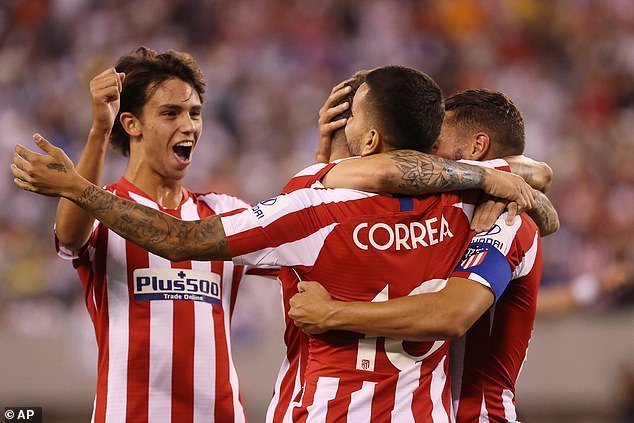 Some players of Atletico Madrid celebrated a goal in La Liga
.
Atletico Madrid had played 15 matches. They won twelve matches, two draws and they only got lost 0-2 when they played against Real Madrid on 13/12/2020. This is an extraordinary achievement of Diego Simeone, and it looks like they will be able to repeat the success of the 2014 // 2015 season. The track record of their appearances at this time made many football observers predicted that Atletico Madrid would be the winner of the La Liga in 2020/202. Atletico reached the same achievement like they did this season and Simeone can repeat the history of his love club.
In my opinion, the biggest advantage of Diego Simione this season is because of Real Madrid and Barcelona are not doing well in the field. And there is a new player such as Luis Suarez joined the team and the former player of FC Barcelona played very well with his team mates in Atletico Madrid. The Uruguay is a good attacker. I think both of factors has been the cause of Atletico Madrid's performance to be better to last season.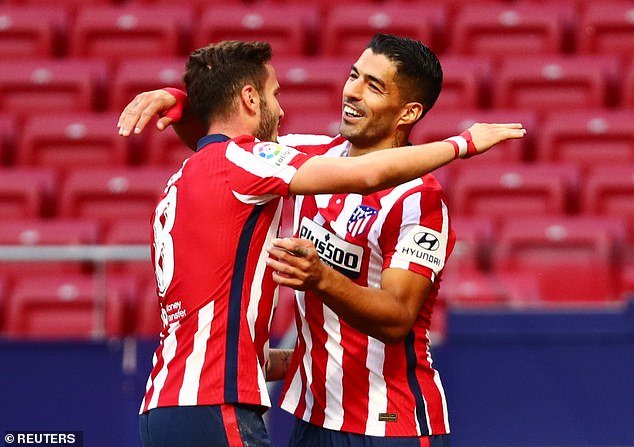 Luis Suarez celebrated his goal against Granada
.
And now what will happen to Real Madrid and FC Barcelona at the end of this season? If Atletico Madrid wins La Liga so there will be a big evaluation do by both of the two clubs. Real Madrid faced this season with the older players. Most of them is over 30. Meanwhile, FC Barcelona players are not able to show their best in the field and the Catalans cannot leave their Messi independence. Ronald Koeman also cannot manage the team well yet although there are more younger player in his main squad. So, Atletico Madrid will be the one with the biggest chance to win La Liga this season.
What do Sportstalkers think about it? Is Atletico Madrid will be the chamipions of 2020-2021 La Liga?
---
---
INDONESIA
Pertarungan memperebutkan tangga juara di La Liga Spanyol musim ini sudah memasuki setengah perjalanan. Dan sementara ini hanya Atletico Madrid yang ada di depan. Sementra dua raksana Spanyol yaitu Real Madrid dan FC Barcelona masih tampil dengan performa kurang meyakinkan merebut juara musim 2020/2021. Real Madrid terlihat bingung dan Barcelona masih belum stabil dalam permainan. Dan Atletico Madrid terus melaju kencang meninggalkan keduanya. Akankah kompetisi La Liga musim ini akan membuat Atletico Madrid tampil sebagai juaranya?
Tim asuhan Diego Simeone ini memimpin klasemen sementara Liga Spanyol dengan 38 poin dari 15 laga. Luis Suarez unggul dua poin atas Real Madrid yang sudah lakoni 17 laga. Anak asuh Zinedine Zidane itu masih berkutat di urutan kedua klasemen sementara. Sementra Atletico yang masih punya dua laga sisa tentu masih berkesempatan meninggalkan tim sekotanya lebih jauh lagi. Dan apa yang terjadi dengan Lionel Messi dan kawan-kawan? Mereka sudah bermain dalam 16 laga dan berada di urutan kelima klasemen dengan poin 28. Sungguh sebuah realita yang bertolak belakang dari musim-musim sebelumnya di mana Real Madrid dan FC Barcelona selalu tampil dominan di awal musim sampai La Liga berakhir. Inikah yang disebut revolusi La Liga? Apalah peran Real Madrid dan Barcelona sudah tidak begitu penting dalam sepakbola negeri Matador?
Dari penjelasan di atas tentu Anda sudah dapat melihat bahwa betapa Los Rojiblancos begitu kencang larinya musim ini. Mereka sukses mendominasi Liga Spanyol meskipun pertandingan musim ini masih berjumlah 23 laga. Diego Simione memang memiliki pengaruh besar sebagai Manajer di Atletico Madrid. Sejak kedatangannya pada tahun 2012 ke Wanda Metropolitan, pria asal Argentina ini sukses membuat perubahan besar bagi Atletico Madrid yang juga mantan klubnya itu. Perlahan-lahan klub yang dilatihnya dapat keluar dari tekanan Real Madrid dan FC Barcelona. Biasanya, sungguh sulit bagi tim ini memenangi laga bila bertemu kedua raksasa dari Spanyol itu. Simione menjadi penyihir dan sanggup mengubah Atletico Madrid menjadi raksasa baru di Spanyol. Atletico Madrid di tangan Diego Simione meraih sukses besar bila dibandingkan dengan Manajer-Manajer yang pernah melatih Atletico. Baru saja semusim menangani Atletico Madrid, Simione langsung berikan gelar La Liga pertamanya sebagai Manajer. Itu terjadi pada musim kompetisi La Liga 2014/2015.
Selain itu, Diego Simione juga mampu berbicara banyak di ajang Liga Champions Eropa. Dua kali Atletico Madrid berada di partai final sebelum dikalahkan oleh Real Madrid. Ini adalah Atletico yang berbeda. Musim ini mereka sudah mencapai sukses yang hebat meskipun La Liga musim ini belum berakhir. Peluang mereka menjadi juara sungguh terbuka karena Real Madrid dan FC Barcelona sepertinya sedang mengalami masalah besar
Atletico Madrid sudah maintkan 15 pertandingan. Mereka meraih dua belas kemenangan, dua kali imbang, dan satu kali kalah dari Real Madrid dengan Skor 2-0 pada 13/12/2020 lalu. Ini pencapaian yang luar biasa dan sepertinya mereka akan mengulang sukses pada musim 2014//2015 silam. Rekam jejak penampilan pada saat itu membuat banyak pengamat sepakbola memprediksi bahwa Atletico Madrid akan sukses merebut gelar La Liga musim 2020/2021.Saat itu mereka juga bermain seperti saat ini dengan meraih banyak kemenangan.
Menurut saya, keuntungan terbesar dari Diego Simione musim ini ada pada kondisi internal Real Madrid dan Barcelona yang sedang tidak bagus. Juga, kedatangan Luis Suarez dari Barcelona menjadikan barisan penyerang Atletico Madrid semakin tajam. Dua hal itu saya rasa adalah penyebab performa Atletico Madrid menjadi lebih bagus dari musim lalu.
Lalu, bagaimana nasib Real Madrid dan FC Barcelona pada akhir musim ini? Jika Atletico Madrid keluar sebagai juara La Liga, maka evaluasi besar tentu akan terjadi di tubuh kedua klub tersebut. Real Madrid yang sebagian besar skuadnya sudah berusia di atas 30-an. Sedangkan FC Barcelona belum menampakkan tanda-tanda keluar dari ketergantungan mereka pada sosok Lionel Messi. Dan kedatangan Ronald Koeman pun dengan meramu skuad FC Barcelona menjadi lebih muda juga belum mencapai hasil yang diharapkan. Maka, Atletico Madrid kemungkinan besar yang akan menjadi juara La Liga pada musim 2020/2021 ini.
Bagaimana menurut pendapat Sportstalkers yang senang akan Sepakbola Liga Spanyol? Apakah pantas Atletico Madrid menjadi juara La Liga musim 2020/2021?
---
---