Mission Impossible of Barca; Scoring 5 Goals Against PSG in Parc des Princes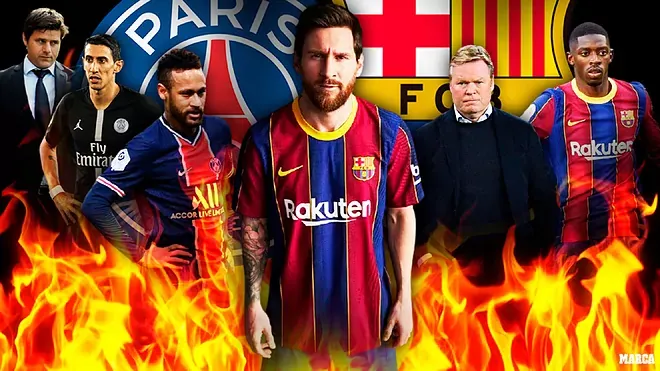 Nothing is impossible! That is a great motivational quote. But sometimes a wise quote becoming priceless when we face the reality in our life. We cannot live with motivational quotes or words only, right? All we need to do is to fight with the reality and we must be able to do it with our great power. You do nothing without the ability to make your dreams come true.
All football lovers in the world got the reality that FC Barcelona that must be one of the biggest football team of Spain defeated 4-1 by Paris Saint-Germain (PSG) in the first-leg of European Champions League (UCL) two weeks ago. And the Catalans have to make the revenge in Paris on Wednesday (3/10/2021). Barca is a great football team with many good footballers in the world. They come to Paris and they will show their best to beat PSG. Ronald Koeman must know what to do there. He will ask for all players to play with their high motivation to win the match.
What do you think? Is Barca able to score 5 goals in Paris against PSG? Most of football lovers must say that Barca won't be able to do it at all. PSG can make Messi and his teammates in tears like they did at Camp Nou two weeks ago. You are free to say what you want to say and I am also like you; to write what I want to write, this must be a funny reality match if you and me have the different opinion about the match between FC Barcelona and PSG on Wednesday.
You must see the point of my personal opinion about the big match of UCL this season. I am talking about the reality in the field when players of both team start playing the match in the field. What we have got is football is football. We're going to watch the two biggest teams in the Europe must be in their biggest fighting in the field but a ball is circle. It can roll away any where and if one footballer cannot control it well so you know what it will be. The ball will be at the wrong direction and it can be in the net. A goal can be scored any times!
Yeah, for me what will, will be. I think the rice had been cooked at Camp Nou two weeks ago and the players of PSG had it already. Now I don't care about who will be the winner and earning a ticket for quarter-final at all. What I care is just about how I can watch the biggest match on my television here, in Indonesia. Sometimes we have a bad satellite connection, and it takes a long time to fix the problem. LoL.
I think you must get me that I am a real Cules. Off course I would like to keep watching Messi and friends in UCL this season till they reach the final at Ataturk Olympic Stadium of Istanbul on 29 of May, 2021. But I have to be a wise man by accepting the result after the final whistle blown by the referee at Parc des Princes then.
Be happy, and keep writing on Sportstalksocial.
---
---