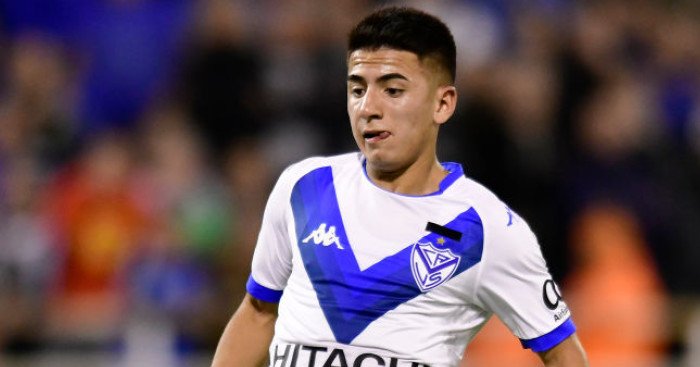 .
Thiago Almada is a footballer of Argentine that plays for Velez Sarsfield reportedly wants to be recruited by Manchester United as their new striker.
The 19-year-old has been recognized by many of Europe's biggest clubs because he has scored 12 goals for Velez Sarsfield and four assists in 50 appearances. There are some clubs such as FC Barcelona, Real Madrid, Manchester City, Valencia, Ajax Amsterdam will definitely want to sign Thiago Almada, and of course Manchester United will join them to hunt Almada in January 2021.
Now Thiago Almada had been a part of the Argentina U-20 team which will play in the World Cup U-20 that will be held Indonesia on 2021. And a talented young player had scored one goal in seven games with the national team.
Velez Sarsfield won't let Thiago Almada go away easily. He will still be there for the next two years. Even if he would leave the club, Velez would charge a high price for their wonder kid.
Thiago Almada has been made a fixed price by Velez Sarsfield for the £ 20 million stated in his contract. If there are a club wants to take him from Argentina, that clause must be redeemed. Reportedly the clause period will end next summer. And the European biggest clubs I mentioned above will have to bid Thiago Almada in a higher price so that he can be brought on to become part of their team.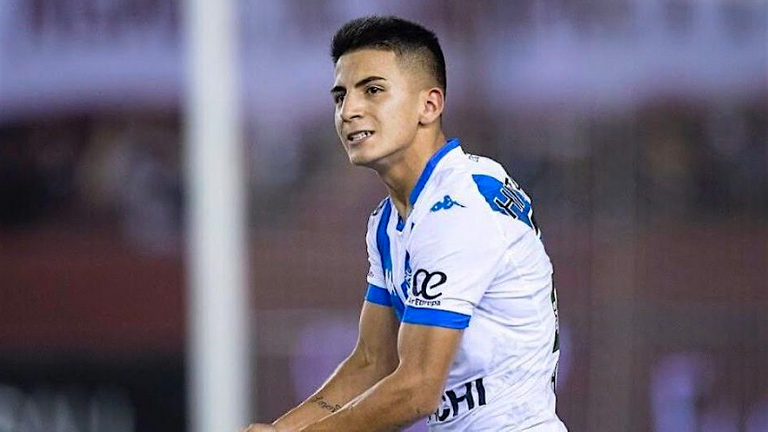 .
Who is Thiago Almada?
Thiago Almada was born in Fuerte Apache, Argentina, on April 26, 2001 and now he is 19 years. His dream was to become a football player since a child. Then, this young man has transformed into the most talented young player in the world. His football career began in the youth team of Velez Sarsfield, which is one of the clubs in the Argentine Premier League.
Thiago Almada has incredible abilities. His vision is also good because he has speed when he's on the ball. Valez Sarsfield sees Thiago Almada's talent as a gift to them. He was immediately promoted to become a player in Velez Sarsfield's main squad in July 2018. The opportunity given by the coach was put to good use by Thiago Almada during the two seasons he performed in an extraordinary manner. Since then, Almada has become a byword in Argentina.
From [youtube video] (
the author assesses that there are similarities between Thiago Almada and Lionel Messi. Thiago Almada's ability to work on the ball as an attacking midfielder and wingers is so great. Argentines are now waiting for one of their most talented young stars to replace Diego Maradona or Lionel Messi. A very interesting game because of his agility that deserves to juxtapose himself with the two Argentine legends.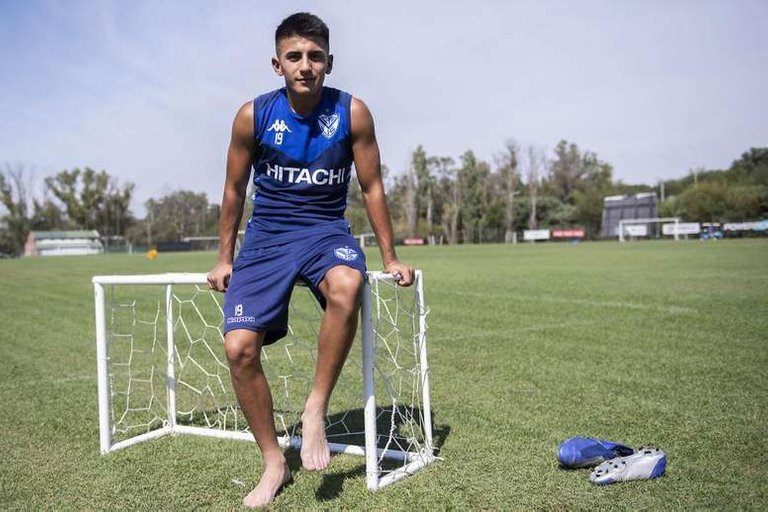 In addition to being similar to the superstar FC Barcelona, Lionel Messi because he is able to use his left foot very well, Thiago Almada is also the same to Cristiano Ronaldo. According to the author, his speed in handling the ball and strength when running and has excellent skills in releasing hard kicks with his right foot. He is capable of playing with high technique. Almada's incredible ability when the ball is at his feet is an added value that makes many clubs in the world want to have him in their team.
Targeted by many giant European clubs
Great ability and has shown an interesting game at Valez Sarsfield, making Thiago Almada attractive to many big European clubs. Call it FC Barcelona, Manchester United, Manchester City, AC Milan, and Ajax Amsterdam. However, Thiago Almada must learn from many young players who used to have talent like him but did not succeed in Europe. Even their names are barely mentioned by the sports media.
There is a lot of competition within the body of a big club like FC Barcelona and Manchester City. The two giant clubs can be real examples. Even the starry of a Phillipe Coutinho can be dim because he plays at FC Barcelona. Then, look at the fate of a young Brazilian named Robinho. He was considered the successor to Ronaldo de Lima but failed at Real Madrid and Manchester City. Now we have never read his name in the newspapers.
https://d10dnch8g6iuzs.cloudfront.net/picture/586202005181206447
.
There is news that Thiago Almada will choose Leeds United because there is a coach from Argentina, Marcelo Bielsa. It has been proven that many young players have been able to improve their technical abilities by the coach who had mentored Mauricio Pochettino, Pep Guardiola and Jose Mourinho. Most likely, Almada will anchor at Leeds United this summer. However, that is still a prediction and there has been no serious discussion between the two parties.
Thiago Almada's contract clause at Velez Sarsfield is about to expire. And big teams like Manchester United, Barcelona or Manchester City must have approached Thiago Almada's agent. They will carry out serious negotiations. Who will own Thiago Almada? We'll find out after the summer transfer market opens.
One thing you must remember from the above article is that * Thiago Almada has the same ability as Lionel Messi and Cristiano Ronaldo *. What do you think about Thiago Almada?
---
---
INDONESIA
Thiago Almada yang kini masih bermain di klub Argentina, Velez Sarsfield dikabarkan ingin direkrut Manchester United sebagai penyerang baru mereka.
Pemainyang masih berusia 19 tahun itu telah dikenal oleh banyak klubbesar Eropa karena dia sudah mencetak 12 gol untuk Velez Sarsfield dengan bukukan empat assist dalam 50 penampilan. Nama-nama seperti FC Barcelona, Real Madrid, Manchester City, Valencia, Ajax pasti akan mendekati Thiago Almada, dan tentu saja Manchester United ikut memburu Almada pada Januari 2021.
Kini Thiago Almada sudah menjadi bagian dari tim U-20 Argentina yang akan bermain di Piala Dunia U-20 tahun depan di Indonesia. Dia telah mencetak satu gol dari tujuh laganya bersama tim Albiceleste.
Velez Sarsfield tentu tidak akan melepaskan Thiago Almada begitu saja. Dia masih akan di sana selama dua tahun ke depan. Bila pun dia akan pergi maka Velez akan mematok harga tinggi untuk wonderkid miliknya.
Thiago Almada sudah dipagari oleh Velez Sarsfield sebesar sebesar 20 juta pound yang tertera dalam kontraknya. Bila ada klub yang ingin membawanya dari Argentina, maka klausul itu harus ditebus. Kabarnya masa klausul itu akan berakhir pada musim panas mendatang. Dan klub-klub raksasa Eropa yang tersebut di atas harus menawar Thiago Almada dengan harga yang lebih tinggi agar dia dapat diboyong menjadi bagian dari tim mereka.
Siapa sebenarnya Thiago Almada?
Thiago Almada lahir di Fuerte Apache, Argentina, pada 26 April 2001 tepatnya 19 tahun yang lalu. Cita-citanya sejak kecil adalah menjadi pemain sepakbola. Lalu, anak muda ini telah menjelma menjadi pemain muda paling berbakat di dunia. Karier sepakbolanya berawal di tim yunior Velez Sarsfield yang merupakan salah satu klub di Liga Utama Argentina.
Thiago Almada memiliki kemampuan yang luar biasa. Visinya juga bagus karena dia punya kecepatan saat sedang bersama bola. Valez Sarsfield melihat talenta Thiago Almada itu sebagai sebuah anugerah bagi mereka. Dia segera dipromosian menjadi pemain dalam skuad utama Velez Sarsfield pada Juli 2018. Kesempatan yang diberikan pelatih itu dimanfaatkan dengan baik oleh Thiago Almada selama dua musim dia tampil luar biasa. Sejak saat itu, Almada menjadi buah bibir di Argentina.
Dari video youtube, penulis menilai ada kemiripan antara Thiago Almada dan Lionel Messi. Kemampuan mengolah bola Thiago Almada sebagai gelandang serang dan sayap itu begitu hebat. Masyarakat Argentina kini sedang menanti salah satu bintang muda paling berbakat mereka menjadi pengganti Diego Maradona atau Lionel Messi. Permainan yang sangat menarik karena kelincahan yang dimilikinya sudah layak menyandingkan dirinya dengan dua legenda asal Argentina tersebut.
Selain mirip mega bintang FC Barcelona, Lionel Messi karena mampu menggunakan kaki kiri dengan sangat baik, Thiago Almada juga identik dengan Cristiano Ronaldo. Hal menurut penulis, kecepatannya mengolah bola dan kekuatan saat berlari serta punya keahlian yang sangat baik melepaskan tendangan keras dengan kaki kanan. Dia mampu bermain dengan teknik tinggi. Kemampuan yang luar biasa Almada saat bola ada di kakinya adalah nilai lebih yang membuat banyak klub di dunia ingin memilikinya di dalam tim mereka.
Diincar banyak klub raksasa Eropa
Kemampuan hebat dan telah menunjukkan permainan menarik di Valez Sarsfield, membuat Thiago Almada diminati banyak klub besar Eropa. Sebut saja FC Barcelona, Manchester United, Manchester City, AC Milan, dan Ajax Amsterdam. Akan tetapi, Thiago Almada harus belajar dari banyak pemain muda dulunya yang punya bakat sepertinya tetapi tidak sukses di Eropa. Bahkan nama mereka pun sudah hampir tidak disebut oleh media olahraga.
Ada banyak persaingan di dalam tubuh sebuah klub besar seperti FC Barcelona dan Manchester City. Kedua klub raksasa itu bisa menjadi contoh yang nyata. Kebintangan seorang Phillipe Coutinho saja bisa redup karena bermain di FC Barcelona. Lalu, lihatlah bagaimana nasib seorang anak muda Brazil bernama Robinho. Dia sempat dianggap sebagai penerus Ronaldo de Lima tetapi gagal di Real Madrid dan Manchester City. Kini namanya sudah tak pernah kit abaca di Koran.
Ada kabar yang mengatakan bahwa Thiago Almada akan memilih Leeds United karena di sana ada pelatih asal Argentina, Marcelo Bielsa. Sudah terbukti banyak pemain muda mampu ditingkatkan kemampuan tekniknya oleh pelatih yang pernah mementori Mauricio Pochettino, Pep Guardiola, dan Jose Mourinho itu. Kemungkinan besar, Almada akan berlabuh di Leeds United musim panas nanti. Tetapi, itu masih sebuah prediksi saja dan belum ada pembicaraan serius antara kedua belah pihak.
Klausul kontrak Thiago Almada di Velez Sarsfield akan segera kadaluwarsa. Dan tim-tim besar seperti Manchester United, Barcelona, atau Manchester City pasti sudah mendekati agen Thiago Almada. Mereka akan melakukan negosiasi yang serius. Siapa yang akan memiliki Thiago Almada? Kita akan ketahui setelah bursa transfer pemain pada musim panas dibuka.
Satu hal yang harus Anda ingat dari tulisan di atas adalah Thiago Almada memiliki kemampuan sehebat Lionel Messi dan Cristiano Ronaldo. Bagai mana menurut Anda?
Referensi: Wikipedia dan Transfermarkt.