Two Main Reasons That Will Make Inter Milan A Champion of Serie A This Season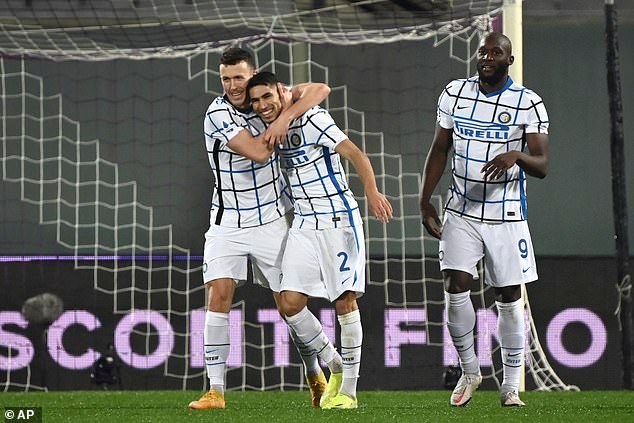 The players of Inter when they won over Fiorentina
.
Inter Milan is one of the greatest teams in the history of football in Italy and Europe. This club has been recognized by many football lovers in the world. And they've won a lot of trophies a long time ago. Now they are leading for being a champion in the Italian League or known as Serie A. Inter Milan had won their last match against AC Milan, the same team of their city, Milan, Italy. The big match of the two big clubs from Milan is called the Derby della Madonnina. And with victory against AC Milan, Antonio Conte's men have kept their hopes of winning the title of Serie A this season.
Inter Milan was able to defeat AC Milan in the 23rd week match of Serie A on Sunday (21/2/2021). They played at the San Siro and they won 3-0!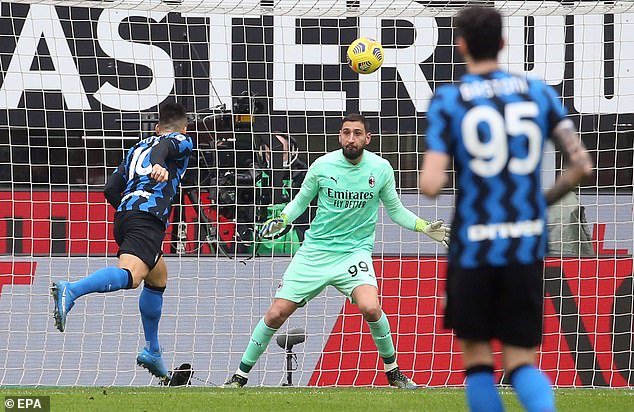 Loutaro Martinez's first goal to beat AC Milan last week
.
Now Inter Milan have reached the first place at the top of the Serie A standings by earning 50 points of 23 matches. They have four points ahead of AC Milan who are still in second place. Until now, Inter Milan has only two defeats and playing five time draws. And Inter Milan is a team that has lost the fewest times in Serie A this season. Inter Milan also have good forwarders who have scored a lot of goals this season. That makes them one of the most productive teams in Serie A. They have already scored 57 goals and they have only conceded 24 goals by other teams.
Those facts are enough to make Inter Milan one of the favorite team to win the Serie A title this season. Their chances are very big to win the title that Internisti (their fans) all over the world have been waiting for. They will end everything to win the championship that was last won in 2010.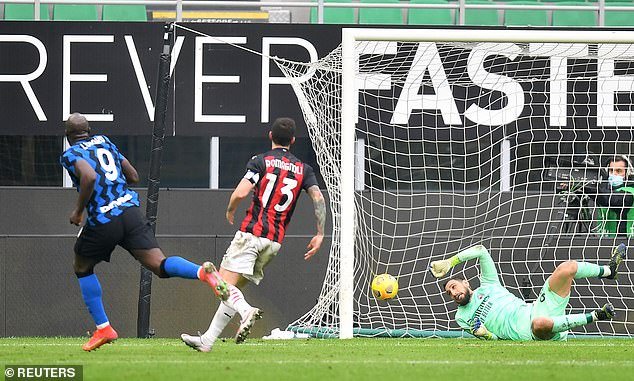 Romelu Lukaku scored a goal when Inter Milan beaten AC Milan last week
.
According to my personal observations, there is only two thing that will allow Inter Milan to win the Serie A title; they just playing in Serie A every week and they must win all the match in Serie A. How did it happen?
I have 2 main reasons why Inter Milan will be able to become champions in Serie A. Here is my review for you.
Just Playing in Serie A Each Week
Since Inter Milan were eliminated from the Champions League and Coppa Italia, they have only played in one competition, Serie A. That is the biggest advantage for Inter Milan. Their concentration is not divided for other competitions. In the European Champions League, Inter Milan failed in the Group phase after being bottom in Group B which is inhabited by Real Madrid, Borussia Monchengladbach, Shakhtar Donetsk. Then they were eliminated by Juventus in the Coppa Italia semifinals. That is why Inter Milan only plays in Serie A and makes them safer to win in Serie A.
Antonio Conte can easily direct his players to focus on playing only in Serie A this season. Their play schedule is not much and it takes only 90 minutes every week to focus on the field. The strength of the Inter Milan players is only used in the Italian League or Serie A. So, the Serie A championship title this season is definitely obtained by Inter Milan.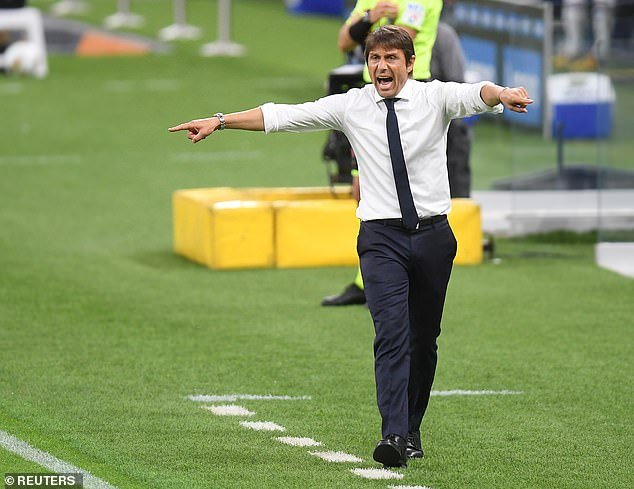 Antonio Conte
Won 15 Serie A Matches Remaining
Winning all the remaining Serie A matches, yes, there are 15 more matches they must pass in Serie A so that Inter Milan can become champions in Serie A. AC Milan will also not remain silent, allowing Inter Milan to walk casually towards the championship ladder in Seria A. , the 24th match against Genoa on 28/02/2021 is very important to win in order to improve the mentality of the players in Serie A.
I think that, of the 15 remaining Inter Milan games in Serie A, there are 4 games that Antonio Conte and the players he leads need to pay attention to. The four matches are against Atalanta on 09/03/2021, travel to Naples to fight Napoli on 19/04/2021, travel to the Italian capital to fight AS Roma on 13/05/2021, and finally Inter Milan must face host Juventus. on 17/05/2021.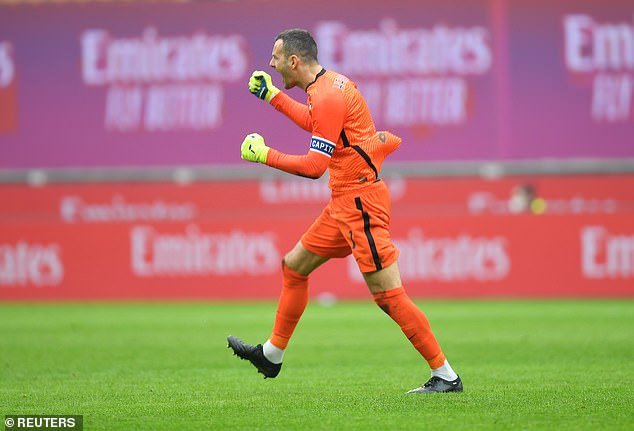 .
Apart from the two factors above, Inter Milan's biggest advantage is also having good players in all positions. Their Goalkeeper Samir Handanovic has had a great ability to keep on goal this season. The man from Slovenia who is already 36 years old became a hero against AC Milan last week. He is the savior of Inter Milan from the onslaught of the Milan players. Meanwhile, their lower players like Milan Skriniar, Stefan De Vrij, Alessandro Bastoni are very strong in maintaining Inter Milan's defense. Then the midfielders or midfielders like Nicolo Barella, Marcelo Brozovic, Christian Eriksen, Ivan Perisic were able to flow the ball well to their forward duo, namely Romelu Lukaku and Lautaro Martinez.
That's my review of Inter Milan's great opportunity to be champions in Serie A this season. Thank you for reading my content, and see you.
---
I N D O N E S I A
---
Inter Milan adalah salah satu tim terbesar dalam sejarah sepakbola di Italia dan Eropa. Klub ini sudah dikenal oleh banyak pencinta sepakbola di dunia. Dan mereka sudah meraih banyak piala sejak dulu. Kini mereka sedang menuju juara di Liga Italia atau dikenal dengan Serie A. Inter Milan sudah menang dalam laga terakhir mereka melawan AC Milan, tim sekotanya di Italia. Laga kedua klub besar dari kota Milan itu disebut dengan Derby della Madonnina. Dan dengan kemenangan itu, anak asuh Antonio Conte itu sudah menjaga harapanmereka untuk meraih gelar juara Serie A musim ini.
Inter Milan sukses mengalahkan AC Milan dalam laga pekan ke-23 Serie A pada hari Minggu (21/2/2021) malam WIB. Merek bermain di San Siro dan mereka mampu menang 3-0!
Sekarang Inter Milan sudah meraih peringkat pertama di puncak klasemen Serie A dengan meraih 50 poin dari 23 laga. Mereka unggul empat angka dari AC Milan yang masih berada di posisi kedua. Sampai saat ini, Inter Milan baru mengalami dua kekalahan dan lima kali bermain imbang. Tim yang berjuluk Nerazzurri adalah tim yang hanya kalah paling paling sedikit pada Serie A musim ini. Inter Milan pun memiliki para pemain depan yang mampu mencetak gol banyak selama musim ini. Itu menjadikan mereka salah satu tim dengan produktivitas besar di Serie A. Sudah ada 57 gol dimasukkan mereka ke gawang lawan dan mereka hanya baru kebobolan 24 gol oleh tim lain.
Fakta di atas sudah cukup menjadikan Inter Milan sebagai salah satu klub yang sangat difavoritkan untuk meraih gelar Serie A musim ini. Peluang mereka sangat besar untuk meraih gelar yang sudah lama dinantikan oleh Internisti di seluruh dunia itu. Mereka akan mengakhiri semuanya untuk meraih juara yang sudah terkahir diraih pada tahun 2010 silam.
Menurut amatan saya secara pribadi,hanya ada dua hal yang membuat Inter Milan dapat meraih gelar juara Serie A; mereka hanya bermain di Serie A saja setiap pekan dan mampu memenangkan sisa 15 laga di Serie A. Bagaimana itu bisa terjadi?
Saya memiliki 2 alasan utama mengapa Inter Milan akan mampu menjadi juara di Serie A. Berikut ini ulasan saya kepada Anda.
Hanya Bermain di Serie A Tiap Pekan
Sejak Inter Milan tersingkir dari Liga Champions dan Coppa Italia, mereka hanya bermain di satu kompetisi saja yaitu Serie A. Itu adalah keuntungan terbesar bagi Inter Milan. Konsentrasi mereka tidak terbagi untuk kompetisi lain. Di Liga Champions Eropa, Inter Milan gagal pada fase Grup setelah menjadi yang terbawah dalam grup B yang dihuni oleh Real Madrid, Borussia Monchengladbach, Shakhtar Donetsk. Lalu mereka disingkirkan oleh Juventus pada babak semifinal Coppa Italia. Itulah mengapa Inter Milan hanya bermain di Serie A saja dan membuat mereka lebih aman menuju juara di Serie A.
Antonio Conte dapat mengarahkan para pemainnya dengan mudah untuk memfokuskan bermain mereka di Serie A saja musim ini. Jadwal bermain mereka pun tidak banyak dan butuh 90 menit saja setiap minggu fokus di atas lapangan. Kekuatan para pemain Inter Milan pun hanya digunakan di Liga Italia atau Serie A. Maka, gelar juara Serie A musim ini pasti didapat Inter Milan.
Memenangi 15 Sisa Laga Serie A
Memenangi seluruh sisa laga Serie A, ya ada 15 pertandingan lagi yang harus mereka lewati di Serie A agar Inter Milan dapat menjadi juara di Serie A. AC Milan juga tidak akan tinggal diam saja membiarkan Inter Milan berjalan santai menuju tangga juara di Seria A. Maka, laga ke-24 melawan Genoa pada 28/02/2021 nanti adalah penting sekali dimenangkan demi meningkatkan mental para pemain di Serie A.
Saya berpendapat bahwa, dari 15 sisa laga Inter Milan di Serie A, ada 4 laga yang harus menjadi perhatian dari Antonio Conte dan para pemain yang dipimpinnya. Keempat laga itu adalah menghadapi Atalanta pada 09/03/2021, bertandang ke Naples untuk melawan Napoli pada 19/04/2021, bertandang ke ibukota Italia untuk melawan AS Roma pada 13/05/2021, dan terakhir Inter Milan harus menghadapi tuan rumah Juventus pada 17/05/2021.
Selain dua faktor di atas, keuntungan terbesar Inter Milan juga memiliki para pemain yang bagus di semua posisi. Penjaga Gawang mereka Samir Handanovic mempunyai kemampuan hebat menjaga gawang musim ini. Pria dari Slovenia yang sudah berusia 36 Tahun itu menjadi pahlawan ketika melawan AC Milan minggu lalu. Dialah penyelamat Inter Milan dari gempuran para pemain Milan. Sedangkan para pemain bawah mereka seperti Milan Skriniar, Stefan De Vrij, Alessandro Bastoni sangat kokoh menjaga pertahanan Inter Milan. Kemudian para pemain tengah atau gelandang seperti Nicolo Barella, Marcelo Brozovic, Christian Eriksen, Ivan Perisic mampu mengalirkan bola dengan baik kepada duet pemain depan mereka yaitu Romelu Lukaku dan Lautaro Martinez.
Itulah ulasan saya tentang peluang besar Inter Milan menjadi kampium di Serie A musim ini. Terima kasih telah membaca konten saya, dan sampai jumpa.
Itulah ulasan saya tentang peluang besar Inter Milan menjadi kampium di Serie A musim ini. Terima kasih telah membaca konten saya, dan sampai jumpa.
---
---