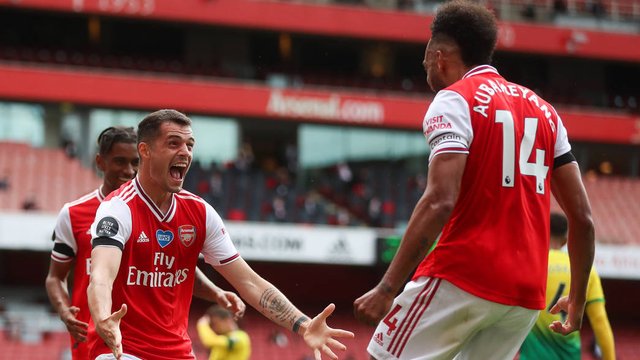 I was hunched on my bed streaming the match in Arabic commentary, and despite not knowing what the commentator was saying, the way he screamed "Aubabababababa" gave you an idea of how important that first goal was to Arsenal and to the Gabonese forward, in particular, that has been looking low on confidence.
We started this game quite positively, and despite playing with 5 defenders in this back three, we looked more dangerous going forward than we've ever been. Kieran Tierney and Bellerin were running the Canaries backline ragged but the person that really stood out for me was Dani Ceballos.
The Spanish midfielder was bossing things in midfield today and has shown marked improvement so far. His combination with Xhaka, martialled by the wingback on either flank gave us an interesting new look in the squad. For once, we weren't overrun in midfield and managed to impose ourselves on a game.
This match seemed like one of those games where everything we did seemed like it was going to end up in the net. There were moments particularly in the first half when I could hardly recognise the team because of how fluid we looked. A fine example is the second goal scored by Xhaka, which started from a crossfield pass from Luiz to Tierney, who passed to Auba and then he squared it to Xhaka to thumped it in through the legs of Krul.
The second half started and the Canaries were resurgent after making a tactical change. My best guess is that they switched to a back three as well, and the introduction of wingback meant that Cantwell was more central. They fought hard to get back into the game but yet again, Auba was gifted his second goal of the match thanks to a dumb crossfield back pass.
It was easy street after the third goal, but we weren't done yet. Cedric came on for Hector Bellerin in the dying minutes of the match to smash home a fourth of the game on his left foot to cap off an impressive display by the team.
I'm still not sold on the idea of Cedric, despite his impressive cameo today that resulted in a debut goal but I must say he made a good impression. He took up dangerous positions and tried to impose himself on the game. I'd like to see him against opposition that is up to the task and with games coming fast, I'm sure it won't be long before I do.
It was a good game and I hope we can build on this momentum and have a strong end of the season. We're 8 points away from the closest Champions League spot and could also win silverware if we win two more games in the Fa Cup final. In this season that has offered a rollercoaster of emotions, it would be nice to salvage something from it. Until we meet again, up the Arsenal.