The community shield is an age-old tradition that heralds the start of a new Premier League campaign and despite how shaky the team has been in recent years, we've surprisingly participated very often. The contest is typically held between the winner of the Fa Cup and Premier League, but if the same person wins both tournaments, then 2nd position in the league standings replaces Fa Cup champions.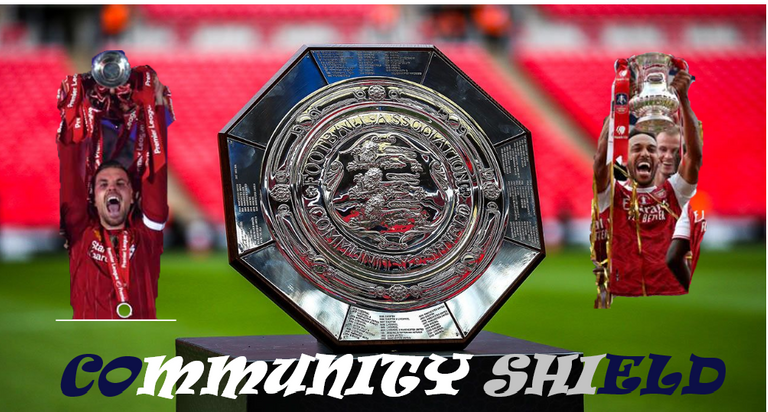 So we'll be up against the Premier League Champions yet again and this historic event is reputed for dishing out exciting matches. It would be interesting to see how this tie proceeds but it is also important to have cool heads anyways. In the last couple of years, we've pulled off shock victories in this tournament and so, it is not out of the question to expect a positive result.
If we could make Wembley our stomping ground for a season, I'm pretty certain we'll win the premier league. In the last 5 years, we've won ALL the games we played there, with varying levels of opposition. The next challenge is going to be against the very fresh legs at Liverpool, who will undoubtedly be thinking about the last time we met, when we sucker punched them in one of Arteta's tactical games in charge.
We've proved we can win against the best in the land, we've proved that we can win on the big stage, and most importantly, we've proved that we can keep our heads down and grind out results when we're in a bad way. We're going to need all that energy when we go up against the reds by 4 pm tomorrow.
Team News
We had a good run around against Mk Dons some days ago and the boys looked good. The best goal of the match was ROb Holding's own goal and if he can find a way to do that intentionally, but at the opposite end, that would be awesome. That match was more about fitness level than it was about tactics, and the boys look fit as ever.
The starting line up featured most of the first-teamers, including leno, Auba, and Xhaka. While players like Lacazette, Pepe and Mesut Ozil were absent. At this point in time, I think it is safe to assume that Ozil won't be playing at Arsenal anytime soon, but that's a discussion for another day.
Arteta has talked about how everyone has a clean slate, and I'm sure that's music to the ears of players like Elneny and Guendouzi. The latter fell out of favour after the issue he had with Maupay and was frozen out of the squad. There's been a lot of transfer talk about the french teenager but nothing concrete has been put in place, so it is safe to assume that he's staying.
Torreira, on the other hand, seems to be one foot out of the club, and without a word from the Partey or Aurora side, it is looking that we might be a bit light in midfield. Cedric Soares is now a full Gooner and will provide competition for Bellerin on the right side of the defence, so that leaves Ainsley out of the picture, but it was interesting to see how Arteta fitted the Arsenal Academy graduate on the left side of the defence, and interestingly, Kieran Tierney playing as a marauding Left Centre back, while Saliba did the same on the right.
There was also talk about Athletico Madrid being interested in Lacazette, but that's a conversation for another day. I can't read too much into why he didn't feature in the friendly, considering players like Pepe weren't available. So far so good, we have a fit squad going into the season and all we hope for is a positive showing against the Premier league champions tomorrow.
Predicted Lineup
I expect us to play a reasonably strong team against the reds, because, despite this game being just another friendly, it is also a very important match for both teams. Everybody wants to have a positive result and start strong, this is the best way to do it.
Gk: Emi Martinez
Despite not featuring in the friendly some days ago, I expect Emi to retain his place in goal for this match. He's been brilliant and deserves to be the first choice goalkeeper
Defence: Luiz, Saliba Tierney
We're going to stick with the back three, and will have those three in the starting line up. There's still a lot of adjustment needed by both the players and manager, so we'll just try to keep it tight at the back
Midfield: Cedric, Xhaka, Elneny, Saka
I suspect we'll keep almost the same midfield that played against Mk Dons. Cedric and Saka will be the wing-backs, while Xhaka and Elneny mop up in the centre
Frontline: Auba, Nketiah, Reis
Our front line might look like this, but I won't be surprised if either of Lacazette or Pepe feature from the start. For now though, I expect this mix of experience and youth to start in the match.
The Importance
We need to put in a good show and give the fans something to cheer about in the coming season. Expectations are higher this season, and hopefully, we start strong. We just need to stay tight at the back, pick our moments and try to be clinical.
The Fans
From the information I've gathered. fans will be allowed to attend the fixture but the stadiums won't be at full capacity. It will be the first time since March that fans are allowed to attend a fixture.
Prediction: We'll win it, 1-0.
Until we meet again, up the Arsenal