If someone met you by March and told you that by this time at the beginning of the next season we'd be celebrating a community shield after winning the Fa Cup, you'd probably want to know what the person smoked but you know, that's football and here we are, winning yet another trophy.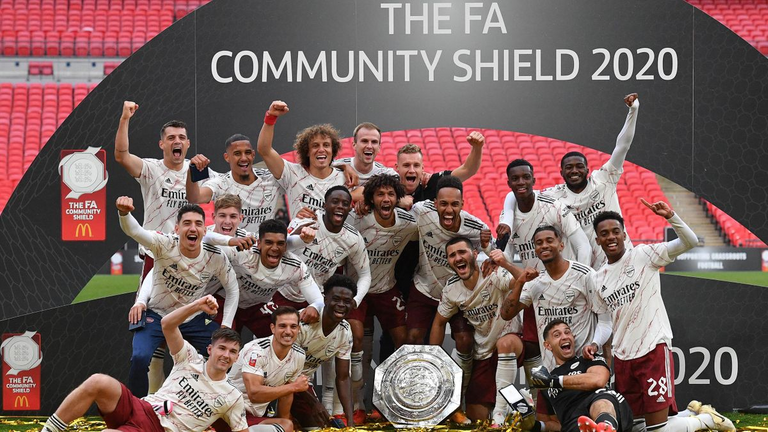 The rules are straight forward: we lose the match and it is JUST a friendly, but since we won it, it is the third most important trophy in the league. Victory's always sweet, no matter how it comes but watching the boys grind out results in the way we're doing in recent times makes it even sweeter. In fact, the only thing sweeter than it is reading tweets from Chelski and Spuds fans "ridiculing" our defensive approach; I drink their tears.
Away from suckers and back to the game; I have to say, the boys looked really fit today. We were able to match Liverpool's intensity when we're off the ball and looked threatening whenever we had the chance. Arteta came with a proper gameplan and bar that glitch that led to the equaliser, we executed it well.
Liverpool for all their attacking players was reduced to making hopeful crosses from the left flank, and even though they played in some threatening balls, the defenders were always a nuisance.
Grabbing that early goal was very important for us because it put us in the position that Liverpool absolutely don't want to be in. Once we scored, we sat back and picked our moments. Many times we came close but were always one or two loose balls away from increasing the margin.
When the reds pulled us equal in the latter stages of the game, the boys responded admirably. The hunger for a second goal was reignited and despite probing, we couldn't squeeze out the goal. That notwithstanding, we put in a disciplined defensive show that frustrated the reds for most of the game and then won the tie in penalties through our main man, AubameblutclackYang. Until we meet again, up the Arsenal