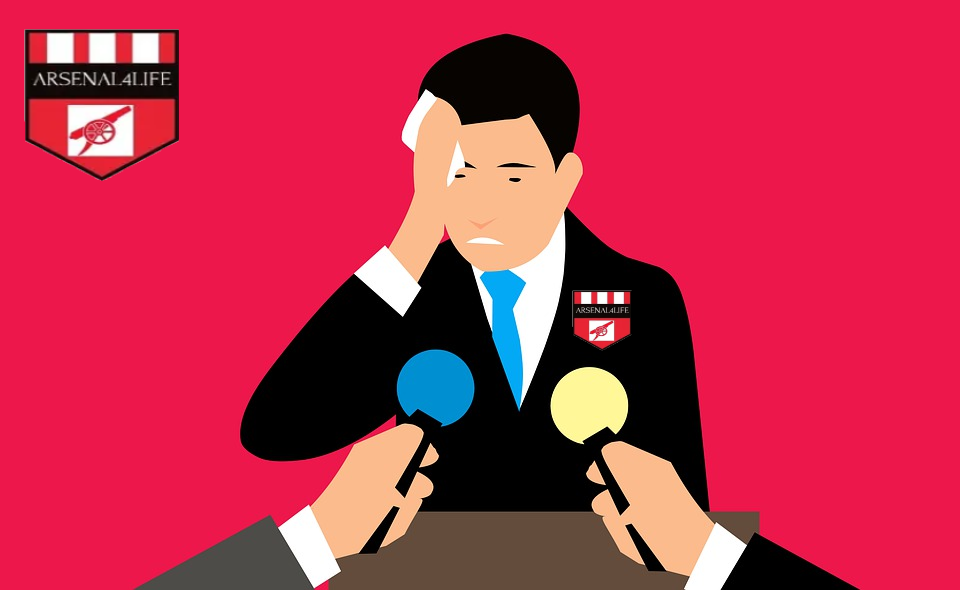 We put up a dogged performance in this rollercoaster of a match to grab three goals that edge out our resilient opponent and proceed to the last 16 of the Europa League. To be completely honest, when Benfica got the second goal through Rafa, I actually gave up but little did I know that Arsenal had a pleasant surprise for me.
The game started rather slowly, with both teams feeling their way into proceedings. Neither side outrightly went for it because, first of all, we had the away goal advantage and I'm pretty sure Jorge Jesus told his men that they should wait for the inevitable howler.
The game was largely trepid until Saka's reverse caught Auba's run. The Gabonese forward expertly finished the chance to give us the goal and put one foot in the next round. After going forward, the game sparked to life for a few minutes, and while neither team actually created clear cut chances, we seemed more threatening with our probing passes.
Then against the run of play and in typical Arsenal fashion, we gave away a penalty that was expertly converted. To be fair, that was a brilliant hit but it was an unnecessary foul given away by Ceballos in the first place.
The second half began and both teams were basically just feeling each other out again. At this point, the game was sitting in the balance on aggregates and neither side needed to take too many risks.
We edged out the opponent in possession but only just. However, our passes were crisp and seemed to have a purpose. yet we were undone by a random clearance that was cushioned for the opponent by none other than Ceballos who had a nightmare showing on the day.
The error by the Spanish midfielder triggered two changes that brought in Partey and Willian for Ceballos and Smithe-Rowe. I must admit, I was somewhat disappointed that it wasn't Pepe or Martinelli that came on, but Arteta probably sees something in training that we don't for his insistence on playing Willian.
The usually frustrating Brazillian winger looked lively today and laid on the pass to Kieran Tierney for the equaliser. After the equaliser went in, the boys rallied together and put on a spirited showing that culminated in yet another combination between Saka and Auba to grab the third and clinching goal.
Not again
That was one nervy game I must say and I damn well don't want to be experiencing more of those. I'd be happier if we just, you know, win games without giving fans heartache. Beggars can't be choosers I guess.
We're through to the next round of the Europa League and with teams like Granada, Villareal, Manchester United, and our weekend opponent, Leicester opponent still in the competition, it will be nothing but easy.
Impression
I was largely impressed by Auba and Saka's movement, particularly after the first goal of the match went in. The two forwards seems to have struck up a productive understanding that would have yielded more goals, if Auba wasn't getting caught offside.
It was also nice to see Kieran Tierney in all his marauding glory. His contagious energy was felt all over the team when he drove the second goal home and instantly rallied the troops to charge for the third goal. Much respect to Cedric for improvising but the difference between him and the Scottish left back was like night and day.
Unlike Tierney, Ceballos had an awful day and he'd be breathing a huge sigh of relief that we didn't lose the game due to his errors. At this level of the game, I don't think players should be making that kind of error and I reckon he will get a scolding from the manager.
With Thomas Partey fit again, I doubt we'll even see Ceballos featuring that much until the end of his loan spell. However, with Odegard, things are going in the opposite direction because the young midfielder looked quite impressive today.
He was constantly trying to find players, kept it neat and tidy, and was just available. Sometimes, all you need is a player that keeps it simple and in Odegard, I think we have a midfielder with vision and reliable individual playing in the hole.
We won the match and made it through to the round of 16. This tournament is our only hope of winning a tournament and looks like our only route to European football. Things get very serious beyond this point, so we have to make sure every game counts.
Now it's back to the premier league and we face a dangerous Leicester side. Expectations are low but spirits stay high, we keep our fingers crossed, and hope for the best. Until we meet again, up the Arsenal.