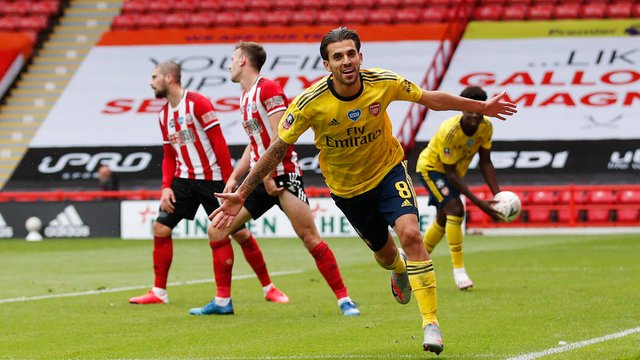 After the horrible restart after the COVID break, I decided to take some time away from Arsenal due to my mental health. I actually intended to watch the game against Southampton but I couldn't due to being occupied but my support was with the team in spirit. It turned out to be a "good" game, even though we didn't sparkle but in a game that could have gone either way, a smash and grab 3 points works for me.
My expectations at this point are at the barest minimum, so I'm basically just tagging along for the ride. That was totally the mood I had today when I loaded my stream of the game and watched as we played our disjointed brand of football.
In the midst of all the chaos, we managed to strike gold with Laca, as he won the team a penalty right around the 27th minute, in which Pepe converted. After the game, we went back to our old ways and invited pressure, which inadvertently gave the opponents impetus.
For what it's worth, our passing was a lot better than the last game but for all our good intentions, we still lacked purpose in our movement of the ball. The team is unrecognisable because they actually seem like 11 guys picked randomly to wear the shirt. There was almost zero cohesion for the most part, and everything about our game seemed void of tactics.
The lack of cohesion was on show when we were defending an ordinary long throw that ended up bouncing off Holding and landed kindly for our opponent who tucked it in with ease from 6 yards out.
When that equaliser went in, I started having PTSD from the Brighton game and have felt we were going to lose the game or worse, I would have to suffer another 30 minutes of our football. Alas, things worked out in our favour and we hit them on the counter through Ceballos in the 91st minute, and that turned out to be the winner. Which also booked our place in the Semi Final.
Victories have been hard to come by in recent times, so the fact that we actually won two away games on the bounce is kind of a big deal. The Brighton and City games really left a bad taste in my mouth but I'm glad to see us pushing forward.
Nicholas Pepe has looked really good in the team and has been our most dangerous goal threat since the restart. He looks fit and hungry for goals. There was no Ozil in the side yet again but at this point, it doesn't really matter because this team doesn't need his input. I also hate to admit it but David Luiz looked solid today and it is unfortunate he limped off. I still haven't forgiven him but if he can sort his shit out, I just might.
I hope we can build on this and get more positive results. We're now through to the Semi-Finals of the FA Cup, and it would be amazing if we could actually pull it off in this roller coaster of a season but with Arsenal, you never know and it is the hope that kills you. Until we meet again, up the Arsenal.