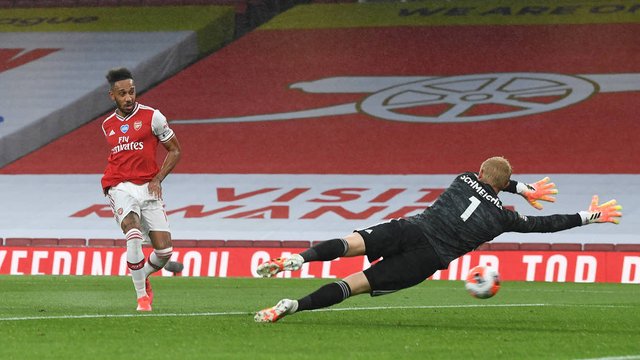 source
Is it just me or does it always feel like the match officials have it in for us? How do you brandish a straight card to a kid that has been on the pitch for only 4 minutes for a contentious decision? I don't want to be a sourpuss but why the hell did that have to happen to us?
Well, if you take away all the shittiness caused by the ref's decision, this was an inspiring game of football where we showed how much quality we have in our locker. We took the game by the scruff of the neck and dictated proceedings against our higher-rated opponents.
While watching the match, I could literally smell the improvement in how we play and how the boys have upped their tempo. We grabbed the first goal of the game thanks to a combination of incisive passes from Ceballos to Saka, and then Saka to Auba, who thumped it in to give us the lead.
As the game proceeded, we grew even stronger and were constantly knocking on the Foxes goal post. The only reason we weren't 3 goals ahead in the first half was due to a combination of some smart saves from Kasper, as well as some shots being central and easy to save.
In our last game, we benefitted from the manager's substitution but in this game, we sadly suffered because to it. Eddie Nketiah was introduced to the match in the 71st minute and after initially getting a yellow card for his tackle, a VAR check "proved" that it was in fact a straight red offence.
The game turned on its head after that decision and Leicester piled on the pressure until they got their undeserved equaliser through Jamie Vardy. It was like a dagger through the heart but that's life sometimes. We didn't get the victory I hoped for but we showed some grit to hold on to the 1-1 scoreline despite the pressure from our opponent.
The next game will be at our toilet, or White hart Lane as they call it. We need to get a positive result against those twats and it will take something extra to win them there because it has been ages since we did. Mourinho is tricky old fox that has been around the game for a long time, so I won't be surprised if he has some tricks up his sleeves.
Optimism has been renewed, the positive vibe is in excess, we're moving forward and that's all that matters. Until we meet again, up the Arsenal.