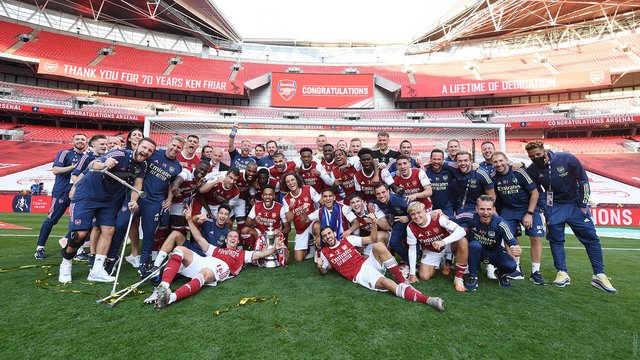 What a season this has been for us. I don't even know where to begin but damn, this was some rollercoaster. The FA Cup has become our thing and it genuinely feels like we have some sort of spiritual impetus whenever we get into Wembley.
Once again, we came up against Chelsea in a final but unlike last year in Baku, we got the better of them on a day where there were admittedly some awful officiating decisions. However, what can't be denied is that we earned our stripes on the day and there's nothing they can do about it.
I'm not even going to bitch about all the times that referees made calls against us or the fact that Azpilicuetta would have been sent off if he played for Arsenal; nope, I'm just going to revel in our success and hope it is a platform for even more glory in the coming season.
This victory means we are going to get Europa League football, and at least give us some financial leverage in the current transfer window. It is also good for the confidence of the squad going into the next season, knowing that we have the tools required to win and this strengthens belief in the manager.
It was always a salvage mission for Arteta from the onset. Initially, we wanted to qualify for the UCL through Europa league but our luck ran out there, and then at the end of the season, we couldn't even qualify for Europa League through our league standing because we finished in 8th position.
I was nervous as fuck throughout the match but still somewhat expectant. Even after we went down by a goal, I never let my head drop and our new-found resilience paid off as we snatched the equaliser and then the lead. We ended the season with a trophy, something that @talesfrmthecrypt has dreamt of for his whole life and despite finishing ahead of us, all they have to brag about is cancelling St. Totteringham day. Until we meet again, up the Arsenal.