Ah yes, the very familiar and refreshing smell of bad news from Arsenal. If you think our football is horrible then all you need to do is check the latest "transfer news" as they call it. Well, it is not much of "news" but more of a cringefest if there's anything like that because word on the street won't be too pleasing.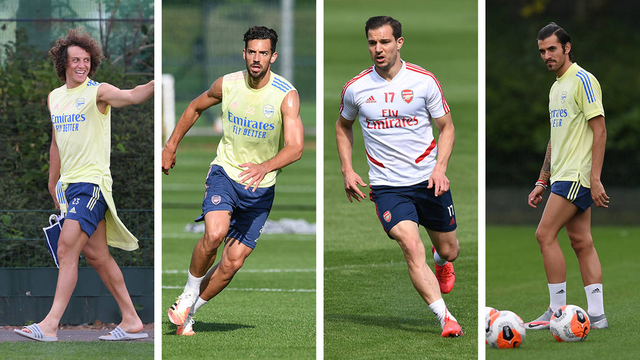 source
So, you remember we've been having troubles in defence and have had to depend on David Luiz and the likes. Well, boy do I have some good news for you; the good news is that we won't be lacking bodies in defence next season but the bad news is that...well, you guessed it, we're retaining David Luiz.
Being an Arsenal fan means I don't have to look for a reason to be depressed, the reason jumps at your face. On this episode of "reasons to be depressed", we retained the services of not only David Luiz but also of Pablo Mari, Cedric Soares and Dani Ceballos on long term deals. Now, let's run a rule over those deals, shall we?
David Luiz has been largely horrible and in the game against Manchester City, we saw him in all his erratic glory. Retaining his service does us almost no favours and we'd have been better off just buying bubble gum with that money.
Pablo Mari got injured after two full games for us. He has shown that he has the quality and I'd take him over David Luiz anyways. Still, retaining him doesn't make any sense because have they forgotten Saliba so soon?
Cedric Soares deal is surprisingly the fastest of the lot. I mean, is it really that easy to get a long term deal at Arsenal? The Portuguese right-back has never played for the team and has not proved to the fans why he's getting a long term deal. At this rate, I might as well just get my grandma to play for this team because at least she knows how to stay fit.
Dani Ceballos looks like the only deal that makes sense and he adds some quality to that midfield. Considering where we are as a club, he's a decent player to have as an option. He's a good prospect and could flourish at Arsenal.
The Real Issue
So now that we've extended the deals for two injured players, a headless chicken and Ceballos, what about the players that have stood out? It is Arsenal, and things NEVER go according to plans, so, of course, there's no word about it.
Bukayo Saka, in particular, has had a deal hanging over his head for a while but with the kid looking so good at the moment, I won't be surprised if a serious club swoops in and take advantage of the situation. I've resigned to losing both Auba and Laca, so there's really no point in discussing those two.
It is going to get really bad before things go good, so we'll have to be patient. We'll make plenty of wrong decisions along the way and will most likely wallow in mediocrity for a few seasons. I'm not holding my breath for a miracle but, wherever the team goes, we go. Until we meet again, up the Arsenal.