I've been a fan of UFC for some time now and during this time I have seen many champions come and go. In the realms of UFC it isn't often you get someone who can remain at the top for long and this is probably due to the many variations in fighting styles that are allowed to participate against one another. There is also the fact that on any given night a fighter (be that a man or woman) can turn out a performance of a lifetime which allows them to defeat whoever is put in front of them. For these reasons alone, the UFC and cage fighting, in general, is possibly the most exciting and explosive sport I've ever known and tonight we get to see a fight that embodies everything I love about it.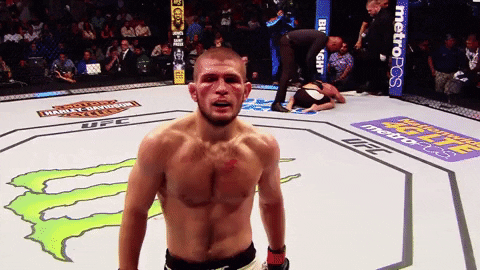 source
Like most UFC fans, I loved to watch "The Notorious" Connor McGregor. His style of fighting was unique, exciting, and pretty fucking hard to beat.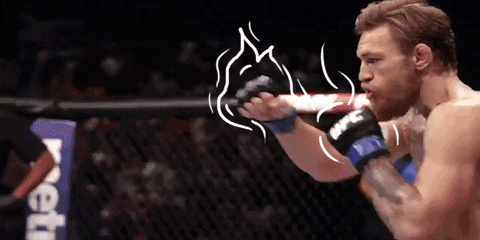 source
His fight against Jose Aldo, a champion with a 15-fight unbeaten record, perfectly displayed just how good Connor McGregor can be. 13-seconds is all it took for Connor to dethrone Jose Aldo that night. For a while, Connor Mcgregor seemed unbeatable, but this is the UFC and you would be a fool to ever think this way.
While the McGregor circus continued to fill stadiums and entertain the world there were tremors being felt by all who were paying attention.
I still remember the first time I watched the Russian, Khabib Nurmagomedov, fight. While it wasn't the usual Rock-em Sock-em Robots kind of fight I usually enjoyed, it was still very memorable. That night I watched Khabib walk through a man as I'd never seen before, it was like watching a human steam roller. Simply unstoppable.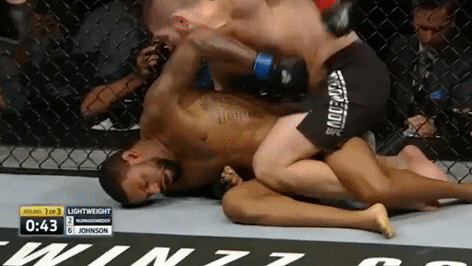 source
I remember thinking, instantly, that this could be someone who could really give Connor McGregor problems...
As it turned out, Connor and Khabib created one of the greatest rivalries in UFC history and Khabib ended up being more than just a problem for Connor McGregor.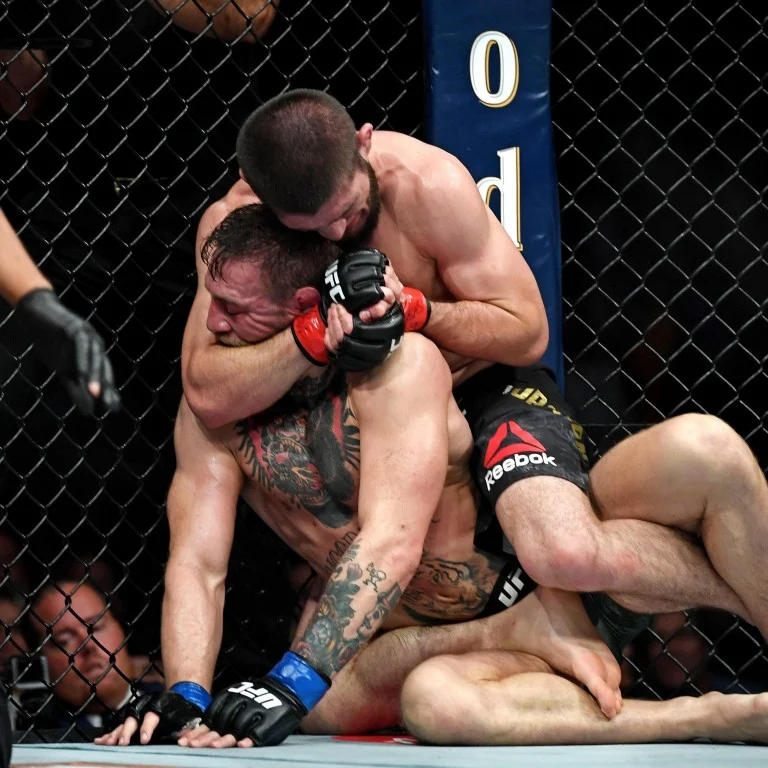 pic source
While Connor had to beat a Champion to prove his brilliance, Khabib was different. With a 20-something win-streak already behind him, Khabib Nurmagomedov had to beat a champion to validate his own brilliance. This, I believe, is why Khabib hasn't had to be as active as Connor was during his peak. Nonetheless, whoever has been put across the octagon from Khabib has been "crushed"(as Khabib so often likes to put it).



pic source
And so the Russian circus continues, but in the background, there were tremors being felt by all who were paying attention...Enter Justin Gaethje...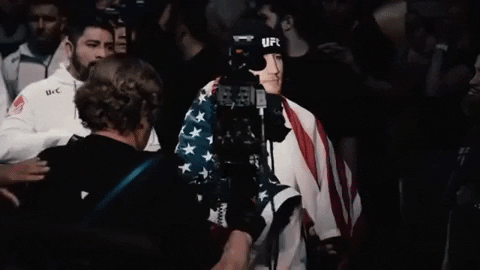 pic source
As with the two fighters I have just spoken about, I also remember the first time I watched Justin Gaethje fight. Forget Rock-em Sock-em Robots, this was more like Rock-em Sock-em fuck-em-up Robots! Justin Gaethje is insane!!! A true animal who was born to fight.
Trying to grab a hold of Justin Gaethje is like trying to grab hold of a saltwater crocodile wearing a chainsaw suit. Justin is a ferocious brawler who has honed his skills to become a ferocious mixed martial artist. Most of his fights are over before the bell ends the first round and, whether or not they'd like to admit it, this puts fear into anyone willing to take him on. One wrong move and Justin Gaethje will knock you spark-out, simple as that. It's no joke when they say that Justin is "The most violent man in MMA"...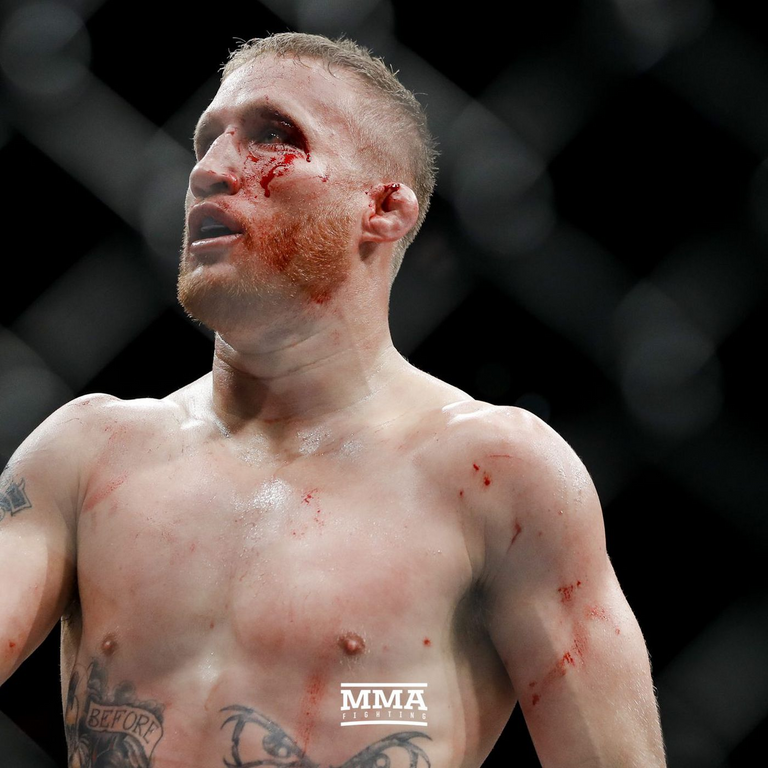 pic source
There are two fights that I think have shown just how menacingly capable Justin is. The first one was his fight against "Cowboy" Cerone, an accomplished fighter who is capable of beating anyone if he is in the right frame of mind.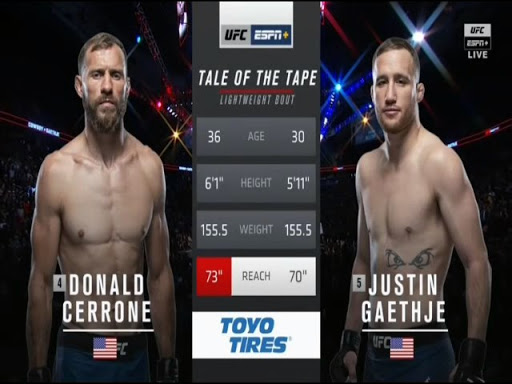 pic source
Outside of the ring, Cowboy and Justin are actually good friends but what set them apart on the night they fought was the fact that Justic looked past their friendship. He was ruthless, yet respectful. Justic destroyed Cowboy that night and even though the rage was in his eyes Justin was still switched on enough to show mercy to his friend, calling out to the ref to stop the fight. But when the ref ignored Justin and instructed the fighters to carry on, Justin did what he had to do and finished the fight.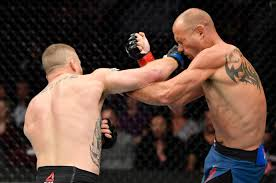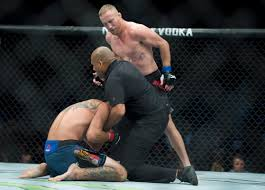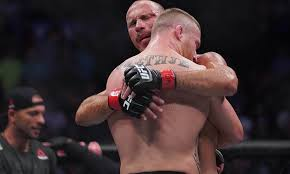 This fight showed his character and also showed how alert he is. Many fighter have "the rage" but few of them have the ability to control it.
The second fight which showcased Justin's talents was his most recent fight against Tony "El Cucuy" Ferguson. Tony Ferguson was the person everyone thought had what it takes to beat Khabib Nurmagomedov. His style is fantastically unpredictable and dangerously spontaneous, but all that meant nothing the night he fought Justin Gaethje. I won't judge Tony Ferguson on this fight because he had trained to fight Khabib and then when the fight was cancelled he had only a couple of weeks to prepare for a replacement fighter(Justin) who had a completely different style. What I will say is that Justin, a man who we expect to fight with a frenzied ill-intent, came at Tony Ferguson with a tempered violence we never knew he possesed. Tony landed some very heavy shots during the 5-round fight, his best being an upercut which almost decapitated Justin before sending him to the canvas.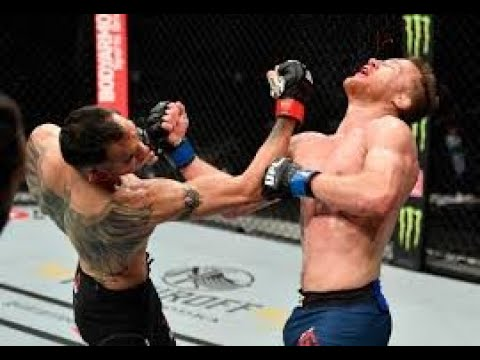 Pic source
Unfortunately for Tony, Gaethje has a chin made of granite and a will equal to his own. In the end, Tony took a five-round beating which resulted in a broken eye-socket amongst other injuries. If it wasn't for the ref stepping in and stopping the fight in the 5th round Tony may have suffered more lasting injuries.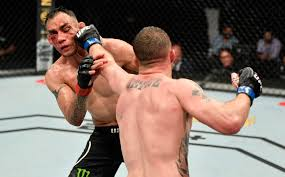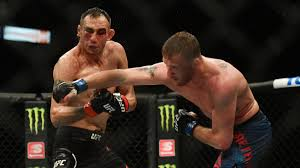 Pic source 1 2
I would happily pay to see Tony and Justin fight again, both with full training camps behind them. Nonetheless, one fight between them is a blessing and because Justin came out the winner it is he who gets to fight the Russian Champion...And I can't wait!!!
"IT'S TIME!!!"


pic source

Any predictions are welcome, just leave a message in the comments section. I'm hoping for an exciting fight ending up with a brand new Champion...Who's your money going on?