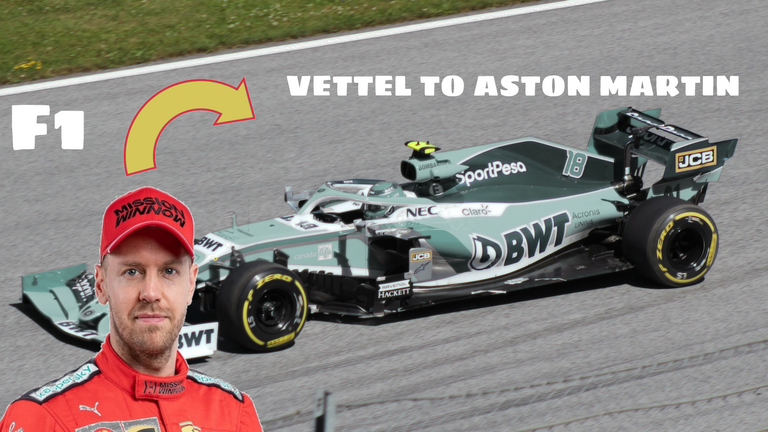 Yes after rumours of moving to the Pink Mercedes team for several months now it has indeed turned out true. Ahead of the Mugello Grand Prix, Sebastian Vettel has a solid signed agreement with Racing Point F1 for next year and beyond. Sadly he will be replacing Sergio Perez in the team, I say sadly because Sergio Perez was one of my favorite drivers too from the grid.
So Vettel will be pairing along with Lance Stroll from the next season. The other thing is that Racing Point will be renamed to possibly Aston Martin F1 with the works team entering F1 from next year and the car colors may change to the dark green theme too.
When asked to Vettel about why he did the move and what he saw in the team this is what he responded:
"Racing Point has always had the team and the talent to fight above their weights every season and with cost control expected to come in to force from the 2022 season with major regulation changes the team will finally have the advantage in that department too. I see a huge potential in the team for that year"
Personally I think Vettel did a great move. Going out of F1 and coming back in is a difficult option especially now that younger talented drivers are coming in to F1 from the feeder series such as F2 and F3.
Media was always on the hunt to get the info from Vettel starting a month ago asking him 100 different ways of if he had signed the contract with Racing Point. They saw it coming.
I think Vettel had the option of signing in to the Pink team long ago but might have waited a bit longer to get a response from Mercedes themselves if there was a spot available in the Silver team.
My only worry now is about Sergio Perez , he will have options to go to other teams but with Mclaren and Renault's doors closed it will feel like going towards the back of the pack. But along with Sergio Perez comes a good sponsorship package, I really hope it helps the team he goes to in developing their car to full potential and helping him hit the highs.