My Fpl Team Talk : Gameweek 3
---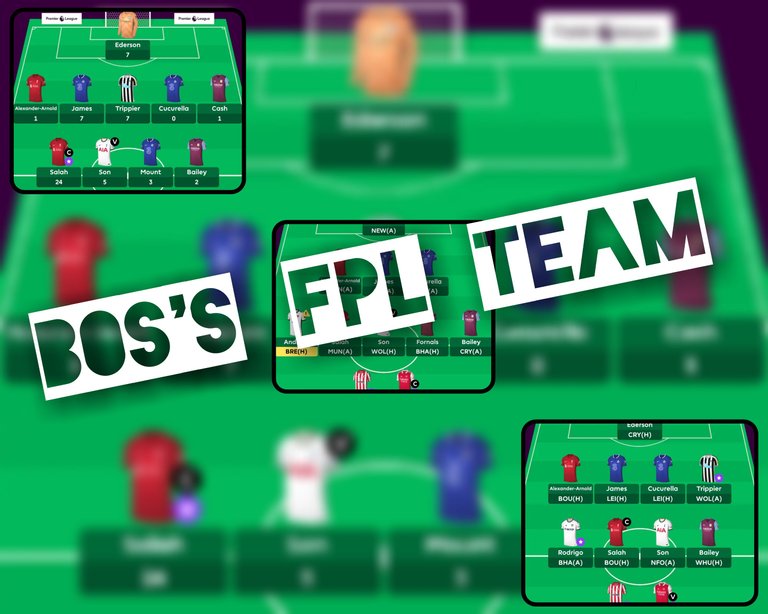 Photo Made using Collage Maker
---
Gameweek 3 started off very good for me, though son blanked once more (3 points) my patience with Andreas Pereira and Leon Bailey paid off as they both got assists. Ivan Toney bagged a goal as well. My Captain Gabriel Jesús was a bit disappointing, he only grabbed one assist and a yellow card finishing with 4 points (8 points as my captain). But still It was looking like a good start at the end of Saturday's games.

Sunday came and all my dreams of a good week were shattered. I was dumb and decided to take a big risk by having two Chelsea defenders (Reece James and Marc Cucurella) . As you probably already know, that was a bad idea as both of them conceded 3 goals and gave me a combined 2 points. @darthhelios told me about Rodrigo, but I overestimated the Chelsea defense, and expected Rodrigo to blank. He didn't and he grabbed 13 points against them (Kudos 👏🏾 👏🏾 👏🏾 @darthhelios ).
Things got worse as Newcastle scored and Trippier, who was on my bench, scored a free kick. It was then I knew this week wasn't going to be so good. My only hope was a Salah and Arnold masterclass.

It wasn't so hard to picture a Salah and Arnold masterclass seeing as United have been poor since the start of the season, but that didn't happen as United beat Liverpool 2-1 on Monday. Arnold gave me zero points. My only consolation was that Salah grabbed a goal, though if I had captained him like I'd planned on doing, I'd have done better.
At the end of the day I finished with a measly 45 points.
---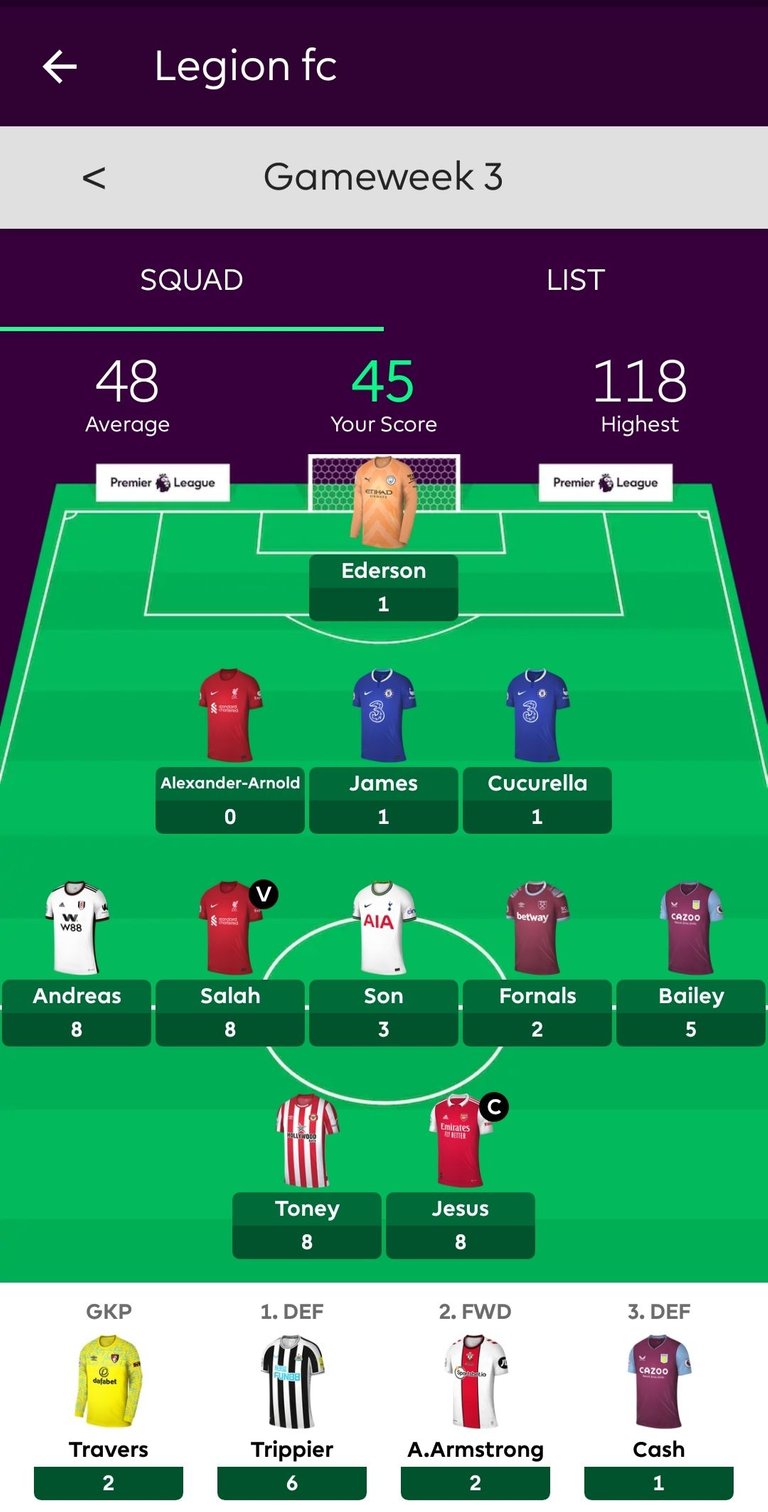 ---
In general a lot of people had bad gameweeks which is why the average score was 48. This was my time to brush past a few but I couldn't even beat the average score.
I had two major regrets this week, first one was swapping Cucurella out for Trippier, and the second was removing the armband from Salah.

I decided to look this week and I'm currently down to 55th position In the @hivefpl league with a total of 160 points.
---

---
Here's the top 5 in the league
---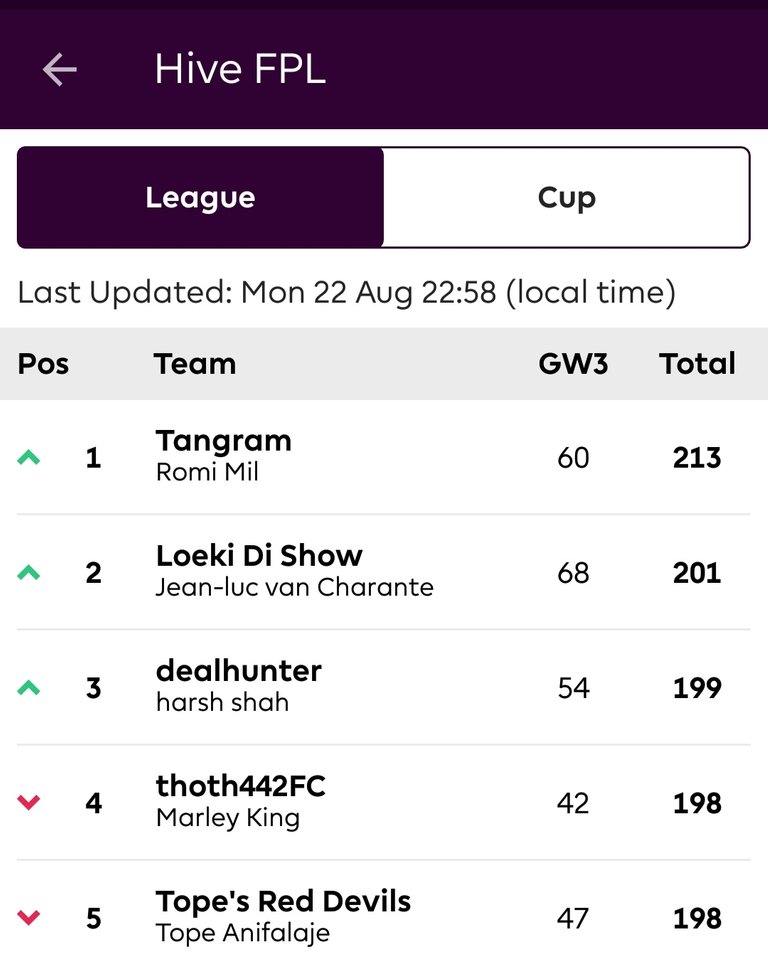 ---
I'm currently 53 points away from the current first position, so I'd say I'm not too far off considering there's still 35 gameweeks. Still a lot of time, but at the moment I'm at a disadvantage if I have any hope of finishing in the top 5, which was actually my goal when the tournament started.

My Team for this week
Once more the wildcard thought came to mind, and once more I've shoved it back. I said I'd be saving my wildcard for somewhere near mid season when things are starting to go differently. By then some players would have lost form, and others would be on fire, then I'd use it to do a mass reset while those who have already used theirs will have to start taking hits.

At first I thought I'd sell either Son or Arnold as they've been disappointing so far, but then I took a look at their fixtures and these are fixtures you'd expect them to have an impact on.
For that reason I decided I'd take out Pablo Fornals, who I actually brought in for Mount in gameweek 2 as a differential option and also so I could afford another good striker, (Haaland at that time, but I settled for Toney) and I brought in Rodrigo who I've been eyeing since @darthhelios brought him to my attention. He's been Amazing this season, scoring two double digit hauls in the three gameweeks and is currently the player with the highest points this season. He's scored four goals, one assist, and gotten 5 bonus points. He faces Brighton this week, and I'm hoping he can take that form into the next gameweek. And at a price of 6.3m he's definitely looking more than worth it.
---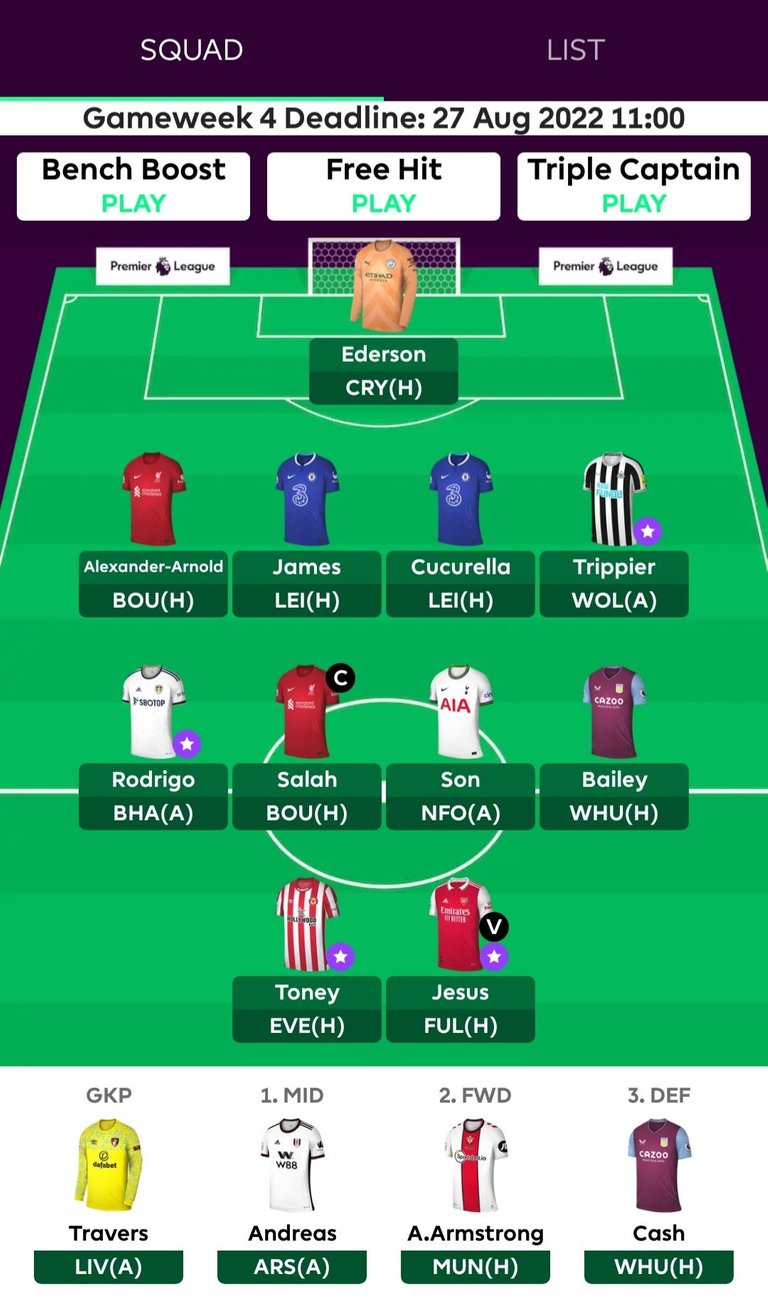 ---
I moved Andreas to the bench this week, but I'm still contemplating whether I should replace him with Bailey or not. I also continued my risky move of having two Chelsea defenders against Leicester as I currently don't see any better options in my team. I'm also thinking Chelsea will want to come back this week with a response and whenever Chelsea play well, their defenders are usually in on the action. So fingers crossed that happens.

I'm also going back to my previous Captain choice Salah. He just always seems like a safe choice every gameweek. But I'm actually thinking of going a bit riskier and putting it on Rodrigo. Who knows I may just take that risk before the deadline.
At the moment, my team looks solid, but then again it's been looking solid for the last 3 game weeks and you may have seen how that turned out. I'm hoping this is my week and I finally get good points this week. Thanks for reading, have a wonderful day.

NB:All photos are screenshots from the official premier league app
Posted using SportsTalkSocial
---
---