My Double Gameweek Preparation
We're very close to the halfway point of the season and we're at that festive part of the season where the inevitable double game weeks will come around. In this corona infested season that has seen numerous games postponed and lead to inevitable damage to your point haul for that game week, it adds another dimension of difficulty in arranging your squad.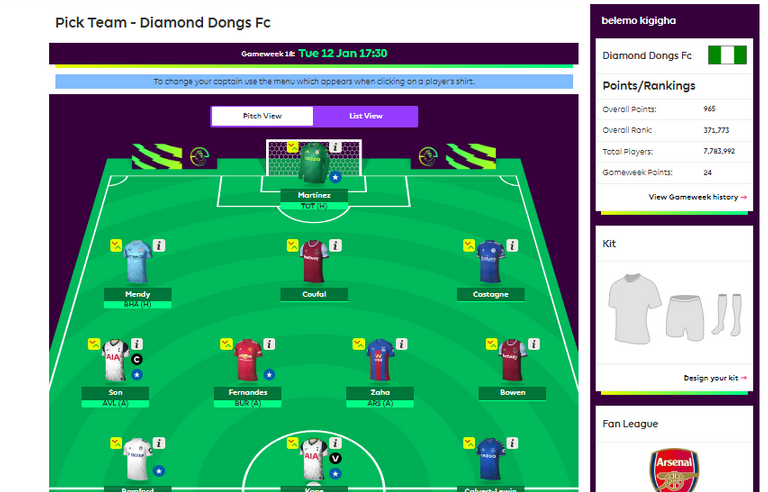 To cater to the situation, I've been studying all the stuff they say on The Scout and it has helped me shape my plan for the coming weeks. Game week 17 is still going on and we(Arsenal) go up against West Brom in a couple of hours but my attention is already focused on the coming weeks.
In the next game week, there will only be 10 teams participating in 5 matches while in game week 19, most of the teams that don't participate next week will have double game weeks. This means that your team will have to go through a lot of changes.
Handling the situation in game week 18 is simple enough; I'm just going to play my free hit and hope for the best. That's just about it when you consider it. It's either that or chopping up your team by taking points hit or using your wild card(If you still have it) to tweak your team. I used my Wild card earlier in the season and I'm not ready to suffer the points loss, so my choice made its self.
For game week 19, it was a 4-week procedure that involved stockpiling players with double game week and is likely to feature. Since my Wild card is already gone, I had to tweak my team as much as possible and so far so good, I think I'll do alright.
In the double game week, I suspect there will be a lot of people using one of their chips and for me, I'll be going with bench boost because it is the best way to take advantage of the situation. I also intend to keep some players that usually deliver that don't have a double game week. People like Harry Kane, and Son for example will be in my squad, particularly because they go up against the weakened Sheffield United and will be amongst the goals for sure.
Another Dilemma for me is picking between Fernandes and Salah. The United midfielder has racked more points than Salah and My gut tells me to just stick with Bruno and even captain him. Liverpool faces United at home and then Burnley away while Bruno faces Liverpool and Fulham away, which I suppose makes Bruno the better option since he performs better away from home. However, Salah is well, Salah and he has a hatrick in his locker.
Anyways, I feel like I've prepared my team to do well in the coming weeks and I'll be hoping to improve my standing in the ranking. I made it into the top 20k in the World but now I've dropped to the top 372k. My goal is to be in the top 1k worldwide and I'm far from it, so I need a decent performance this week to boost my chances.

---
---