Yesterday champion league final in Porto came with alot of tensions and 2 English side lock horns together but Chelsea came out on top and thanks to the only goal that came from Kai Havertz.
Watching the game was the sweetest part of it because I left working place to watch the matcha and the blues never disappointed me. 2012 when Chelsea lifted the trophy, they were regarded as underdogs but went ahead and won the title.
Second time Chelsea have win the title but I thought Manchester City were the better side but when God of soccer is with you, one goal is enough to clinch the title. Thomas Tuchel replaced Frank Lampard January and I will give credit for assembling such a wonderful crops of players but Tuchel baby came on board and inherited these players and made them champion league winners.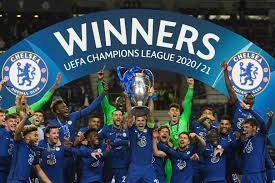 For me, my favorite player for yesterday victory has to be N'Golo Kante, the young man has won everything as a footballer and I think he should be nominated for this Ballon d'Or. He won man of the match in yesterday's match and the young has being phenomenal form since Chelsea signed him from Leicester City 2015. He is one the players to win the EPL 2 times in a row with different clubs.
To some extent Manchester City gamble the game but the trophy was for Chelsea and I can not remember the last time a manager has the final twice and come out on the losing side. I am so much happy for Thomas Tuchel and Thiago Silva because they were in last final but only to come out short to Beyern Munich but this year is a different ball game as they are on the winning side and also Mendy for being the first African goal keeper to win the champion league trophy.