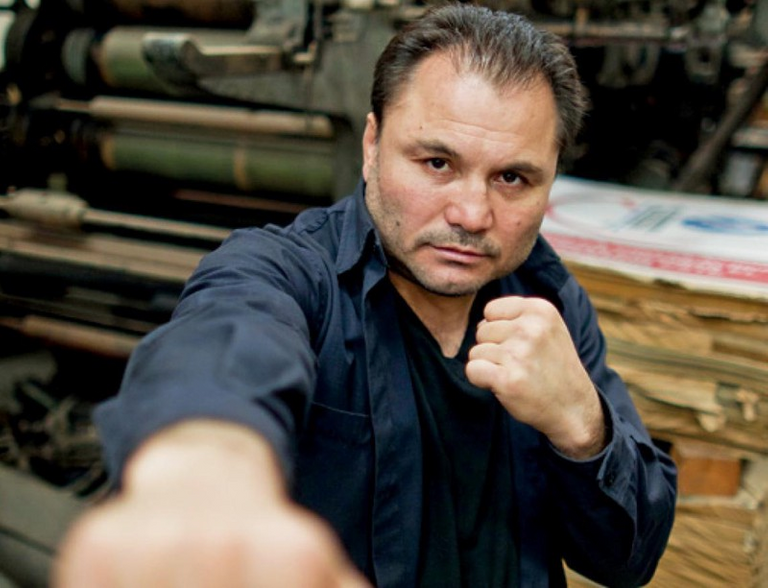 Source
His name is Julio Cesar Vasquez and he is nicknamed "El zurdo" because of his famous left hand jab and he was also a beast in the ring, El Zurdo was born in 1966, in Santa Fé, Argentina, (like the great Carlos Monzón); He was undoubtedly one of the best super welters (154lb) of the last decades, with good boxing and an explosive left foot, he became a solid champion, leaving a mark of 14 world title fights and 10 consecutive defenses, with brilliant victories. about big names, like Aaron Davis, Javier Castillejo, Ronald "Winky" Wright, Carl Daniels (all world champions), and others ... In his nation, Argentina he is an idol, but internationally he would deserve more recognition than he is given.
He lost his undefeated when he came with [30 (22KO) -0], before the future three-time world champion, Verno Philips, by DQ, in a tangled, dirty fight in which both had been committing many infractions. Vasquez never denied his This and he accepted the just decision of his disqualification, he immediately returned to the path of victory and a year and a half later, he became the WBA Super Welter World Champion, defeating the Japanese Hitoshi Kamiyama, with a formidable. KO in the first round, from there, he would defend his title 10 times, being a very active champion, fighting six times a year, both in 1993 and 1994.
---
Vásquez continued fighting and winning all of them until in December 2001 he tried a shot for the World Middleweight title, against Robin Reid, but with almost 36 years and in a category that was not usual for him, he lost by decision, making a very good paper. He arrives at that fight with a great [63 (42) -3]. He had to retire after that match, but chose to stay in the Ring, fighting lower-level rivals and reaping more losses than victories, only overshadowing his record, finally hanging up his gloves at age 42. In 1994 he was awarded the Olimpia de Oro award, for the best athlete of the year in Argentina.
Today he lives a very quiet life and away from boxing, he is a low-profile person, he lives in Buenos Aires with his wife and works in the printing press of the National Congress, he is a calm and friendly guy, he says hi and takes pictures with Everyone who asks him says that he still likes to see good boxing, but that he regrets that today in Argentina, he is not given the support that this sport deserves, which is why great figures do not appear and that he trusts that this is reversed. "The left-hander" has left a great legacy for Argentine and Latin boxing, I am very aware of his victory against the Panamanian Aquilino Asprilla in his first world title defense, I stayed glued to my TV set then and I was really excited that I jumped in celebrating that tremendous KO.