I guess this is the right time to introduce myself to sportalk community also on hive platforms, just to clear some doubts of the profile @enews and @bhaiyas, would have love to state or share the story to the difference in the names but I guess my ink isn't fill up enough to share 😂...
Back to boxing 🥊
WHO IS THE BEST LIBRA?
Many say that Sugar Ray Robinson is the best Libra x Libra in history, or that Muhammad Ali is. Others speak that Roberto Durán is, among other legends and for you and those are the Libra x Libra. Libra x Libra, is a ranking based on which fighter is better than the other in relation to the achievements obtained in their weight division, which can even be seen as clownish, because what is the point of being the number one Libra x Libra ? Or be the number 10 just because they are from different divisions?
A Libra x Libra for me is one that, beyond weight, still has a great chance of beating anyone and in any weight division, competing at a high level, even from the smallest categories to the maximum of them. Sugar Ray Robinson is considered the best Libra x Libra, but in his only 175lb title fight he was defeated, while Sam Langford as a 135lb natural, late in his career was knocking out George Godfrey in the first round, a Black heavyweight who also lived through hell, and was champion of the full version of the title.
Considering I'm not downgrading Sugar Ray Robinson, or anyone here, Robinson was one of the greatest welterweights ever, this is undeniable, but to be Libra x Libra, you can't just keep your weight.
Sam Langford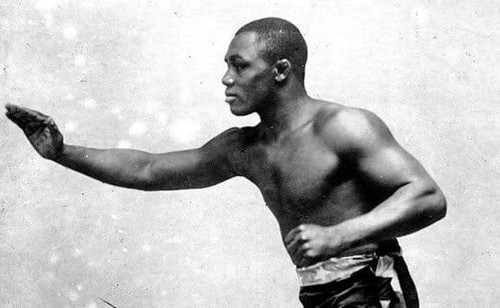 For obvious reasons, Sam Langford was the man Jack Dempsey feared. He started his career at 135lb, but there are reports that he has even fought at 126lb. He maintained stability in the division, defeating one of the best in history, Joe Gans, until reaching 147lb, where he faced who is considered by many to be the best 147lb in history, Barbados Joe Walcott, before whom after a war ended in a draw. Langford continued to fight until he climbed to 160-175lb, keeping up with fighting with the best.