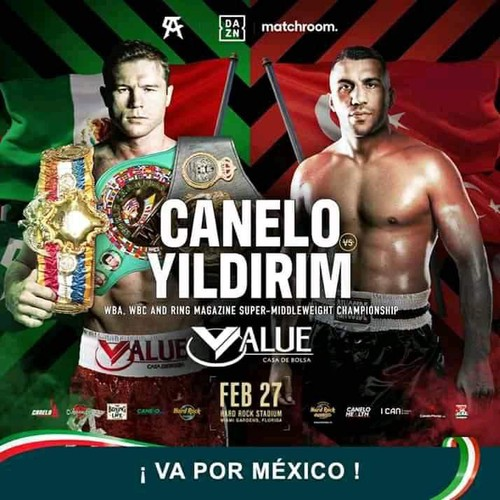 I won't say this is one of the most anticipated fight because to me it isn't as it is one of those fight I believe is just for the two parties to make some cool cash, The Saúl Canelo Alvarez vs. Avni Yildirim fight has been agreed since January and for those of you who don't know Yildirim, let me tell you that it is not a challenge for someone who claims to be the best in the world. Let's remember that Alvarez only has his belt because the WBC made the decision to snatch the 168lb title from former champion David Benavidez.
And everyone will say that the fight with Yildirim is fine as it is a mandatory defense. But why is he number one in the world rankings and not former champion Benavidez? Of course they want to protect the goose that lays the golden eggs, rather than seek to unify the division with the other champions. Or look for the fight against the former champion.
That if he talks so much that he is Libra for Libra, he is supposed to be brave for the challenges and take the biggest risks. We all know in advance the outcome this fight and this situation will have. Have a title and move up the division, as he did the same at super welterweight and middleweight.
It is a pity that the boxer with fewer challenges and fights against high-level rivals, is awarded as Libra for Libra and even fighter of the year 2020. When he only fought a single fight and very boring indeed. If the leaders of the agencies do not fix things at once, boxing will probably cease to be as seen as it has been.
Since now to attract followers of the sport, the DAZN chain even hires YouTubers. Of course, it is a loss of prestige and loss for boxing. And what else do these false athletes want? Fame for their channel and a good pay that they obviously don't deserve.