🥊Unforgettable Boxers|Who is Tiger Flowers?🥊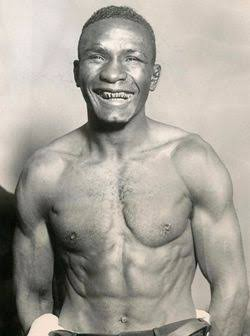 Source
Tiger Flowers was born in the town of Camilla, Mitchell County, USA, on August 5, 1895. As a child he moved with his family to Brunswick, where he spent most of his childhood and adolescence. As a young boy, he began working as a longshoreman on the Georgia coast, hard work that helped build his stocky, wiry physique as well as develop his strength. There he begins to box, attracted by the gyms in the area. Shortly after he moved to Philadelphia, Pennsylvania, where he continued boxing, but it was not until 1920, after settling in Atlanta, Georgia, that he really took it seriously. There he begins to train like a professional, rising rapidly in the rankings and making a great reputation, based on his unorthodox style and very complicated for any rival, his showman quality and, of course, his fast left hand. like lightning.
That showmanship above the ring was in stark contrast to his low-key, low-key character. In his social life, he was a religious devotee, carrying his Bible everywhere, which gave him the nickname "The Georgia Deacon." Flowers became the first African American to capture the world Middleweight title and is the second representative of his breed (after Jack Johnson) to contest a world title. He was also the first to be supported by both black and white, several years before Joe Louis became a national idol, regardless of the skin color of his fans. What he failed to achieve, like many other black boxers of his era, was to be accepted by his peers on equal terms. Many white boxers avoided him and never wanted to face him.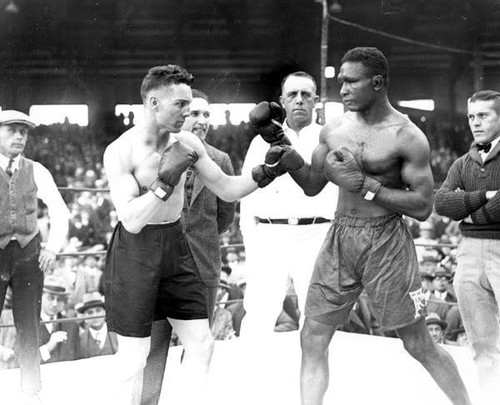 Source
In his first five years as a professional, he fought 62 times going into the ring an average of 12 times a year, a real savage !!! By then he was already a renowned boxer, whose name was known and inspired respect throughout the United States and was already beginning to be avoided by many white boxers. To have a dimension of his greatness and how terrible it was to compete in the Golden Era, we will analyze a year in his career, specifically 1924. In that year, by August, Flowers had already fought 19 times. At that moment he was given the opportunity to face the great Harry Greb. Today both boxers would arrive at a fight of that magnitude with at least 4 or 5 months of preparation and without fighting with anyone at that time. Tiger not only came in with 19 fights that year but before facing Greb, on August 21, he fought twice that month !!! And those 22 fights were all victories ...
The match with Greb was a showdown between arguably the top two middleweights at the time. Neither of them being great punchers, the fight was based on a technical duel for each imposing his style, ending without a decision. Most of the mainstream media gave a draw, but the decision of the newspapers (NWS) ultimately went to Greb who, in the end, was the winner of the match, which was witnessed by 12,000 souls. After the fight, Greb said: "… it is the first time that I have faced a boxer with a style as uncomfortable as mine". Of yapa, in the remainder of the year, he fought another 16 times, that is, 38 that year, with 37 victories and that one very close defeat against Greb. He would have his revenge on him on February 26, 1926, when he faced Greb at Madison Square Garden in NY, defeating him on points in 15 rounds and proclaiming himself world middleweight champion.
Six months later they faced each other again and Flowers beat him again, for SD, although many considered it an unfair ruling. Among them was Gene Tunney (both friends), who after the fight, from the Ring Side, said: "I think the verdict was unfair, I saw Harry win." The fight had once again been a game of chess between two high-level rivals, who knew each other very well and gave a very close, even and close fight. By December 12, 1926, Tiger would lose his middleweight crown in a controversial ruling to Mickey Walker in Chicago. The bout was 10 rounds, hotly contested. There were no judges, only the referee was in charge of giving the ruling and, as soon as the last bell rang, he approached Walker and raised his hand to the disbelief, surprise and disapproval of the majority of the public present: the referee He said he saw Walker land the cleanest shots and Flowers more defensively.
He defeated great boxers like Maxie Rosembloon, Harry Greb, Frankie Schoell, Ted Moore, Jackie Clark, Lou Bogash, Jack Malone, Joe Gans, Ted Moore, Chuck Wiggins, Pete Lazlo, etc. He actually never gave up Boxing but tragedy cut short his career. Just days after his fight against Leo Gates, Flowers underwent surgery to remove or improve the appearance of some of his many scars around his eyes. He apparently came through the operation well but while awakening from anesthesia, he suffered a decompensation, collapsed and passed away. He was only 32 years old. There is no clear and conclusive information about what he went through, if he was put under anesthesia, intoxicated with something or another factor, which triggered his death. The news shocked thousands of Boxing fans, as well as as many parishioners who attended the CME church in Atlanta, where he was a deacon.
---
---