Well a long time now.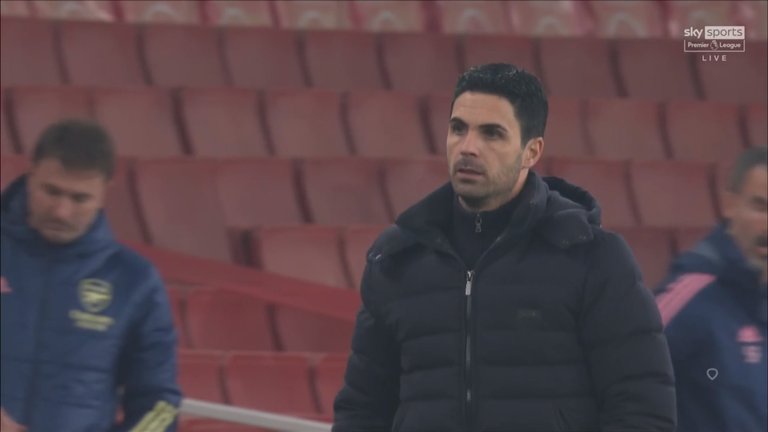 Source:print screen
What we learned in the last few years is that Arsen Wenger was a magician. With the club structure and players that he had he was performing miracles.
Than came Emery. Most of the time forward play was ok, but our defense was non existent. All the teams Arsenal played against had over 20 shots on goal, and most of us blamed the back line, but it was the whole team.
Then came Arteta. The games before the lockdown were a transition. We could see some more will in the players, and we thought some improving.
Then the lockdown came. Arteta had time to try and fix things. And Arsenal had a good run, in results. Looks like no one has expected the style that we played, and teams were surprised by the level of organisation in defense play of Arsenal. Good form of Aubameyang and high chance conversion rate got us good results.
Few games at the start were also not spectacular but the style was still working. Then teams figured out that everything was going through the left, everything was going through Aubameyang and everything was based on counter attacks. If you let Arsenal to attack, they will have no idea what to do. Arteta thought them how to defend, but it looks like even he does not know how to attack. And that sounds weird when you think about that he was working with Guardiola for years.
Today against Wolves was no different except that Arteta feels the pressure to play some football so defending suffered but almost nothing has changed at the attacking side.
Lack of pace was giving us problems almost the whole game. That was the reason he played Luiz, as he is a bit faster than Holding. But Luiz had to go out at half time, and i am surprised that he managed to play till then. In the 6 minute he had a terrible clash of heads with Raul Jimenez. The game was stopped for 10 minutes and Jimenez was rushed to the hospital. Hope the guy will be ok, it sounded really bad, and they even did not show the replay.
Back to the frustrations. Arsenal did not score from open play for like 10 games. And i will not count today's goal as from open play, because it was after the short corner.
Every time i see Xhaka touching the ball 4 times then turning around and passing back my blood pressure jumps a bit.
And i would really like for someone to explain to me what is the idea of that "everyone in the same line at front" attack formation. What is the plan, where should the ball go?
Source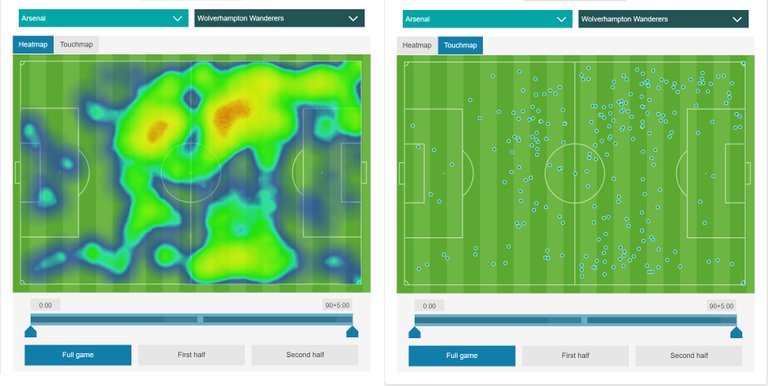 If you look at the heatmap and touchmap of Arsenals midfielders it looks like they are forbidden to go inside the box. At times while watching there was no one in the box and the ball was mostly on the left wing.
This is the worst start of the season for 38 years. And it is a weird season, an it is only 9 points from 14. to 4. place. But the main problem is that there is no creativity, no idea in attacking play and the pressure is now full on.
Only few positives are that we got a confirmation that Saka is a really good young player, Gabriel was a good signing and Partey looked like a good player. But he got injured more than 3 weeks ago and there is no news about him, i suspect that maybe he just ran away.
At the moment you could watch grass grow and it would be more fun than watching Arsenal games. And i am sure that watching grass grow would not give you a high blood pressure, and could probably help lower the stress.