Last Man Standing Gameweek 6. Only Two Contestants Left. Final Week.
It was a gripping weekend at Last Man Standing Headquarters this afternoon as we were awaiting the results in one game to see if we had a winner.

@amirtheawesome1 had kept Liverpool for a special occasion. Unfortunately the Liverpool team did not think their local derby was special enough and could not defeat Everton. Liverpool were actually lucky to come away with the draw so @amirtheawesome1 was eliminated. There would have been only one loophole that would have kept @amirtheawesome1 in the competition. And that is if everybody else lost as well.
@gingerup went for Chelsea this week. He was actually angling at Man United but went for Chelsea in the end. Another team that were lucky to come away with a win after a goal was disallowed which was the worst VAR decision since the Sissoko's hand ball in the Champions League Final of 2019. The Chelsea win meant @amirtheawesome1 finished in 3rd place. 5 HBI is on its way to you. Thanks for taking part and being such a good sport. Thanks for promoting the game on Discord as well. I am sure the next knockout will get even more people the next time around.

So with Amir gone we are through to the final of last man standing. If both teams win then you go through to next round. If both teams lose you go through to next round. The winner will be selected when one contestant wins and one contestant either loses or draws.
Anyway @gingerup went through to round 7 and we awaited the @gone-hive selection on Sunday. If @gone-hive was to lose then @gingerup was indeed the last man standing and the win was his. @gone-hive did his homework as usual and he picked Brighton to beat Leicester. The game was all over the place. Leicester went 2 goals up but Brighton turned it around and it was 2-2 by half time. @gone-hive was in heaven when Brighton did not score just one more goal to grab the winner but 3 more to win 5-2.
Fixtures Week 7
So we rock into round 7 which begins on Saturday. If you can both get your entries into me before Saturday please. I will not be chasing you two this week. If one person doesn't give me a team then the other will win by default. It is the final after all. Let's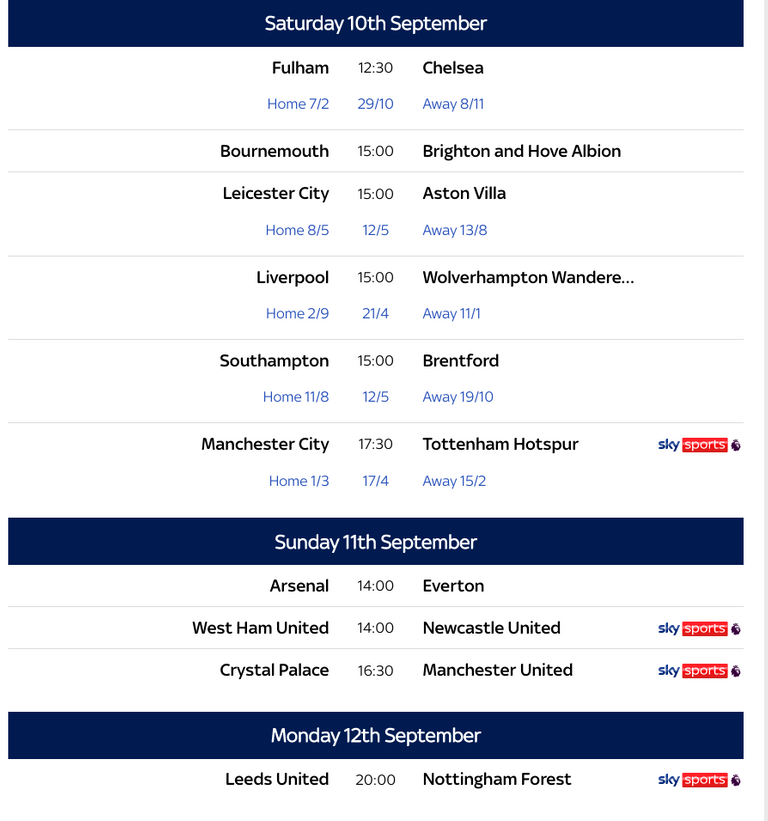 Source
So this week will be very very interesting to see who both contestants select as they are fast running out of good teams.
The only difference between the two contestants is one went for Brighton one week and another went with Newcastle week 1. They have chosen the top 4 (from 2021) so they are having to pick the weaker ones. As usual the 1 rule to LMS issssssss:
You cannot select a team that you selected in previous weeks.
Previously selected
Newcastle
Man City
Tottenham
Arsenal
Liverpool
Chelsea.
Previously selected
Chelsea
Man City
Tottenham
Liverpool
Arsenal
Brighton
For this round feel free to DM me your selection on Discord if you are afraid the other contestant will just go with the same team. I am on Discord and you will find me on the @hivefpl room slagging off @belemo around Arsenal getting beat against United. We are nearing the end of this great game. I will be tagging all of you for the next Last Man Standing. Best of luck to the final two contestants to have reached this stage of picking 6 winners in a row. Something that would get you quite the compound in a bookies.
Cheers also for everyone that entered this year. We have had record entries this year with 37 people. Hope you all enjoyed yourselves and it spiced up your football entertainment if you were a neutral. I know it did with me.
---
---