Last Man Standing Gameweek 7 Results. Gameweek 8 Fixtures
We all know that Gameweek 7 was postponed due to the passing of the Queen of England. Personally I think the tribute West Ham fans gave the Queen a few hours after her death was very nice and football should have been played at the weekend so that football fans could pay tribute her but the fact of the matter is that it was postponed so we go again for Game week 8. Now here is the thing.
Results Week 7
Both of our final two contestants @gingerup and @gone-hive chose Man United for Gameweek 7 which meant both of them would have been through to Gameweek 8 anyway as whatever the result they both chose the same team so by default they were through. Man United is their last "strong" team so both contestants played that card which meant Gameweek 8 would be the real final where they would have to choose a weaker team.
The rules of Last Man Standing states if a match is postponed BEFORE the round starts the contestant has to simply pick again. Now we all know what will happen in Gameweek 8 if we simply pick again. Both players will just chose Man United and which will put them straight through to Gameweek 9.
However Gameweek 8 is the last Gameweek before the international break and it would be an ideal time to start a new game of Last Man Standing. So rather than prolong the final I am deciding that Man United cannot be selected this week as I have decided that both contestants played this team in Gameweek 7.
So Man United has been picked and we move onto Gameweek 8.
These are the teams that @gingerup has selected previously.
Newcastle
Man City
Tottenham
Arsenal
Liverpool
Chelsea.
Man United
These are the teams that @gone-hive has selected previously.
Chelsea
Man City
Tottenham
Liverpool
Arsenal
Brighton
Man United.
Game Week 8 Fixtures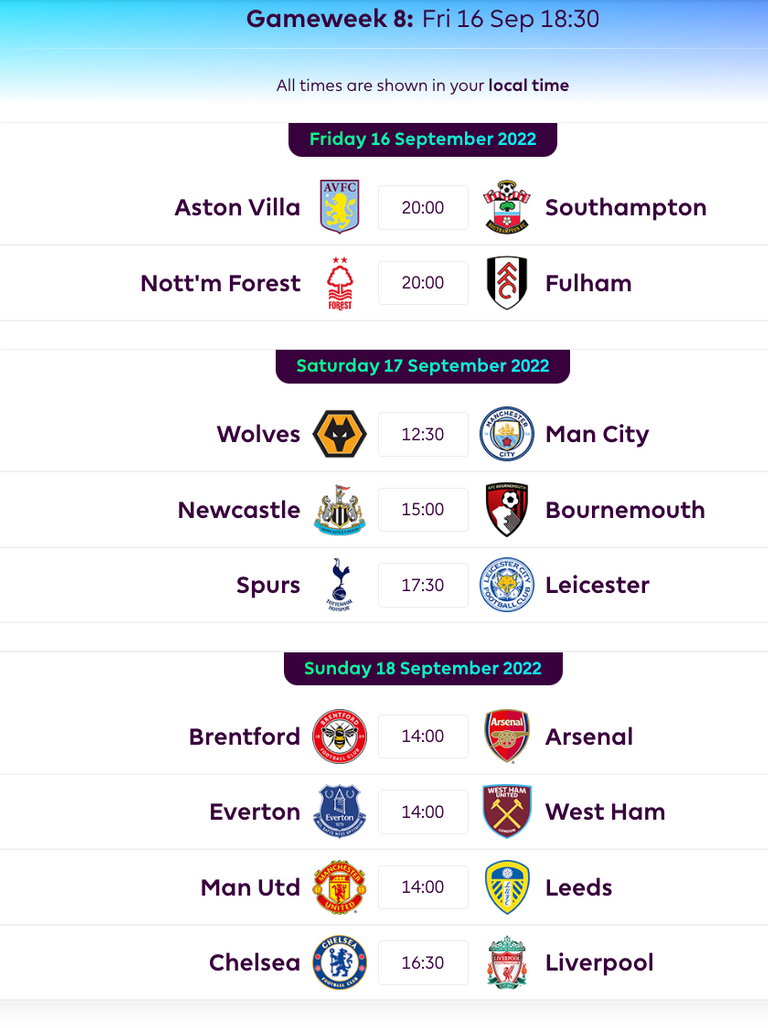 So there we have it. Probably the two best teams after the top 6 are Newcastle and Brighton and both players have picked each one which leads to an interesting final.
Who will they select for Gameweek 8??
Who will be the Last Man Standing??
If this final comes to a conclusion before the international break I will start up a new Last Man Standing from October up to the World Cup so keep an eye out for entry. All former contestants will be tagged.
Best of luck to both contestants. I will need your choices before 8pm Friday GMT. If no choice is made you will automatically be selected the first team in alphabetical order which in this case is Aston Villa for both of you as you have previously selected Arsenal.
---
---