Last Man Standing Quarter Final Results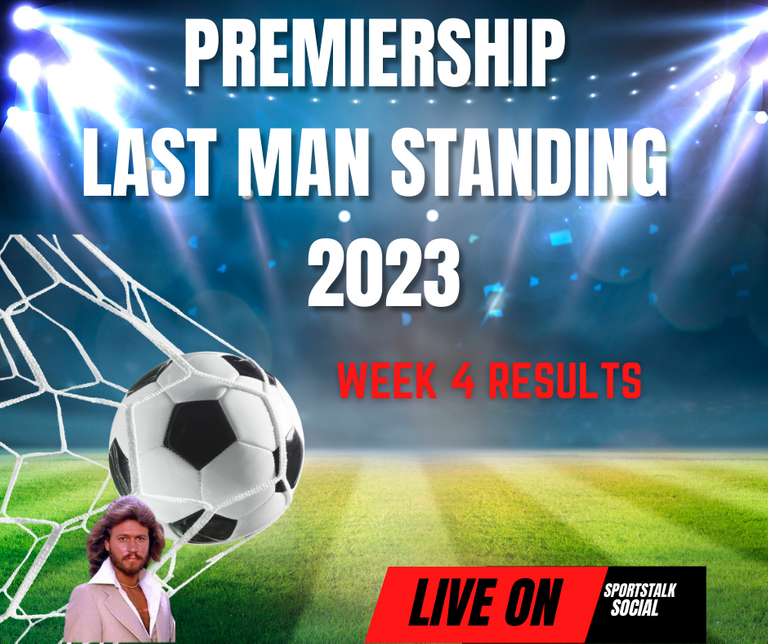 Results
| Final 6 | Teams Already Selected | Selection Week 4 | Results |
| --- | --- | --- | --- |
| @shamzy. | Brentford, Man City, Brighton | Newcastle | Lose |
| @tengolotodo | Everton ,Villa ,Man United | Man City | Win |
| @amirtheawesome1 | Brentford ,West Ham ,Brighton | Newcastle | Lose |
| @ga38jem | Newcastle, Man City, Man United | Arsenal | Lose |
| @ablaze | Newcastle, Man City, Brighton | Arsenal | Lose |
| @hamza-art | Newcastle, Arsenal, Brighton | Man United | Win |
We had whittled our way down to the final 6 after only 3 weeks so we are getting close to the end of the 2023 Last Man Standing. It was a funny week with quiet a few draws. Nobody had selected Liverpool or Everton for Monday night so the results can be published tonight. @ablaze picked his own team this week along with @ga38jem. The thing I have learnt about Arsenal over the years is that they will always leave you down. Even if they have lost only 2 this year. They slipped up again against Brentford and could only get the draw which means you two are eliminated.
@amirtheawesome1 and @shamzy picked Newcastle. Amir had chosed Fulham and changed his mind which will eat at him for a while. I was the one who planted the seed saying Nottingham Forest were on a win streak so he changed to Newcastle. Fulham ended up beating Forest at the end. Oopsy. @shamzy had Newcastle selected also but their recent form has not been the best after the World Cup.
https://twitter.com/betmate_app/status/1622493316779491330?s=20&t=ycVLx-fMsmkb1kFEZfN-lA
Source
So with Arsenal and Newcastle slipping up , we had two more matches to go. @tengolotodo had Man City in the 4pm game while @hamza-art selected Man United. Sunday was a luckier day for our contestants and both won their games so we have a final on our hands next week between
Prizes
1st - 30 Hive Basic Income for the winner.
2nd - 10 HBI
3rd - 5 HBI
Now because we are down to final two, I still have to give 3rd prize out. 4 contestants finished 3rd so in order to be fair I have awarded 5 HBI to the 4 contestants. I am doing it like the golf does it. There can be more than 1 person finishing in a position. Jesus good job there wasn't 35 knocked out last week.
@amirtheawesome1
@ablaze
@ga38jem
@shamzy
Thanks for taking part guys. I really appreciate it.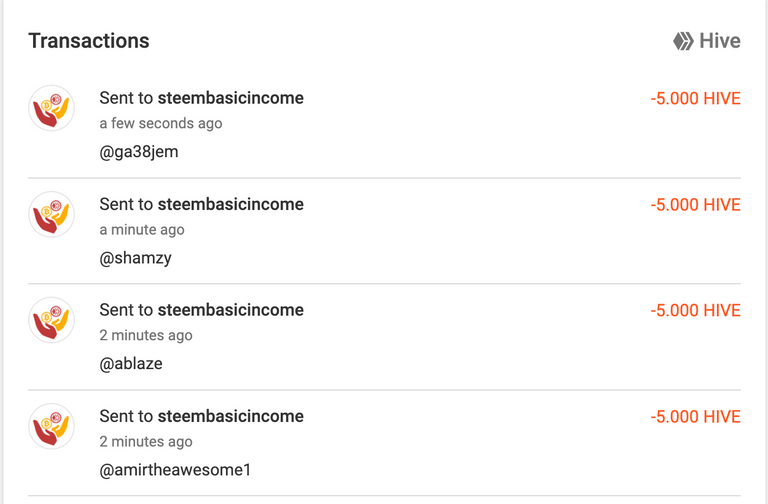 The Final Two
So we are down to the final two. Who will they select.
@tengolotodo has selected Everton ,Villa ,Man United, Man City already.
@hamza-art has selected Newcastle, Arsenal, Brighton, Man United
This is an interesting one because during the final most contestants normally have selected the same teams and the final could go a few weeks but these two have only both selected Man United which will lead to a good final. Best of luck to you too. I need the selection in before Saturday at 12.30 GMT.
If @tengolotodo fails to select a team, they get autoselected Arsenal.
If @hamza-art fails to select a team , they get autoselected Aston Villa as they have selected Arsenal already.
Fixture list is below.
Fixture List Week 5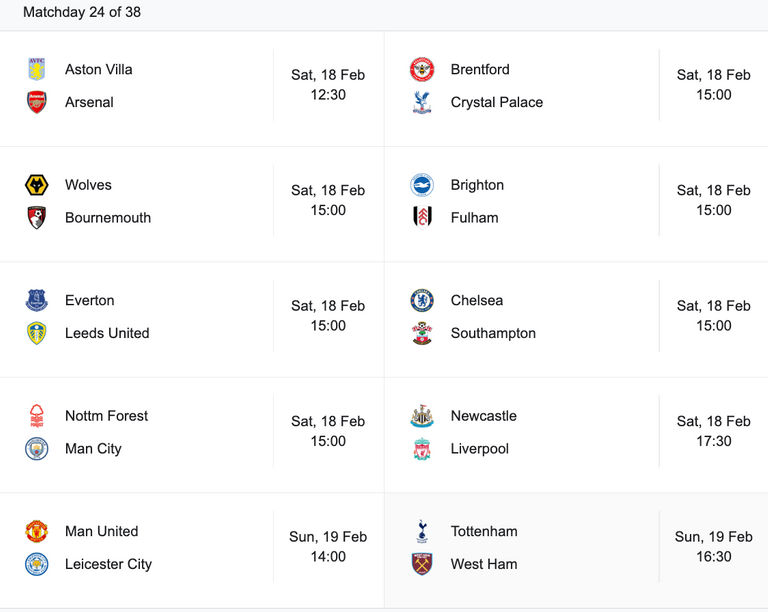 Congratulations to our final two. We might have a winner by next Sunday.
---
---