Last Man Standing Results Week 1 with Week 2 Fixture Selection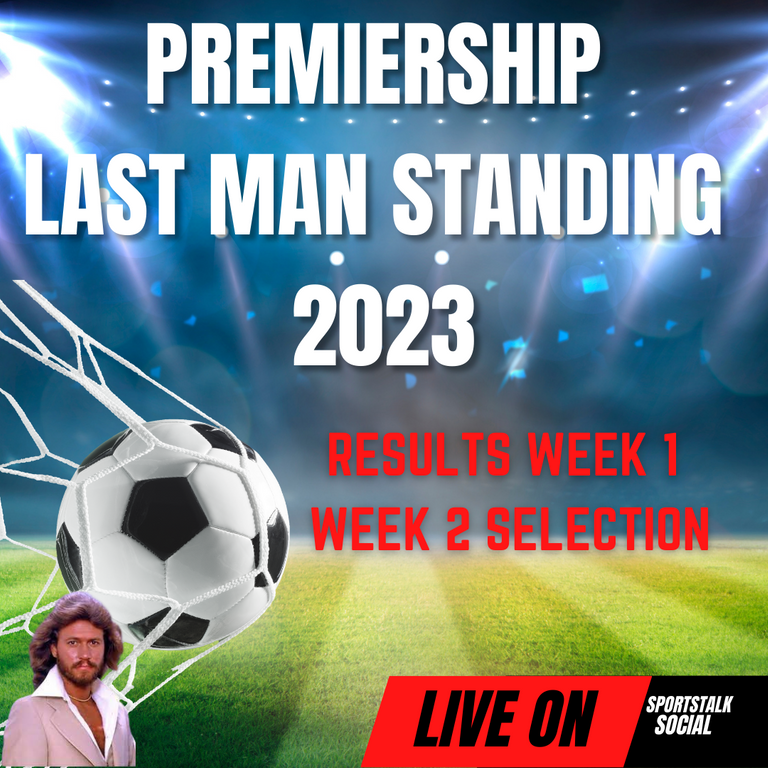 Results Week 1
Please see below who was eliminated and who got through to week 2. If you gave me a selection and you are not in the below list then please let me know as I am only human.
Round 1 Summary
We managed to scramble up 34 willing contestants for this one so not so bad but who got through in Group 1? How many of you survived ultimate hell week?
How many of the experts fell at the first hurdle?
In fairness it was aa tough week to start as there were two local derbies and some 50/50 games. 9 people had Newcastle this week and it was looking like we were in for a massive bloodbath in the first week as Newcastle struggled to breakdown Fulham but they got over the line in the end. So well done @gone-hive @diikaan @emeka4 @sharon999 @ga38jem @ablaze @etiboy56 @hamza-art @arcange @saif-ul-wahab @deniskj. Please select your teams for next weeks 2nd round from the fixture list below. And you 9 were lucky by the way. It's a good job Mitrovic kicked the ball twice here or you all would have been toast!!
https://twitter.com/ryandelarge/status/1614650789187780609?s=20&t=wfK5IfkVpF1DeIfZDRnP9Q
Source
7 contestants picked Brentford and they were right with their convincing win over Bournemouth. Some wise selections here as this leaves them with the top 6 still in their armoury.
Congrats @mckane @thoth442 @blockchainfpl @micheal87 @b0s @shamzy and @amirtheawesome1.
https://twitter.com/jacqueslufc/status/1614546102274899974?s=20&t=wfK5IfkVpF1DeIfZDRnP9Q
Source
@talesfrmthecrypt tried to be knocked out in the first week again after reading the fine print around week 1. He did the same by picking Bournemouth in the 2022 LMS and managed to win that match against the odds as well. The man would select Scunthorpe or Maidstone if he could, such is his strategy to get knocked out in Round 1. So a great pick there selecting a revitalised Southampton who knocked out Man City earlier in the week and now beating Everton.
3 contestants were nervous and selected an out of form Chelsea who finally got the win so @iamchuks,@skanderh, @freedom007. @korver and @ogeewitty are through to the next round after a good pick with Villa. .
@ogeewitty was knocked out in the first round last time around which just goes to show that even if you nothing about football, you can still qualify eventually which is the great thing about this contest.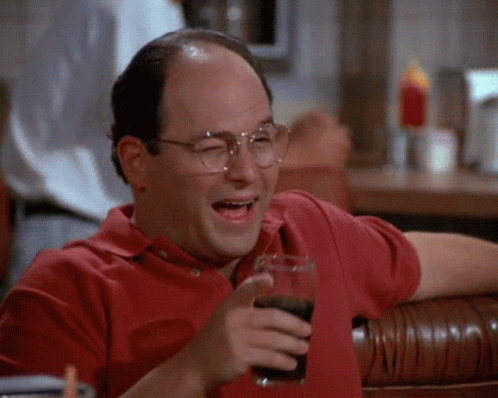 @cryptoandcoffee the seasoned pro picked a weaker team also in Nottingham Forest and they got a well deserved win against
@wolfgangsport went for Arsenal. One of the many contributors to @sportstalksocial who knows his stuff. Arsenal had a local derby but they won convincingly so he is through to Round 2 as well.
So who got eliminated from Last Man Standing in Round 1??
It was amazing only 3 people selected Liverpool versus Brighton. This is either strategic keeping the better team or it shows how far Liverpool have fallen losing 3 nil to Brighton. No nobody saw this coming especially these 3.
@friday777
@seki1
@ilma-ansari
Klopp was devo. I actually lived in Dortmund in 2015 and it looked very very like what is happening him this year. Heavy metal football can only last so long.
https://twitter.com/MirrorFootball/status/1614442243821113345?s=20&t=wfK5IfkVpF1DeIfZDRnP9Q
Source
@twicejoy was. the only contestant to go for Man City which would normally be a safe bet. But a Dutch man called Ten Haag has other ideas and is making Man United good again. (No contestant had United by the way) Unlucky @twicejoy. The goal though. Was he interfering with play. It was a mad goal that sealed your fate.
https://twitter.com/Penko_c/status/1614644174929924096?s=20&t=wfK5IfkVpF1DeIfZDRnP9Q
Source
@kraken99 and @tengolotodo. .What were you thinking?? Even @talesfromthecrypt didn't pick them. A couple of the players were accosted in the streets and a board member (woman) was put in a headlock.
https://twitter.com/StokeyyG2/status/1614340458230030337?s=20&t=wfK5IfkVpF1DeIfZDRnP9Q
Source
And finally someone else got eliminated but I am a but tight for time and can't really think of his or her name. :-(
But Wait.....One Last Chance
So the 9 people who were eliminated have one more chance to go through to the next round. Please note that this is only available in week 1 and no other week. If you send @blanchy 1 Hive , I will send you 1 HBI you can enter into Round 2.
Please note : You still cannot select the same team as Round 1
I will review my wallet on Thursday 19th to see who sent me the Hive for entry into the next round.
From Thursday on there is a freezeout
Anybody who would like to take part from week 2 needs to do the same as above if they now want to take part.
Fixture List Week 2
So the next round of fixtures is on the 21st and 22nd of January and the deadline for your entries is Saturday morning 21st January at 10am GMT. No selections will trigger an automatic selection in alphabetical order. 2 no shows and you are eliminated. I presume most of you will use one big gun this week but we will wait and see. Comment below with your selection and best of luck. I will send a reminder tag for the contestants who have not selected their team on Thursday.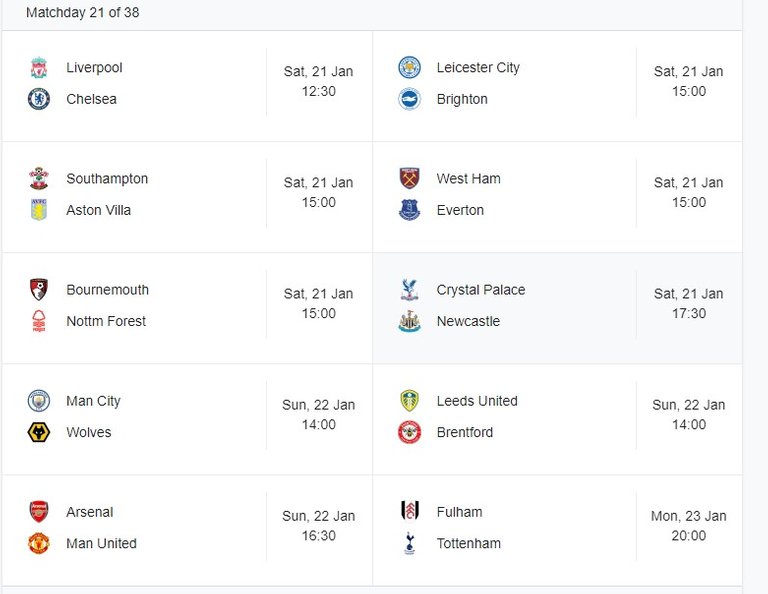 Source
An interesting week. Best of luck to everybody in week 2. This season is more interesting with more upsets and draws from teams like Liverpool , Spurs , Chelsea and Man City so this is wide open. Thanks for everyone for taking part again. I am gonna add 1 million SPORTS to the pot because I am a kind bastard. Gud Luck.
---
---