Last Man Standing Week 3 Results. From 13 down to 9. Week 4 Selections Open.
It has been another fun week on Last Man Standing Headquarters dealing with all kinds of riff raff as I collate the results from week 3. More on that later.
What's that you say? Week 3 is not over yet. United and Liverpool play tomorrow night. Well the savy Last Man Standing contestant knows not to bet on Man United tomorrow so none of the remaining 13 contestants actually picked them. On the other hand there was nobody gonna take a risk on this vital game on Monday as Liverpool have not been firing on all cylinders either. So nobody picked Liverpool either which means I can publish the Week 3 results a day early.
Back at @hivefpl @belemo is cracking the whip as well to make sure I file my report by 10pm Monday night so best to get the Last Man Standing results out of the way this evening.
Let's have a look at the final 13 selections and who got through.
Results Game Week 3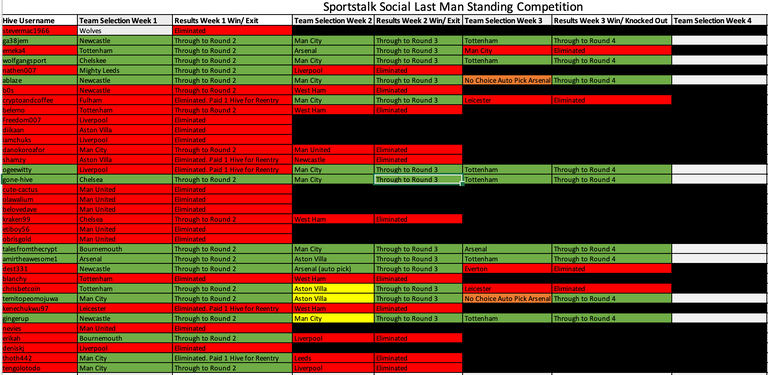 Source
We say goodbye to only 4 contestants this week which is a surprise actually. The main reason is because everyone went for Man City last bloody week. Only 1 person had this this week. And that person was @emeka4 . Man city barely scraped a draw today against Newcastle so you are now eliminated from the competition. We will be sorry to see you go @emeka4
@cryptoandcoffee the Last Man Standing Stalwart made a shock exit this week by picking Leicester City. He was playing the long game here but it came back to bite him. Unlucky my friend.
@dest331 is out. He/she picked Everton but was lucky to get through last week as they did not make a selection. Everton??? Anyway we say goodbye to you.
@chrisbetcoin (also known as Nostradamus) gave me his choice which was Leicester. He told us how they were going to win and what the result was going to be. He also told us what the Xg was going to be and what Jamie Vardy was going to have for breakfast before the match. Unfortunately for Chris, Southampton had other ideas and rained on his parade so he is eliminated from the competition. Although I will let you back in if you tell me the lotto numbers for Saturday night. Only joking. Cheers thanks for entering!
There are two lucky fuckers that didn't give me a selection this week. Now normally I would turn up at their doorstep demanding a selection. But in my old age I am just going by the rules. My Irish buddy @ablaze and my non Irish buddy I imagine @temitopeomojuwa. You two were allocated Arsenal as they were the first team in alphabetical order that you two did not pick. Unfortunately for me Arsenal are having the best start to their season since the invincible's so you two got through.
@talesfrmthecrypt picked them as well to get them out of the way before they face a tough challenge. He knows they are frail.
6 (wise) contestants (almost half of you ) picked Tottenham so I put them through to round 4 last week because I knew Spurs were going to win.
@amirtheawesome1 (hot favourite)
@ga38jem
@wolfgangsport (silent assassin)
@ogeewitty (Big Richarlison fan, always going on about him)
@gone-hive
@gingerup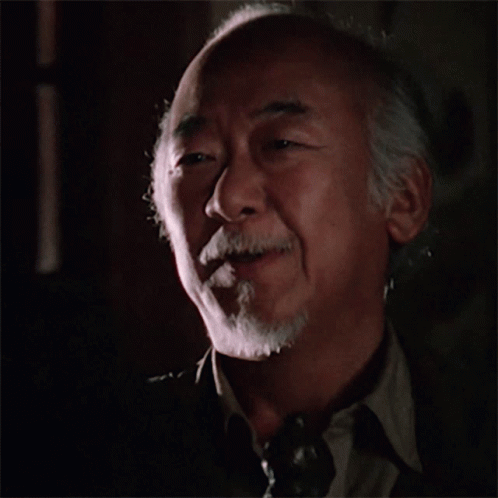 So we are down to the last 9. I expect this Last Man Standing has 3 more rounds at the most. Here are the fixtures for game week 4. Just think about the last 3 rounds. You have won with 3 teams. You would get a good return in a betting shop if you did these bets and compounded but how long can you last at this?
Fixtures Game Week 4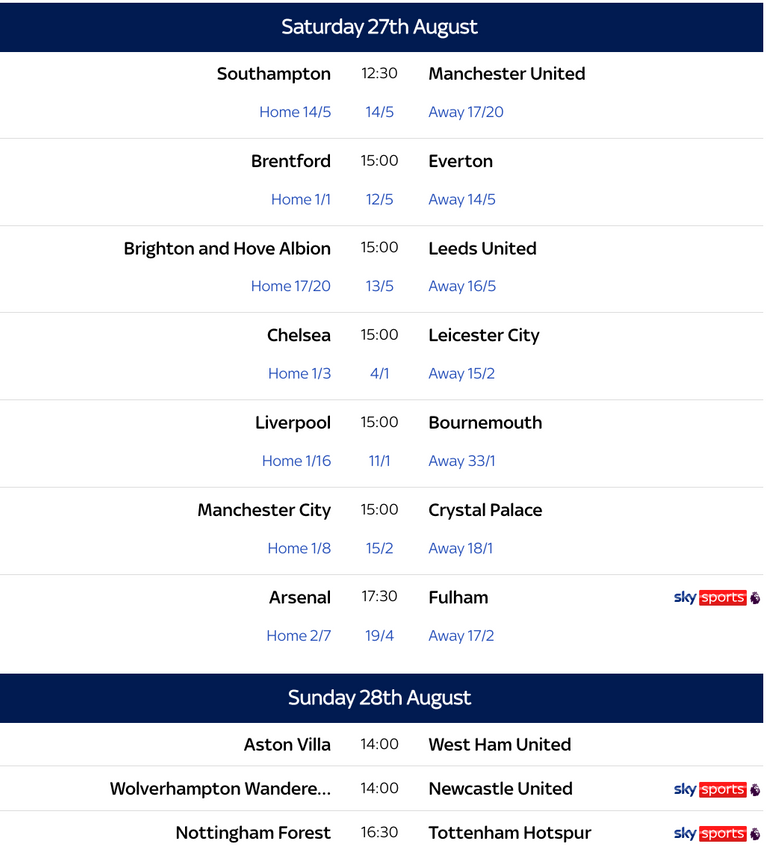 Source
Things will start getting a bit tougher this week as contestants have already 3 teams picked. Most of the contestants also have 3 out of last years top 4 picked barring a couple of the old regulars who are playing strategically getting some weaker teams out of the way.
The cut off for entries is 12pm on Saturday morning. There will be a quick turnaround from game week 4 into game week 5 which is the first round of midweek fixtures.
So get your selections in as soon as you like.
Any Other Business
I would like to disclose on the blockchain that a contestant tried to bribe me last week with 1 Hive for reentry. It was entitled "Bribe" on the blockchain. No doubt they were a Woolwich fan. I immediately called the Hive police and did not build an extension on the house with the 1 Hive. Fortunately for Last Man Standing it is a game that is black and white. You either win or you are out. It wouldn't take a brain surgeon to figure out that the guy that lost last week is still in the game. Anyway the excel sheet is attached for transparency and the moral ethics of Last Man Standing is still upheld. We will put that little misdemeanour to bed. Now if they gave me 1000 Hive then thats another story completely. I will leave my mobile in the comments for anyone that wants to avail of that service.
Best of luck to the remaining 9.
It is getting good now.
---
---