Its been a fascinating journey since the olympic competition (The Greatest Show On Earth) started its proceedings. With so many sports and actions, on field heat of matches played by the olympians all across the globe fully hold up the exact meaning of olympics.
Its pretty much fun and warm out there in tokyo and all during the days of contests, I watched my favourite contests like swimming, soccer,hockey, athletics and boxing. This years edition, in midst of covid outbreak and the way they organised those matches, deserve a clap of palms.I enjoyed it altogether.
Players as much as 200 countries and states are taking part in these contests,and its not about the individual playoffs and winning medals but its a matter of pride as all the nations are in sweet competition with each other. The country who would achieve more gold medals and prizes will get the global attention and it would be great pride for whoever wins the race.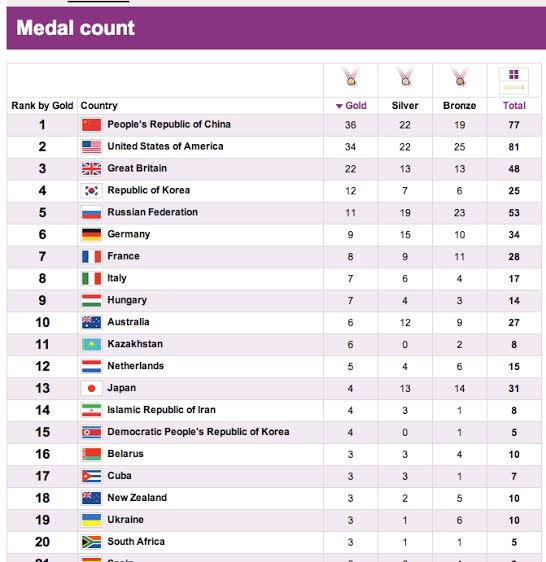 Src
As we can see in the above chart table,
China topping the list with 36 gold medals till now, 22 silver, with 77 gross total medals. China has comparatively more opportunity and Organizational facilities, this privileges made them be one step ahead of other nations. It is pretty clear, if we go through analysing the factors.
In the second place, USA is competing toe to toe with Russia, just fraction short of China, with more medals but 2 gold less than China.But, I think, in the upcoming matches and contests,both teams will fight for securing medal supremacy.
The third place is occupied by Great Britain and Korea Republic is in the 4th place respectively. But, in terms of title tally, 3rd & 4th nation is way aback than first two teams in the heading of the chart.
Russian Federation secured 5th position and the teams performance is quite promising.All the athletes are performing well and it looks to me that the players are quite determined to win medals for their nation.
The following positions are occupied by some European Giants, with mediocre performance and results .
Hope they will bring some more positive outcome in the upcoming matches to come.
We are more than halfway down the line as one more week to go to finish the contest. Olympic games has been a mesmerising scene to watch, with so many nations participations and its about sportsmanship and players skill exhibition. I hope, this tournament and legacy of the contests will go far.
Thanks for reading...