FPL: Squad Building for Gameweek 17 - Premium(s) and Goalkeepers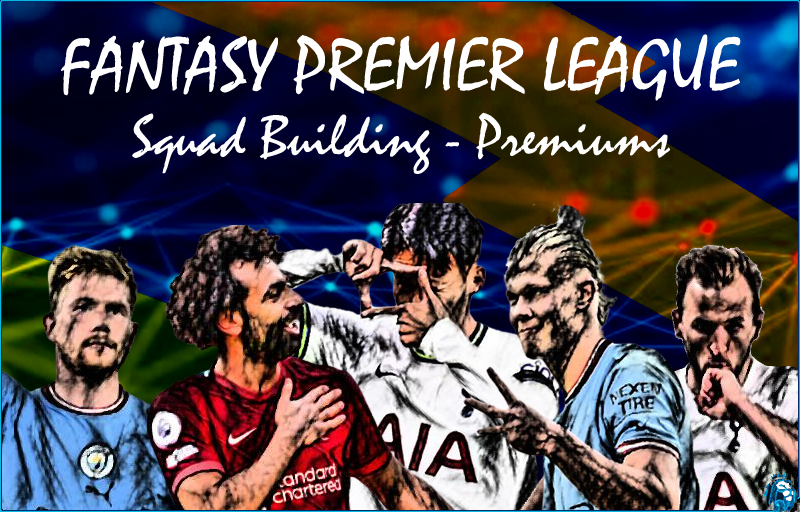 With the Gameweek 17 deadline less than a week away, I've spent some time building my new squad and there's plenty still up in the air. If I clear my squad out, I've got a budget of £100.8m but if I keep the likes of Haaland who I have plenty of profit tied up in, I've actually got a little bit more.
In this post, I look at which (and how many) premiums (£10m+) to include as well as some Goalkeeper options.


Captain(s) Selection
As mentioned in my 1st Fantasy World Cup post, the starting point for any team that I create is the choice of captains. In FPL, this is the trigger for many other decisions including how many premium assets I'm likely to own.
If I find 2 captains who rotate well, then in all likelihood I'll have 2 premium players. If a single player stands out as captain every week, then it's possible to go with just one. If captaincy rotation works well with 3 then I'll see how feasible that is and having tried to build a team with 4 premiums, there are simply too many compromises to make it work.
With the exception of Double Gameweeks, I've learnt that captains should (almost) always be the expensive players (£10m+) - they're expensive for a reason. As I write, this leaves 5 options - Mo Salah, Kevin De Bruyne, Erling Haaland, Son Heung-Min and Harry Kane and my ratings for each player are as follows:

With each having the following fixtures...
Player
17
18
19
20
21
22
Haaland &
De Bruyne


Salah
Son &
Kane


I suspect you didn't need the data to know that Erling Haaland is a great perma-captain. Mo Salah edges him in Gameweek 19 but this is a Double Gameweek for Chelsea and Fulham so I'm likely to choose one of their assets instead.
Salah also looks like the better option in Gameweek 22 with Man City facing Tottenham but knowing that Man City have another Double in Gameweek 23, I'm more tempted by the Man City double-up with Haaland and De Bruyne. Salah does have the benefit of penalties though and if it weren't for Man City's Double Gameweeks 20 and 23, I'd definitely be opting for Salah.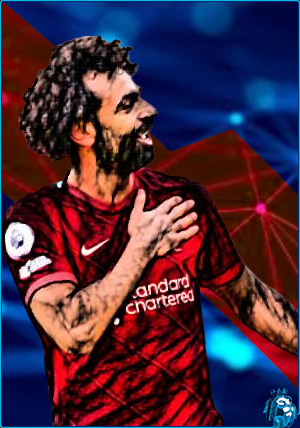 And whilst I type this, I've almost talked myself into the switch. In fact, whilst thinking about this further, there's a possibility that Man City v. Spurs can get postponed again if either of them draw in the FA Cup and require a replay (Man City play Chelsea and Spurs play Portsmouth). I also have a bit of money tied up in Salah (who is slightly more expensive) so I'll opt for Salah for now.
Going 2 premiums also gives me the flexibility to switch Salah to De Bruyne prior to the Double Gameweek if I want to. This does mean that I'll initially need to keep a Man City spot available until I decide what I'm doing with DGW 20.


Goalkeepers
There are many approaches when thinking about keepers and they're a position that I try to avoid any transfers in. We're very fortunate this season to have a £4m (now £4.1m) starting keeper in Danny Ward and if you want the cheapest combination available, Leicester's Ward + Iversen will cost just £8m for a guaranteed starter. This will restrict you to owning just one more Leicester player but this hasn't been a problem so far this season.
My player ratings rank the top 10 goalies as follows:

With the Chelsea keepers well out in front - The difficulty here is that we don't know whether Kepa will return from injury in time for the restart and Chelsea are rumoured to be desperate to sign a Goalkeeper during the January transfer window. You would presumably have Danny Ward to fall back on but you don't want your chosen keeper not playing.
I like the idea of having 2 rotating keepers with a maximum spend of £9m (or a stretch to £9.1m) and there are a few viable options here:
Combo
Cost (£m)
17
18
19
20
21
22
Rating
Kepa +
Ward
8.6
Kepa

Kepa

Kepa


Kepa

Ward

Kepa

65.18
Raya  +
Leno
9.1
Leno

Leno

Leno


Raya

Raya

Raya

58.50
De Gea +
Ward
9.0
De Gea

De Gea

De Gea

Ward

Ward

De Gea

55.71
Bazunu +
Pickford
9.0
Pickford

Bazunu

Bazunu

Pickford

Bazunu

Bazunu

50.34
Ward +
Iversen
8.0
30.82
I'm very tempted to take the risk with Kepa but it's something I'll need to think about and for now, I think I'll avoid the Chelsea options.
I initially liked the idea of De Gea + Ward but for the extra £0.1m, Raya and Leno would allow me to tap into Fulham's Double Gameweek. It's a difficult decision and if I put Raya + Leno in for now, I can always make the switch before the deadline once the rest of my squad falls into place (or if I want to free up some money).


My Squad So Far
It's still early in my draft and I've selected my 2 premiums and Goalkeepers. As I mentioned before, there's plenty of flexibility here for me to change things between now and the deadline. Things I'm considering are:
Salah → De Bruyne
Raya + Leno → Ward + De Gea / Kepa / Iversen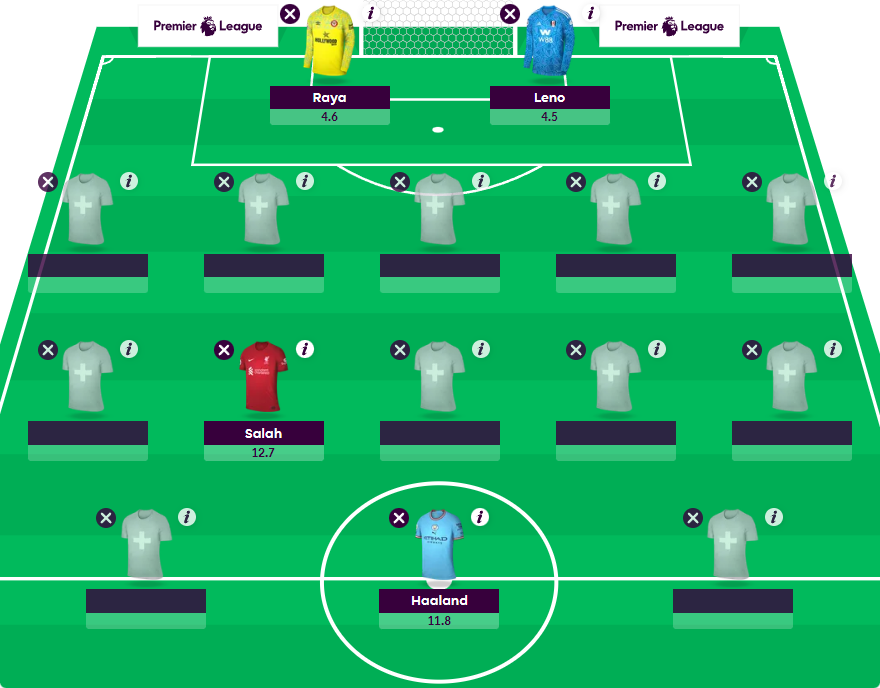 Position
Player(s)
Price (£m)
17
18
19
20
21
22
GK
Raya +
Leno
9.1
Leno

Leno

Leno


Raya

Raya

Raya

MID
Salah
12.8
FWD
Haaland
12.2


I have £67.2m left to spend.
Please let me know what you think and who you're considering as your premiums (1, 2 or 3?) and Goalkeepers.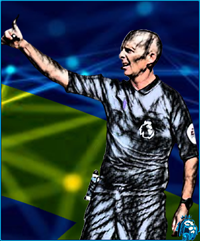 Imagery Information
All images have been created and edited with the intention of reaching a point of "fair use". To reach this point, I use multiple online tools (primarily Lunapic and removebg) as well as an old version of Adobe Photoshop, incorporating my own "branding" and imagery style. If you are of the opinion that any of the images used infringe on copyright, please highlight this in the comments and I will make best endeavours to alleviate any concerns.
---
---